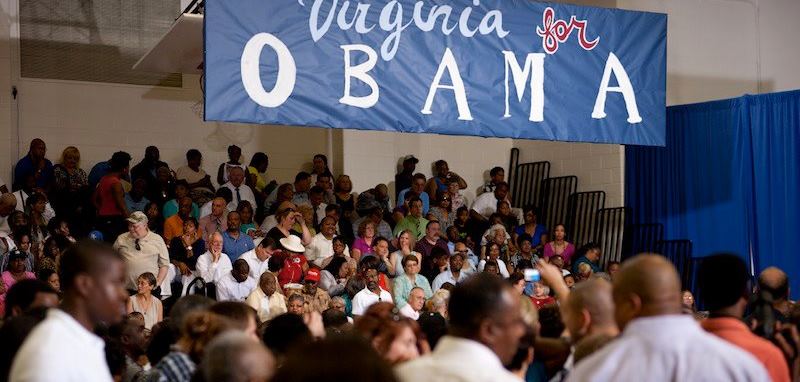 Courtesy of Obama for America – Virginia, this photo is of "a huge crowd in Virginia Beach at Green Run High School waiting for President Obama to take the stage." According to the press pool report by Christi Parsons of the LA Times:

The motorcade wound along some residential streets to Green Run High School, home of the Stallions. The streets were largely lined with people cheering, including one lady jumping up and down, waving her hands and screaming something like "Aiiiiii!" Some of the boulevard was lined with Romney yard signs.

At the high school, Obama addressed an overflow crowd gathered in the "Stallion Cafe." The president walked in and shouted a sharp, "Hey," and the crowd of roughly 300 (my count) went wild cheering.

He won in 2008 because of their efforts, he told them, and he needs them now even more. "This is going to be a close one. We're going to have to work hard … When we win Virginia, we're going to have won the election."

There was a reference to "men and women in uniform," check transcript to come.

He worked the rope line. Lots of teenagers. There was more screaming.
President Obama (accompanied by Tim Kaine and Mark Warner) landed in Norfolk at 10:45 am, was greeted by elected officials on the tarmac, and worked a rope line. Obama, Kaine and Warner then traveled to Rick's Cafe, a couple miles from Oceana Naval Air Station, spent some time there before heading over to Green Run High School. More to come…
UPDATE 3:07 pm: The Virginian Pilot has coverage, including photos, as does the Daily Press.