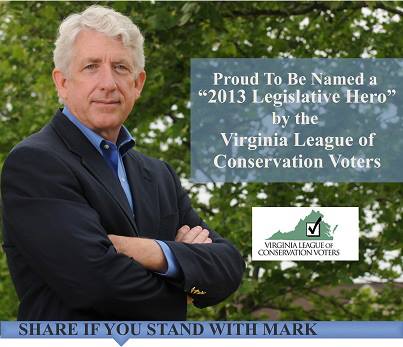 From the Mark Herring for Attorney General campaign, this comes on top of Herring's endorsement by leading climate scientist Michael Mann, the target of Ken Cuccinelli's witch hunt against science and wild abuse of his powers as Attorney General. That's something we need to change drastically in 2014, and we WILL with Mark Herring as our state's next Attorney General!
Leesburg – The Virginia League of Conservation Voters has awarded State Senator Mark Herring (Loudoun and Fairfax) the distinction of "Legislative Hero" for his 100% rating on the group's annual Conservation Scorecard.
The Scorecard rates individual legislators on a series of important votes cast during the 2013 General Assembly session and presents a composite score on each lawmaker.Herring's Republican opponent Senator Mark Obenshain received a score of 46%.
"I am proud to be named a Legislative Hero by the Virginia League of Conservation Voters," Herring said. "During my time in the Senate, I have worked collaboratively with VLCV to advance our shared goal of preserving Virginia's natural landscape. As Attorney General, when it comes to the environment, my office will be guided by the law and by science, not political ideology. I will continue to oppose lifting Virginia's ban on uranium mining and milling and I will work to enforce common sense laws that protect our air, water and open space."
In December of 2012, Senator Herring was one of the first Virginia leaders to take a strong public stand opposing efforts to end Virginia's ban on uranium mining. At the time, Herring stated, "The health and safety of the public, and of the environment, should be of paramount concern when considering issues such as this and I am simply not convinced that uranium mining can be conducted in Southside Virginia in a safe and environmentally responsible way."