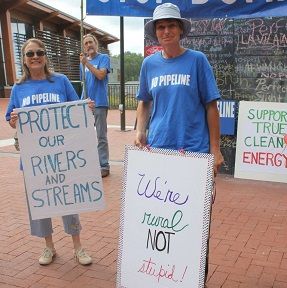 Note: After consternation regarding the use of the absolutely oxymoronic right-wing figure of speech "crazy environmentalist" in the letter below, the word crazy was removed and the text changed. However, comments that had already been posted lost their context following the changes, so I have restored the original. Here's the bottom line: anyone who isn't an environmentalist is the crazy. If you believe human behavior does not invite disaster then dip your toes in "Collapse: how societies choose to fail or succeed" by Jared Diamond or "The sixth extinction: an unnatural history" by Elizabeth Kolbert. – Dan Sullivan
Here is the 6th is our series, "We're Rural, Not Stupid." In this letter, our contributor, Johnny Ponton, writes about Dominion's legal goodwill contributions to our elected officials. He hopes by contributing to this continuing series, our elected officials will begin to hear their constituents' concerns and do the job they were elected to do…represent the people.


Johnny Ponton has lived in Nelson County all his life, with the exception of time he spent in North Carolina while attending college and during his service to our country in the military in the 1960's. He served on the Nelson County Board of Supervisors in the 1990's. He's now retired, and builds tables in his woodworking shop in Lovingston.
Here's Johnny's letter: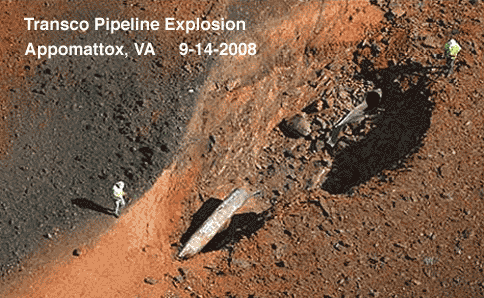 I'm not a crazy environmentalist or tree hugger, but that is how the press likes to portray me.

I'm not going to physically assault or threaten anyone, but that is how Dominion wants you to see me.

I'm not a left-wing liberal, but that's how some in my party, as well as others would have you look at me.

Who am I? I'll be 70 years old in October, a native Nelsonian, a moderate, life-long Democrat.

Never before have I seen our elected leaders kowtow to big business as they are today.

Terry McAuliffe shouts from the Commonwealth's mansion about the energy super highway and ignores the people who elected him. He chooses big business over those who will be directly affected by what he claims will give us new jobs and needed infrastructure.

Mark Warner signed into law Virginia Code Section 56-49.01 in 2004 allowing natural gas company surveyors to "legally trespass" on any and every Virginian's private property to find "the best route" for its pipeline. Interestingly, a Dominion rep at Nelson's "Open House" told us Virginia is the only state of the five in which he has worked which gives Dominion this privilege. This Dominion rep suggested we get our legislators to change the law.

Tim Kaine sits quietly in Washington, taking no stand, making no audible sound, being quiet as a mouse giving us no indication of his support of or opposition to Dominion's proposed pipeline.

Creigh Deeds, while voting against Code Section 56-49.01 in 2004, now leaves his constituents to their own devices to fight it.

All of these men were elected by the voters to represent their best interests–their health, their safety and their welfare. VA Code Section 56-49.01 does not represent any of those laudable goals. . Additionally, this law, in my opinion, puts a cloud on the title of every piece of land and home in Virginia. Why? Because at any time, Dominion or another private company disguised as a "utility" could decide to choose "as the best route" to lay pipe through the counties of Handley, Clarke, Loudoun and Fairfax, instead of Highland, Augusta, Nelson, and Buckingham. If you live in Virginia, I suggest you ask your elected officials how they feel about eminent domain and particularly Virginia Code Section 56-49.01.

In taking land through eminent domain there was to be a benefit to the people who would be affected by the taking, by losing their property rights…local takings for local benefit…for a school, a highway. No one, for many, many miles on this pipeline route will see any local benefit. There will be no permanent jobs created in Nelson County. We will not use this fracked natural gas. We will, however, be faced with devalued property and some threat level of methane leaks, explosions and resultant fires in perpetuity.

During Dominion's dog and pony show earlier this summer, one of the things it used to show its "good neighbor" efforts was how much money it had donated to local charities in an effort to buy our goodwill. If I remember correctly, in Nelson the figure was $35,000. What Dominion didn't tell us was how much it had donated to our state and federal legislators to purchase their goodwill.

According to the Virginia Public Access Project: Terry McAuliffe has received at least $150,000; Mark Warner has received at least $155,000; Tim Kaine has received at least $88,000; and Creigh Deeds has received at least $107,000 from Dominion.

There is not doubt these contributions are all quite legal. They were received and duly recorded. However, perhaps these contributions indicate why our government, and more precisely the gentlemen I mentioned, while elected by the people, are no longer representing them. Instead they seem to be doing the bidding of big business to the detriment of those who voted for them. They are willing to sacrifice Virginia's rural landscape, farms, and way of life to improve the bottom line of a for-profit, privately held corporation.

To be sure, Dominion is very effective in applying its corporate contributions across the board, not only to Democrats, but to elected officials to all stripes. Dominion has successfully and easily pushed ALEC written legislation through the Virginia General Assembly-most of the time to the detriment of the citizens of Virginia. It seems these goodwill contributions have become the "Virginia Way."

Our leaders hide from us, label us, and call us names while we do nothing more than ask them to do the right thing-to represent the people. Perhaps we should use sign language to speak to them, because they certainly aren't hearing us!

Johnny Ponton

Lovingston, VA