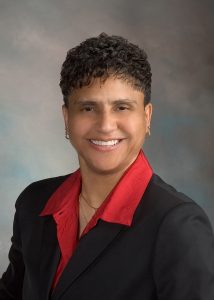 In the wake of November's presidential election, there is tremendous interest in and focus on the 2017 Governor's, Lieutenant Governor's, Attorney General's, and House of Delegates' races in Virginia.  However, there is a local race in Richmond, Virginia that warrants far greater attention than it is receiving.
The June 13 Democratic primary ballot in Richmond will contain two names seeking the nomination in the Sheriff's race – the incumbent C.T. Woody, Jr., seeking his fourth term, and the challenger, Antionette V. Irving, a Richmond native, community leader, recent recipient of the Shaw University Living Legends award, and 26-year law enforcement veteran who was the first woman to be promoted to the rank of Major in the Henrico County Sheriff's Office.
A quick Google search of the incumbent yields multiple news sources highlighting a tenure marred by inmate deaths, mishandling of evidence, federal sanctions, lawsuits, and charges of nepotism and sexual battery.  As the Richmond Times-Dispatch reported this past December, claims against Sheriff Woody are the most expensive in the state.  Irving believes it is time – beyond time – to restore integrity, compassion, and professionalism to the Richmond Sheriff's Office.  As this recent interview indicates, she believes a change in leadership will bring a positive impact to staff, inmates, and the community:
Your slogan "from Creighton Court to the basketball court to the court of law" is evidence of your pride in each phase of your journey from growing up in public housing to being the first woman ever promoted to the rank of Major in the Henrico County Sheriff's Office or Police Department.  How did growing up in Creighton Court shape your drive to succeed in law enforcement and your commitment to give back to the community? 
Living in Creighton Court is where I became a big dreamer, always wanting so much more out of life, dreaming of the possibilities of what my life would and could be. Growing up in a home of substance abuse and domestic violence, not knowing or understanding what PTSD was, I knew that I wanted more. I knew that whatever I was going to be was going to take a lot of work. I feel that it gave me a drive to have a determined work ethic.
This work ethic that I learned early in life paid off in college. At the age of 14, I had one coach tell me I would never play for him and would never be a basketball player.  I didn't let that discourage me, but instead I worked harder to become the basketball player I wanted to be.  Eventually I played college ball and was inducted into the Shaw University Athletic Hall of Fame.
These phases in my life helped to shape who I am and to realize there are no excuses. It taught me how important it is to grow and build individuals and families.
What is your most vivid memory of your childhood in Creighton Court?  Does that memory still influence you? 
My fondest memory is the family environment that we had in Creighton Court.  My most vivid memory was attending Woodville Elementary School, which gave me a good foundation of organization and structure.  Adults spoke with you when you were out of line.  As a very young child I learned to respect myself and others. Respect – for self, for your elders, as well as for those different from you –  was critical for me growing up and wanting a successful future, and still influences me.
Richmond's public housing communities have been in the news a great deal over the past several weeks.  As Sheriff, what would your role be in supporting the revitalization of these communities? 
It is important that we first understand The Housing and Urban Development Act of 1968, which includes economic development and neighborhood economic improvement for low-income individuals, particularly those who are recipients of government assistance for housing.  The housing projects were designed to provide temporary housing for individuals and families while providing vocational and educational training, providing jobs and skills for individuals in those communities to help build neighborhoods and communities that they would eventually live in.  Section 3 regulations were designed to encourage recipients of HUD funding to direct new employment, training, and contracting opportunities to low-income residents, and the businesses that employ these persons, within their community regardless of race and/or gender.
It is time to reach back to the original intent.  The employment training and skill development for residents is needed to ensure their progress out of housing projects. Residents must be provided with the skills and opportunity to maintain a job and sustain financial stability.  There must be enforcement and oversight to ensure that individuals are growing and progressing out of the system. There must be transparency and direction within the program; this was and is not intended to be a program that allows individuals to stay in one place their whole lives.
But circumstances that individuals find themselves in bring about choices and responsibilities.  We all make a choice to take responsibility for what we want and don't want out of life.  The desire to build from what we don't have into what we desire is crucial to building the life that we expect.  It may be difficult, but we cannot allow society to dictate our path in life. I learned early not to expect anything out of life that I wasn't willing to work extra hard for every day. As a high school basketball player, I realized that while I was sleeping, others were up working.  Every day I had to work extra hard to get where I wanted to be as a basketball player, and it's the same in life. I learned not to expect anything without sacrifice. I also learned that there were obstacles and barriers simply because of who I was and where I was from, but there was no room for excuses or blame.
Opportunity and the appropriate resources are keys to success.  I would like to work with the residents to take advantage of even the smallest of opportunities to build foundations for the future they desire.  It's important to build relationships that work to realize all the possibilities.  Part of that relationship is providing public housing residents with a greater awareness and understanding of the concern for public safety and response to crime in their communities.
As Sheriff, I will hold quarterly meetings with citizens of all ages, including tours of the jail facility and court house, to help the community understand the role of the Sheriff's Office and law enforcement.  I'd like to implement a Junior Deputy Academy for our youth to encourage positive interaction and mentoring with the Sheriff's Office and law enforcement in general.  I'd also like to match youth with entrepreneurs to explore careers through the development of their vocational and educational possibilities.  It is important to provide citizens with an understanding of restorative justice principles, anti-violence and anti-drug programs, and the criminal justice system.  Conflict resolution, peer mediation and counseling, meditation, and mentoring are important resources to equip these communities with.
What is the AVI Foundation? 
The AVI Foundation, Inc. is a non-profit organization consisting of programs that foster positive changes in youth through goal setting, self-discipline, skill development, life skills, and improved family relations. I started the AVI Foundation with the goal of identifying youth who are having a turbulent adjustment to societal expectations and peer pressures. The focus is on using positive role models to guide youth back into a structured environment of school and classroom activity and to destroy the negative reinforcements that turn youth off or away from school and a quality education.
What challenges did you overcome as a woman rising through the ranks of law enforcement?
As a female in a male-dominated field of law enforcement and corrections, I had to overcome the stereotypical attitude about a woman's competence and ability in leading a predominantly male staff.  I've always known that I had to out-work my male counterparts to be recognized even when I have been more educated and better-qualified.  Watching less-qualified male officers be promoted ahead of me only pushed me to learn more about all aspects of the Sheriff's Office and other law enforcement agencies, as well as to build relationships with other agencies to gain an understanding of how the entire system works.  As a result, I was the first woman to be promoted to the rank of Major in the Henrico County Sheriff's Office or Police Department.
Why do you feel that Richmond needs new leadership in the Sheriff's Office, and what will you bring to the table that the incumbent does not? 
I will bring the energy and vision needed to move the Richmond Sheriff's Office into a new era of integrity, compassion, and professionalism.  The current administration has been plagued by inmate deaths, mishandling of evidence, costly lawsuits, and federal sanctions.  I am a strong and capable leader with an in-depth understanding of the daily operations and administration of the Sheriff's Office.  I can make the tough decisions in the boardroom and in the jail, while communicating effectively and respectfully with staff and other agencies.  I will ensure a system of accountability within the agency to include appropriate fiscal management and oversight, as well as transparency in hiring and promotions.
Staff education is absolutely essential.  I will ensure that staff receives the training they need to prepare them to perform at their highest level, especially related to crisis management.  I am a leader who motivates staff members to do their very best and to conduct themselves with professionalism and humility. I am a leader who individuals will want to work for and with, because they are treated with respect and are trusted to do the job that they have been trained to perform. I am a leader who inspires staff to do their best without bullying, threat, or intimidation.
Restorative justice is very important to me and is critical to the success of our community.  Under my leadership, the Sheriff's Office will provide rehabilitative programs for incarcerated individuals, to include medical, mental health, educational, vocational, domestic violence recovery, substance abuse recovery, and career development services.
Additionally, as Sheriff I want to start a City of Richmond Sheriff's Foundation to support youth and families in our city, by enhancing community relations and public safety with the support of businesses and individuals within the City of Richmond. I envision community members and residents teaming up with business leaders to revive parks, bicycle trails, swimming pools, and recreational centers for families, youth, and communities.
You have stated that collaboration and best practice sharing are part of your vision for establishing a culture of excellence in the Richmond Sheriff's Office.  Can you elaborate on how you would implement that and what the benefits might be to the community as a whole? 
A culture of excellence starts with strong, compassionate leadership that promotes effective change and the personal growth of individuals, be they staff, inmates, or members of the community.  The Sheriff's Office needs to work alongside other agencies and businesses to provide the services necessary to build character and self-esteem in at-risk populations and in those incarcerated in the Justice Center, to give them hope and opportunities for their future.  As mentioned previously, staff education and restorative justice resources are critical to this culture of excellence.
Recently I had the opportunity to hear Irving and Woody address a meeting of the Richmond Crusade for Voters, and the contrast was glaring.  While Irving provided thorough, thoughtful, and substantial answers to the attendees' questions, Woody treated the event like an open mic comedy night, relying on self-aggrandizement, one-liners, and dismissive lightheartedness.  For example, when discussing the issue of the incarceration of mentally ill persons, Woody inappropriately quipped that he knows all about mental health, because his family is 'mental.'
The choice was clear for me that night.  I am a resident of Henrico County and ineligible to vote in this race, but as the granddaughter of a Richmond Deputy High Constable (now called a Sheriff's Deputy) killed while on duty, I feel a commitment to upholding the integrity of the office.  If you have not gotten to meet Antionette Irving yet, she will be taking a break from canvassing to participate in a Community Forum on Education and Justice at Saint Paul's Baptist Church the evening of Thursday, June 8.  I encourage everyone voting in the City of Richmond Democratic primary on June 13 to do their research; no race is too small be an informed voter.
Note: Since the date this article was originally published, Antionette V. Irving has been formally endorsed by H. Bud Cothern, EdD, former Superintendent of Goochland County Public Schools; Dr. Lance Watson, Pastor of the Saint Paul's Baptist Church; and Earl Bradley, Bradley Development.