Home
Authors
Posts by Dan Sullivan
Dan Sullivan
Somehow the gang that is still looking for the weapons of mass destruction in Iraq has managed to stumble upon a trillion dollars in
natural resources in Afghanistan
. The imagined threat has been replaced by the promise of riches. Anything to justify the effort. Pardon the skepticism but, come on.
This "discovery" will be embraced by the same bunch that saw a free Iraq gratefully reimbursing the United States' expenditures of blood and treasure from the oil wealth under its soil. For years some very fine military personnel traded emails about the find of the day. We all hoped that the justification would prove true. Any trace of precursor chemicals fueled the hope that doubts about the necessity for prosecuting this war would be wiped clean. It never came. It never will.
Now a very dubious report splashes across the front pages that provides a very different justification for a very different prosecution. It fits so neatly. If we only stay the course, if we invest the time necessary, not only can we defeat terrorism at its source, we can also transform an impoverished nation into the "Saudi Arabia of lithium." We have dumped building democracies for building economic engines. Find this in the National Security Strategy under...?
Do the business case. Okay, so there is a trillion bucks worth of unproven resources at best. They are spread throughout the country (conveniently there are deposits near and maybe in Pakistan too). We'll just take all the indigenous heavy equipment and trained labor, pull the minerals/ore from the ground, transport it over the highly developed (and secure) highway system infrastructure to the modern port of... Oh, wait, looks like a job for Halliburton or Brown and Root. Sweet deal! If it turns out there are as many natural resources in Afghanistan as there were weapons of mass destruction in Iraq, no harm, no foul. At least this time we get some of our investment returned indirectly. Oh, maybe that is happening in Iraq too. Talk about redistribution of wealth.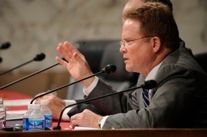 The Richmond Times Dispatch's
Jeff Shapiro
attempts to analyze a 2012 rematch of Senator Jim Webb and former Senator George Allen today. If what he opines is true, Allen should stay away from a rematch. The problem is, at least for criminal sentencing, he doesn't get Webb much at all.
Sadly, Shapiro either has ignored Webb on the issue of our criminal justice system or doesn't understand the sorry state of a society that locks away too many who haven't conformed. It seems that he believes Webb's focus on this issue is simply a self-serving effort to attract minority voters with the lure of a shameful situation that disproportionately affects African-Americans and other minorities. Well Jeff, that Webb is a wily one. Years and years ago he studied and visited Japanese criminal justice and prisons because he knew that one day he would need to use incarceration as an issue in his reelection campaign against an ethnically bewildered opponent.
That Webb is "a distant brooder who is schmooze-challenged as a candidate" can't be argued. He is not going to win by glad-handing. The Senator will have to rely upon his record. So for the other side, it is important to discredit or diminish his accomplishments in office. Criminal sentencing is one that can be twisted, particularly by a no shades of gray, law and order advocate like Allen. About the only accomplishment that will be off the table might be the GI Bill. So to win, Webb's campaign will have to develop a clear theme of commonsense populist action to counter the misrepresentations.
Actually, it is difficult to be certain of Shapiro's argument until the very end of his piece where it sort of falls into place. Shapiro seems to think that Webb would win in a rematch because Webb is the lesser of two evils for African-American voters. The "macaca moment," for Shapiro, is the fulcrum that will give Webb the advantage. Shapiro misattributes the Chinese proverb "The enemy of my enemy is my friend" to explain why Webb would draw some of the motivated Obama voters. But it may be Allen himself who pulls the plug on a race against Webb. There are many other reasons to vote for Webb over Allen or any other; Webb just has to get them out there.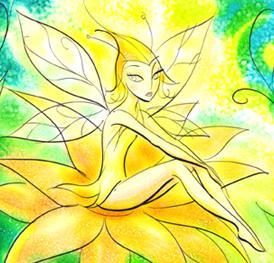 Simile trumps metaphor as the former Pennsylvania Senator immediately regretted the out of context possibilities and reached to minimize the potential by adding, "...she sprinkles fairy dust on candidates and they win!" Santorum was guest hosting on Bill Bennett's "Morning in America" radio program Friday morning.
Sharron Angle and Nikki Haley provide his proof. Santorum's own favored candidate in South Carolina, U. S. Representative Gresham Barrett, fell far behind after an early primary lead but managed to force a run-off with the beleaguered favorite of the tea party set. Santorum gave deference to the Palin "magic" and predicted she will be a force in a GOP resurgence this year and through 2012.
The emblem used by the Cuccinelli PAC is cartoonish in an eerie way. You wonder if it isn't emblazoned on a spandex undergarment. While the Attorney General is free to do what he wants with his time off the job, he ought to do the people's business during work hours.
Part of that business is consumer protection. Here is a portion of his office's online resource available regarding consumer fraud on the state website.

Preventing Consumer Fraud Tips


Always take your time when making a financial decision.
Don't be afraid to say no.
Never give your credit card number out over the phone unless you initiate the call.
Beware of give-aways and free prizes. There may be a catch.
Offers that sound too good to be true usually are.
Report consumer fraud to Attorney General McDonnell and Local Police.
Apparently Ken hasn't been in the office enough for everyone to notice he's the new boss. McDonnell is identified twice as the AG on this page alone. Beyond that, if this is the best that an entire legal staff can muster regarding consumer fraud, you have to wonder if they even know enough to protect themselves, much less the citizens of the commonwealth. But in their defense, it is doubtful that there has been much emphasis on this area of the office's responsibilities during the past five years.
Meanwhile, the Washington Post reports that more than a thousand have signed up for the Webcast Town Hall Meeting Wednesday a week from tomorrow. Maybe he'll explain how if he is not using government resources to pursue this personal agenda why he is using the office of Attorney General to advance his PAC. And take the opportunity to introduce himself to his staff.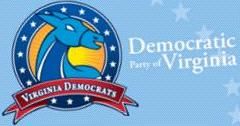 Last year when the same old, same old stole the wheel of the Democratic Party of Virginia and drove it into the ditch, eight years of opportunity ended on the same disappointingly sour crescendo that seemed to accompany every success during those years. Susan represents a refreshing new DPVA tune.
During two Democratic gubernatorial administrations, when the DPVA constituency might have been energized and broadened by embracing new leadership and recognizing areas that would facilitate a flowering of initiative, the "not invented here" syndrome became an obstacle to progress. Personal ambition, self promotion, and self preservation formed the nexus of motivation for too many who were supposed to be protecting the interests of the DPVA. Many of the party officials and electeds who have failed to support Susan Mariner represent a significant who's who of who've been at the helm. They chose poorly for years and in doing so have lost the authority success might provide in this instance.
Should the leadership of the DPVA miss this opportunity to refresh its leadership and select someone who can connect to the now disenchanted grass roots volunteers who energized the party's now ebbing resurgence in Virginia, then they will have what they deserve: abject failure to seize the moment. They will keep the party mired deeply in the ditch.
While the 2nd Congressional District establishment candidate sits back and anticpates victory Tuesday, his opponents make every effort to attract voters at the margin. This Republican primary features two retired military flag grade officers, each trying to out Curtis LeMay each other. Only one of the six candidates hasn't "served."
Yesterday was a bit telling outside the weekly Virginia Beach Republican breakfast meeting. Apparently only one candidate's campaign considers the battle within the party still joined. The local committee chose a subject less controversial by featuring Philip Shucet (President/CEO of Hampton Roads Transit) inside. Good there is so much military experience among the aspiring nominees because this group crossed the Rubicon long ago in this campaign. Most of the others are focusing on supporters variously aligned with the local taxpayer alliance, libertarians, and/or tea partiers. And all of them, bar one, have spent much of the campaign trying to close with and destroy Scott Rigell, the McDonnell candidate. Meanwhile the committee's last chair, Kenny Golden has parted their company to run as an independent.
Bert Mizusawa has released a bevy of negative ads focusing on Rigell, prominently featuring the metamorphisis of rationalization offered for his donation to President Obama's campaign; from inspired by the campaign to trying to defeat Hillary. Ben Loyola has claimed the mantle of fiscal conservative, signing a no tax pledge and receiving the endorsement of the local tea party. The others are curious in their own right. It should be interesting to review the campaign finance reports on each and every one. Ed Maulbeck told Tony Macrini last week that the contributions have been flowing in of late; that to now there had been people "stuffing money in his pockets," but he had not made a concerted effort to raise funds. The one candidate that hasn't connected with the outliers is Jessica Sandlin whose resume actually seems to embody the much vaunted Republican "family values."
What is certain is that come Tuesday night, the Republican nominee will be damaged goods. Scott Rigell's campaign has been smart to avoid joining the fray. It has focused on his professional and personal accomplishments and the support of Bob McDonnell. But for most, bridges have been burned come a Rigell victory. And fuel will be added to the fire over the next two days. Tuesday night, the strident and motivated "conservatives" will not have a champion; or, Congressman Nye will face an opponent who stands at the fringe of electability.
Staunton City Councilman
Bruce Elder
won't let the
payday loan battle
go. Delegate Cline (R-Rockbridge) doesn't foresee any action on the issue. Since 2007, Elder has played a key role in a grassroots effort to reform the industry. The industry stole the march long ago. Democrats share the low ground.
As 2011 and 2013 approach we ought to measure who we support a bit more judiciously. Democrat does not reliably equate to progressive. And some Democrats just plain fail to measure up. Though rarely does a single issue serve as a reliable litmus test, this one provides an appropriate reference point because it embodies a broader social aspect: the role of government and the relationship of wealth and its influence to governance. That Senator Saslaw (D-35th) ends up the patron of SB 606 allowing effective 250%+ interest rates and enlists Delegate Kaye Kory (D-Fairfax) to do his bidding in the House is curious. No Republican to hang this one on, though it is informative that Governor McDonnell's new Commonwealth Chief Information Officer didn't eschew a little gratitude.
The industry generously reaches out to both sides of the aisle. These bills generally originate in the Commerce and Labor committees of our general assembly. The three largest payday loan industry contributors have managed to grease the palms of 12 of the 15 current committee members in the Senate (including the recent Democratic nominee for governor) and 16 of the 21 in the House. Only one Republican and seven Democrats have failed to score. The three largest contributors have spread $125,000 to the 36 members who accepted these donations. But the two committee chairmen, Saslaw [$25,437] and Delegate Kilgore (R- Lee, Scott, and parts of Washington, and Wise) [$14,075] were most highly regarded amongst peers. Senator Norment (R-3rd) [$21,869] rounds out the top three overall. By the way, Delegate Cline has received $750; a real bargain for the kind of advocacy he delivers.
Negotiations are nearing completion for a British Petroleum and North Korean partnership to seal the spewing crude flow in the Gulf of Mexico. "This is the kind of public-private partnership we've advocated" said someone familiar with the "
Good Government for America Committee
" currently sponsoring an unofficial "
give George Allen money
" website.
This is seen as an immensely important development particularly at this time of heightened tensions on the Korean peninsula. A North Korean envoy intimated that this arrangement serves many purposes but is humanitarian in nature. It will help his proud nation feed its starving population. "But it should not be lost on the people to the south that we possess this capability." He went on to suggest that the Gulf of Mexico be saturated with rice prior to the blast and that the resulting gumbo be harvested and shipped to his nation. "There is no reason to waste that bounty of nature as it may be the last for some time to come."
A source close to Delegate Chris Stolle (R-Virginia Beach) who claimed during his campaign against former Delegate Bouchard that his "contacts" in the Navy assured him that there would be no objection to drilling off the coast of Virginia, noted that the absence of any public objection from the Governor Jindal of Louisiana was proof of Jindal's support for the use of nukes. "It also shows you that the eco-nuts' objections to drilling off of Virginia are unfounded. With this solution in our quiver, spills off of Virginia Beach only promise more dramatic fireworks for the tourists. Remember that the Delegate was a naval nuclear engineer."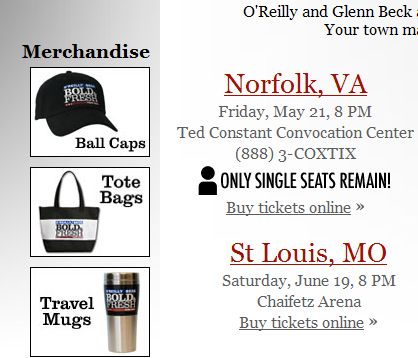 The fusion of entertainment and information meets the no spin zone in Norfolk tonight. The residual chicken sh*t will not be the kind Terry McAuliffe champions. It is all about fertilizing an audience; an audience that pads the entertainers' pockets by buying their schtick, their sponsors' products, and their memorabilia.
This is a rescheduled Bold and Fresh Tour appearance. The first cancelled by a January blizzard that shut down Hampton Roads and continues to serve as a superficial proof source for the counter-climate change mob. These are the same science challenged minions who buy the "non-hybrid seeds, stored above the Arctic Circle" that Beck proffers.
Beck and O'Reilly saw an opportunity to double down on the local market for unsupported and base assertions by offering a 3PM matinee appearance today. They claimed the evening show was "sold out." The good news is that there was no market for the additional show. Beck vigorously worked to hype the appearance to no avail, despite oodles of money spent on local advertising (a drop in the bucket for Beck but a windfall for local radio). They tried arranging appearances on local talk shows. His marketing crew couldn't pull it off despite telling every area radio station's sales manager that he or she was the best they'd dealt with anywhere. Good news: it seems it is a fiercely loyal but definitely finite market being strung along. But when the matinee was cancelled, the spin began. Suddenly it was a scheduling conflict that prevented the appearance. Bill...no spin?
Michael Savage refers to this as the Bald and Fat tour. You can be sure who the losers are in this P.T. Barnum goat rope. You can also be sure who the shameless clowns are. The good news if you have a bridge to sell is that the ball caps, tote bags, and travel mugs mark your prey. Tickets still remain for this evening's show.