Home
Authors
Posts by lowkell
lowkell
"The President blasts Republicans in the Senate who are blocking unemployment insurance and small business tax breaks to create jobs, even as they push for permanent, massive tax cuts for the richest Americans."
So true. They're also blocking progress on just about everything else, and the sad thing is, in many cases it's not even based on principle, just on politics. It's wildly irresponsible, and it certainly doesn't deserve to be rewarded with your vote this November.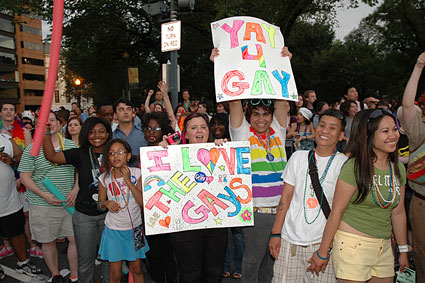 For anyone who ever had any doubts, Loudoun County Supervisor
Eugene Delgaudio
(R) is not only a rabid and obsessed homophobe, he's also
unintentionally hilarious
.
Dear Joe,

It was truly a sight to sicken the soul.

Thousands of men in bright neon bikinis hanging all over each other.

Groups of men and women -- it was hard to tell the difference sometimes -- acting out their homosexual lusts in defiance of all standards of decency and morality.

There were tens of thousands of them flooding the streets.

Throngs of "gay rights" radicals rallied all over our Nation's Capitol. Tourists had to rush to shield their children from the depraved displays of near nudity.
On and on it goes about the "radical homosexuals" (aka, people who want the same rights as everyone else in America), the "dangerous" "Homosexual Agenda" (see previous paranthetical), "Thought Control" (who knows), "homosexual re-education classes" and the dreaded "Homosexual Classrooms Act" (everyone, altogether now - WTF?!?!?!).
P.S. Don't forget, Delgaudio is practically "Best Friends Forever" with Del. Tom Rust. Oh, and don't forget, Rep. Frank Wolf said this about Delgaudio, "No one works harder than Eugene. He is not afraid to make the tough decisions and speak out for what he thinks is right." Also, in 2005, Delgaudio complained that "Frank Wolf's ringing endorsement will see little ink in area newspapers." Gotta love these "moderate" Republicans, hangin' with a homophobic head case like Delgaudio. The question is, how long are people going to let them get away with this charade?
h/t: "Radical Homosexual" - heh - blog Joe. My. God.
Photos and press release from the
Alliance for Climate Protection
and
Repower America
.
Gulf Residents Speak Out in Virginia on Need for a Clean Energy Policy, Urge Senator Warner and Webb to Take Action This Year

RICHMOND, Va. (July 15, 2010) - Today, residents from the Gulf Coast traveled to local Richmond restaurant Louisiana Flair to describe the influence the recent oil spill has on their lives, and their desire for passage of a comprehensive clean energy and climate policy this year. This comes on the heels of a recent fly-in where Gulf residents met with leaders in Congress to discuss their firsthand experiences of the Gulf oil spill and why they want the Senate to pass clean energy policies to end our country's oil addiction.

This event featured a broad group of Gulf residents who spoke about the damage this catastrophe has had on their way of life and local communities. Those affected by the oil spill are asking Virginia's senators to make a choice: move forward with a comprehensive climate and energy bill in 2010 or stand on the side of Big Oil.

"I traveled to Virginia to share my story," said Aimee Dominique, a clinical social worker from Lafayette, La. "Together with other Gulf residents, we told them the best way to respond to this devastating 'gusher' is by writing a letter to our senators urging an end to our nation's dangerous dependence on oil."

The participants represent workers and business owners from a variety of industries hit hardest by the oil spill, putting a human face to the tragedy that continues to unfold in the Gulf.

Chris Sehman, Helen Back Café owner in Fort Walton Beach, Fla. said, "I told Virginia residents and leaders that we must have a real comprehensive and long-term plan to give American businesses the tools necessary to develop clean energy technologies and move us past dirty fuels. At this important moment in time, senators should heed
President Obama's call and pass a comprehensive climate and energy bill to put America in control of its energy needs."

Personally, I think it would have been funny if they had done a sculpture of James Inhofe and/or Ken Kook-inelli!
Based on Republican rhetoric to the contrary, you'd think that comprehensive, clean energy and climate legislation was some sort of Communist plot (even though the core of it, "cap and trade," was originally a conservative, Republican, market-oriented idea). What's a bit surprising, though, isn't that Republicans like Eric Cantor are making up the facts - what else is new on that front? - but that they're actually going against the wishes of one of their core constituencies - small business owners. Check out this polling information, and ask yourself the question, "what do Republicans have against small business owners?"
From: Tom Jensen, Director of Public Policy Polling
To: Interested Parties
Subject: Support for Energy Bill from Virginia Small Business Owners
Date: 7/10/10

Small business owners in Virginia strongly believe the country needs to move toward clean energy and that new energy policies will transform the economy and help them create new jobs. They support comprehensive clean energy and climate legislation currently being discussed in the US Senate. Support for a climate and energy bill from Senators Jim Webb and Mark Warner would be a winner with small business owners back home. A Public Policy Polling survey of 711 small business owners across a three-state region including North Carolina, South Carolina, and Virginia, including 292 specifically in Virginia, between July 7th and 9th, found that:
Just when you thought The Homestead retreat couldn't smell any worse,
NLS comes up with another stinky angle
. This time it's
Kemper Consulting
, one of the co-chairs of the retreat. I strongly recommend that you read NLS's article, including his three scenarios about what might be going on here. The bottom line is that none of those scenarios are attractive, to put it mildly, from a good government point of view. As
one commenter writes
, "A lobbying firm that essentially is being used as a slush fund to mask corporate and taxpayer funded contributions is concerning and eliminates the benefits of our no limit full disclosure laws." Boy, do we ever need campaign finance reform in Virginia.
Congratulations to Sen. Donald McEachin (D-Richmond), one of the best public servants in Virginia, for being named to
Style Weekly's Power List 2010
. McEachin clocks in at #37, with Style Weekly writing:
A liberal Democrat is a strange candidate to ride the coattails of conservative activist Ken Cuccinelli (No. 43), but lawyer and state Sen. Don McEachin has parlayed himself into the Republican establishment's critic-in-chief and expanded his profile over the national airwaves. He's pushed back on the opposition party's handling of issues including health care and climate change. He's already run for statewide office and lost, but he'll be back.
That's great news and I'm really glad to see it. As for the rest of the list? The CEO of Dominion Power, Thomas Farrell, #1? Rep. Eric Cantor #4? Gov. Bob McDonnell #6? Del. Kirkland Cox #25? Attorney General Ken Kook-inelli # 39? McDonnell Senior Economic Advisor Robert Sledd #50? Not so much.
Thank you, DPVA -- more like this! (Note: Also, there's
this minor matter
of raiding the state pension system of hundreds of millions of dollars -- smoke and mirrors, in other words, like almost all "conservative" economics)
The Democratic Party of Virginia responded today to Governor McDonnell's announcement of Virginia's budget surplus.

In September of 2009, as covered by the Washington Post, Governor Kaine cut approx $1.35 billion from the Commonwealth's budget. (See background #1 & #2, and the Governor's official spending cuts in #3) Then again in December of 2009 he again made difficult spending cuts (see document #4).

Senate Majority Leader Richard Saslaw stated, "This surplus is the work of the General assembly money committees working on the recommendations of Governor Kaine. The current Governor had little or nothing to do with cutting the state's budget that led to this surplus."