Home
Tags
Virginia General Assembly
Tag: Virginia General Assembly
Excellent preview (see video below) by Del. Marcus Simon (D-Falls Church) of next week's Virginia General Assembly special session on the budget and possible...
People can try to put a positive spin on the 2018 Virginia General Assembly session all they want - and many have, for a...
This should be fun. Or not. LOL Governor Northam Calls April 11 Special Session for General Assembly to Complete Work on State Budget RICHMOND – Governor Ralph...
Interesting analysis by HeartCooksBrain, cross posted from Daily Kos Initial Notes Just a quick explainer on what I mean by the ratings. Tossup: This race could go wither...
Government in this country works by consent of the governed. At least that's how it's supposed to work, but here in Virginia we've allowed...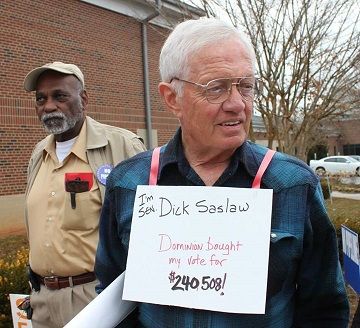 On February 23, Dominion Power announced four additional alternate routes in Nelson County for its proposed Atlantic Coast Pipeline (ACP), nearly doubling the number of land owners affected. Augusta now has nine possible ACP routes, and Dominion has added one alternate route in Buckingham County.
Holding an Open House in Nelson for all three counties is a first, especially since we were told by Dominion representatives they didn't have to hold it all. When landowners complained the maps presented for their use in viewing all these routes were extremely difficult to read, Dominion agreed! Suffice it to say, the anti-pipeline booths set up outside the venue were very busy. Most people were joining Nelson's anti-pipeline groups, buying No Pipeline signs and t-shirts, and asking how they could help with the resistance.
Free Nelson organized a protest for the event, centered around Dominion's purchase of Virginia's elected officials. On February 5, about 50 citizen lobbyists attended the General Assembly session to lobby for the repeal of the survey without permission law passed in 2004. They lobbied Virginia's Senators in the morning and attended the Commerce and Labor Committee meeting where the bill was promptly killed without a motion.
Local citizens wore tent cards at Tuesday's Open House with a Senator's name who serves on the Commerce and Labor Committee and comments which read "bought and paid for by Dominion" and "Dominion bought my vote for" and the dollar amount of contributions. Governor McAuliffe and Senator Warner were included in the protest, because McAuliffe supports the proposed ACP, and then-Governor Warner signed the 2004 survey bill into law. Each "Citizen Senator" also had an envelope of "Commonwealth of Dominion" bucks equalling their specific pay off received from Dominion. Senator Dick Saslaw won the prize for the largest amount of contributions received at over $240,000.
At the end of the evening, the "Citizen Senators" went to Dominion's "Public Input" table where they sang a revised version of the old Lesley Gore song, "You Don't Own Me" and returned all of Dominion's contributions received by our legislators in "Commonwealth of Dominion" bucks.
Photos by Marion Kanour and Jennifer Lewis
Those in Nelson, Augusta and other counties across the Commonwealth fighting Dominion's proposed Atlantic Coast Pipeline are appalled the chair of the Commerce and Labor Committee, Senator John Watkins, would write
this Resolution commending Domminion Power
and take it to the Senate Floor for a vote [Lowell's note: where it passed by voice vote; same thing in ths House of Delegates], even after he heard the testimony of landowners regarding the aggressive, bullying tactics Dominion has used in its efforts to secure survey of private property against the will of landowners.
This is just another example of our elected officials bowing to Dominion, portraying Dominion as a good corporate citizen, while continually passing legislation benefitting those legislator's largest corporate contributor against the best interests of the citizens of the Commonwealth! Senator Watkins was very much in favor of the "Ratepayer Ripoff Bill" (SB 1349) which shields Dominion from reviews of its books, while thwarting legislation which would have repealed the survey law (SB 1338). Nelsonians couldn't be happier that Watkins is retiring!
General Assembly
2015 SESSION
SENATE JOINT RESOLUTION NO. 323
Offered February 3, 2015
Commending Dominion Resources, Inc.
The Virginia Senate's Commerce and Labor Committee is Exhibit A in a case which exemplifies the influence of Dominion on the Virginia General Assembly. In its Committee hearing Monday, lawmakers first questioned whether Dominion Transmission is a "public service corporation" under Virginia law, during a brief discussion regarding SB 1166, which would have required Dominion to open its books if they used eminent domain in its projects.
Friends of Nelson President Joanna Salidis, during her remarks, held up Code Section 56-49, even offered copies to the Senators, and said if Dominion Transmission is not a public service corporation, then why are we here, why are they getting these special carve outs only utilities receive? Attorney Henry "Hank" Howell 111 told the Committee during his remarks that these companies are not public service corporations. SB1166 was referred to a committee studying the FOIA statute.
About 50 landowners and community activists (some who brought teenage children) from Nelson, Buckingham, and Augusta Counties made the trek to Richmond Monday morning to lobby all 40 senators regarding SB 1338, which would repeal a law Senator Frank Wagner introduced in 2004, known as the Wagner Act. Code Section 56-49.01 purportedly allows natural gas companies to send "survey" crews onto private property to complete surveys, borings, etc. without landowner permission. There is no time limit for these "surveys," nor notification of a specific date to be given the landowner for when these teams of contractors will appear on their private property. This special exception is allowed only to natural gas companies and no other "public service companies" in Virginia.
The citizen lobbyists had previously set up morning appointments with legislators. When they arrived, they broke up into eight groups to ensure contact and discussion with each Senator. They ate lunch and then made their way to Senate Room B where the hearing was scheduled to begin at 1 pm.
After a lengthy two-plus-hour delay because the Senators were in session in the Capitol, the hearing finally began. Senators continued to saunter in after the hearing had been gaveled into session by Chair Senator John Watkins. Watkins, when meeting with one citizen lobbying group Monday morning said, "We need electricity, this isn't going to happen," referring to the repeal of SB 1338.
I'm starting my review of 2015 energy legislation with a look at bills dealing with renewable energy and energy efficiency. Most of these bills will be heard in the committees on Commerce and Labor, though bills that cost money (tax credits and grants) usually go to Finance.
Bills referred to Senate Commerce and Labor are heard by the full committee, which meets on Monday afternoons. It consists of 14 members: 11 Republicans and 3 Democrats. They form a tough lineup; none of these senators received better than a "C" on the Sierra Club's Climate and Energy Scorecard.
The House bills are typically assigned to the 13-member Special Subcommittee on Energy (10 Republicans and 3 Democrats, no fixed schedule, but we've heard February 3d is the likely date). Bills that do not meet the approval of Dominion Power can expect a quick death here on an unrecorded voice vote, never to be heard from again. But on the plus side, the meetings are often quite lively, like old-fashioned hangings.
Net metering bills
Net metering is the policy that allows owners of solar (or other renewable) energy systems to be credited for the excess power they feed back into the grid when the systems produce a surplus; the owners use the credits when their systems aren't supplying power and they need to draw electricity from the grid. Virginia law restricts who can use net metering, and how much. Expanding net metering is a major goal of renewable energy advocates, who argue it offers a free market approach to growth-give customers the freedom to build solar projects, get the utility out of the way, and solar will thrive.
This year's initiatives include:
A solar array that would have more than doubled Virginia's solar power will not be built after all, with the developer blaming Dominion Virginia Power and other utilities for their lack of interest in buying the output.
The Winchester Star reports that the 20-megawatt array-100,000 solar panels, capable of powering 20,000 homes-had been planned for 145 acres of agricultural land in Clarke County. A spokesman for the developer, OCI Solar Power, said the company allowed its land option to lapse "due to the lack of long-term solar procurement efforts by Dominion and other VA utilities."
This shouldn't surprise anyone. Virginia has done little to encourage our utilities to buy solar power, and so for the most part they haven't. The state's voluntary renewable energy goal is a sorry dishrag of a law. It can be-and is-met with old, out-of-state hydro plants, trash burning, and wood. And because our utilities have a state-sanctioned monopoly on power sales, customers who want solar power can't go buy it from someone else.
But if it isn't surprising for Virginia to lose a big solar opportunity due to utility intransigence, it is stupid. Virginia consumers would love to buy solar energy, local governments would love to have solar farms generating tax revenue, and local businesses would love to create solar jobs. A win-win-win opportunity is being wasted, at a time when lawmakers complain about how hard it is to reduce our carbon emissions.
Even Dominion says it wants utility-scale solar (eventually), but it wants to build its own so it can earn the fat return on equity guaranteed to it by Virginia law. (If the utility buys power from someone else, it can pass along the cost to customers, but it doesn't earn a profit.)
Last year the General Assembly overwhelmingly passed a bill to support solar development, and then failed to fund it. Governor McAuliffe's energy plan talks a good game on solar, but it's toothless. We will continue to miss out on opportunities like this one until we have a law that requires Virginia utilities to buy solar, or lets consumers contract for it directly from any willing seller.
Or better yet, both.