by Lowell Here are a few national and Virginia news headlines, political and otherwise, for Monday, April 24. Showdown looms over money for border wall...
by Lowell Here are a few national and Virginia news headlines, political and otherwise, for Sunday, April 23. Also, if you missed it, check out...
by Lowell Here are a few national and Virginia news headlines, political and otherwise, for Friday, April 21. Deadly Paris shooting could influence voters on...
I agree 100% with Virginia Del. Mark Levine on this (see below). The LAST thing we want to do is what crazies like Trump,...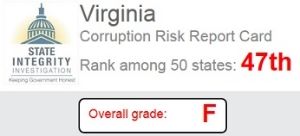 It isn't politicians alone. Commercial media never called out a horribly flawed Governor and Attorney General. Less than two dozen citizens showed up for a public forum on ethics. And the newspaper that hosted that event obscured references to specific instances of malfeasance. Truth is, it's always open season here.
Monday, the outgoing Lieutenant Governor issued a memorandum he penned proposing changes to existing ethics standards. Where was he when it was revealed that his fellow Republican statewide office-holders violated the very standards he proposes? Or anytime during his almost two decades in the Senate chamber? Wednesday members of the House of Delegates offered up what was termed a "sweeping bipartisan ethics reform agreement." The only thing it sweeps is the issue under the carpet. I am ashamed it's called bipartisan. And consistently the media has offered up little in the way of objective or substantive reporting on ethics violations.
Maybe the citizens of Virginia don't care that the state is rated one of the most vulnerable to corruption by the Center for Public Integrity. When the Richmond Times Dispatch held one if its Public Square events last October, it was sparsely attended. When it reported on the discussion, the transcript that publisher Tom Silvestri promised was delivered redacted, removing the most compelling discussion, much of which was about politicians the paper regularly supports.
A couple of things before I continue. No doubt Tom Silvestri would be a super game show host and is certainly an entertaining addition to any cocktail party guest list, but I wouldn't count on his paper or any Media General product for my news. Delegate Jimmie Massie (R-72nd) will come across in what follows as at best naïve and sometimes self-serving, but gives no cause to suspect his personal integrity. At least Delegate Massie puts himself out there and should be applauded for showing up and his openness during this discussion. But there are a number of things you might not know if you rely on the redacted transcript (or "highlights" to use the paper's term), you weren't among the twenty or so at the forum, or you can't find the full video online because the Times Dispatch has made that difficult to search by titling it Public Square 1008 on YouTube. This was Public Square 48.
I've gotta say one thing about David Englin, he sure doesn't back down from a fight, even - or especially? - when he's dead wrong on every level!
Check this out from his Washington Post op-ed
.
However, the trip has understandably raised eyebrows and ire among constituents, environmental activists and editorial boards, who perceive it as Virginia Uranium's effort to buy our votes. To make matters worse, a senior Democrat from Northern Virginia, who knew full well the itinerary and was already en route, opted out of the trip only after the news media reported his scheduled participation, feeding the notion that we were up to no good.

So why would somebody like me, who has spent the past three terms in the House of Delegates building a record and reputation as a good-government progressive and environmental activist, agree to participate in such an excursion?
Englin proceeds to explain why he went to France on Virginia Uranium's dime (or maybe Euro?). He's pretty persuasive, too; heck, by the end, even I was just about convinced! Ha, well, maybe not. Anyway, check out what Del. Englin has to say, and let us know what you think. Thanks. Or perhapsI say, in keeping with the subject, "merci beaucoup!"
P.S. Now, time to open a bottle of Beaujolais Nouveau and celebrate the start of "le jour de l'Indépendance" weekend. :)
P.P.S. Graphic courtesy of NLS
Here's a letter from Virginia Senator Steve Martin. Apparently, those opposed to uranium mining have a "shallow" understanding of the safety issues involved. I feel much more enlightened now.
From: "senate district11"
district11@senate.virginia.gov

Thank you for sharing your concern about paid travel and uranium mining in Virginia. I see these as two different issues, though it may be that the particular company you referenced is funding some travel.

I was not aware of this scheduled trip and was not offered an opportunity to go. But, I will check into it. Any such trips will need to be reported on the individual legislators' statements of economic interest. Such "fact finding trips" sometimes do not accrue to the funder's benefit due to the integrity and exercise of independent judgment by the respective legislators. But, you are right: accepting such travel opportunities does not look good.

As for the issue of uranium mining itself, I have researched it thoroughly and am fully aware of the site design and water flow issues. I am knowledgeable of the precautions that ensure there is no contamination. I understand why the mere thought of radiation risk would raise fear but, that is really born out of a fairly shallow understanding of the issue.

As this issue comes before me, I will be supporting the opportunity for uranium mining in Virginia. It will be done safely and put many people to work in an area that needs the job opportunities.

Again, thank you for sharing your concern. I will check into the travel issue you have raised. Feel free to continue to share your concern on any topic of interest to you, and please do not hesitate to call or write to my office at any time.

Sincerely,

Steve Martin
I asked the Democratic candidates running in the 30th and 31st State Senate districts, as well as the 49th House of Delegates district, whether they believe that accepting gifts like a $10,000, all-expense-paid trip to France by a uranium company with business before the General Assembly - is appropriate for Virginia state legislators - and if not, why not? I'll publish the responses in the order I receive them.
First, though, here's David Englin's response, since he's one of the state legislators who was listed by the Washington Post as accepting an "all-expenses paid trips as part of an aggressive lobbying effort by a company pushing lawmakers to lift a ban on uranium mining in the state."

Anybody who knows me knows they can't buy my vote. As somebody who's been named a Legislative Hero five times by the League of Conservation Voters, I hope my record speaks for itself when it comes to standing up for our environment.

We're going to France because that's where the comparable mine is, not because it's a tourist destination. I'm also planning a trip later in the year to the proposed mine site here in Virginia. The fact of the matter is that there's great value in being able to see these sites and operations firsthand. As a member of the Natural Resources Subcommittee, I will be heavily engaged in this debate; if proponents are able to say they've seen it work safely firsthand, and all I can do is cite what I've read or been told, I will be at a huge disadvantage.

While some of my colleagues may have the personal resources or accumulated frequent flyer miles to pay their own way, but I do not, and I don't think such a trip would be an appropriate use of either campaign funds or taxpayer dollars. Therefore, my alternatives are to pass on the trip and miss the opportunity to be as credible and informed as the other side, or accept Virginia Uranium's offer to pay my way. This is arguably among the most significant policy decisions the General Assembly will make, and I believe I have an obligation to do everything possible to be well-informed and well-equipped to advocate for the correct course of action.
Now, here's the response from Libby Garvey (30th State Senate district):