Following Tuesday night's Democratic landslide wins in Virginia, it's worth looking at the few remaining Republicans in increasingly "blue" jurisdictions like Fairfax County, Prince...
Check out this robocall by the
American Future Fund
, a "a multi- state issues advocacy group designed to effectively communicate conservative and free market ideals." According to
FactCheck.org
, American Future Fund was "founded in 2007 by Nick Ryan, a longtime political adviser to former Iowa congressman Jim Nussle, a Republican." It "is registered as a 501(c)(4), which means it can receive unlimited donations and does not have to disclose its donors." For whatever reason, this group has decided to place a voter suppression robocall into Fairfax County (Braddock District), on behalf of Tea Party/Ken Cuccinelli-supported Republican John Cook, encouraging Democrats receiving the call to vote TODAY (11/7) not TOMORROW (Election Day). Last I heard, that's illegal. Sadly, though, we see this sort of thing
quite frequently
by Republicans. What part of "illegal" don't Republicans understand?!?
P.S. In response to this call, I urge everyone in Braddock District to make DOUBLE sure you vote TOMORROW, ELECTION DAY, for Janet Oleszek!.
In the race for Braddock District Supervisor, Democrat
Janet Oleszek
is finishing very strong, outraising Teapublican John Cook by a 3:1 margin in late money (see
VPAP
-- it's actually $99K-$33K in October and early November). Also, note that raising close to $100K in a district Supervisor's race in one month - let alone a CHALLENGER - is unheard of. Impressive.
Meanwhile, Janet Oleszek's mail program (click on the images of her superb mail piece #5 to "embiggen") has been, by all accounts - including John Cook's! - superb (in his recent email attacking Sharon Bulova, Cook noted that Oleszek had run "a great ad campaign"). Ha.
In contrast, everything I'm hearing is that Cook's mail campaign has been pathetic, low-quality, uninspired, ineffective, amateur hour (in the worst sense) basically. I'm hearing that the reason for this, in large part, is Cook's incredible arrogance, utter unwillingness to take any advice, and other fine personality traits like loving the sound of his own voice and really
believing he's got a great deal to tell the world (and that the whole world NEEDS to hear it - lol!).
Given all this, it's no wonder that all eyes will be on Braddock Tuesday night, looking for a possible stunning upset victory by Janet Oleszek over the "borrow-and-spend," Ken Kookinelli/Tea Party-backed faux "moderate" John Cook. This should be a fun one to watch - stay tuned!
Any further questions? If so, there are two more images you should see on the "flip." :)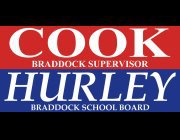 As you can see from his campaign sign, Braddock District Supervisor John Cook (Tea Party-supported Republican) is proudly running with Fairfax County School Board candidate Nell Hurley. Who is Nell Hurley, you ask? Well, in
this morning's Washington Post
, she expressed some...er, unconventional viewpoints.
...one candidate says the next [Fairfax County schools] chief shouldn't be too fat.

"He'll have to make a lot of public appearances," said Braddock District hopeful Nell Hurley. Beyond serving as an excellent manager, she said, a superintendent also should model healthy habits for children and parents. "Somebody who's terribly obese might not be the best person for that particular job."

Weight discrimination in hiring is legal in every state but Michigan, said Rebecca Puhl, director of Yale University's Rudd Center for Food Policy and Obesity. Puhl said a handful of cities, including the District, prohibit such discrimination.

"A person's body weight says nothing about their abilities, their accomplishments or their contributions to society," she said. "We would never see this if we were talking about race or sexual orientation or gender, but with weight this remains acceptable and people do it automatically."
Perhaps that's the case, but it shouldn't be "acceptable" in Braddock District, and John Cook should immediately and forecefully condemn these discriminatory, even bigoted, remarks. Unless, that is, he agrees with his running mate that being overweight has anything whatsoever to do with being an effective schools chief, or any other elected official for that matter.
Nothing against John Cook being a supervisor at Shop Mart (heh), but it seems to me that Braddock voters deserve a full-time Supervisor for their district, not for whatever else the individual's doing to earn money. Go
Janet Oleszek!
:)
P.S. Part two of this funny, clever mailer is on the "flip."
I just got back from a highly successful event for
Janet Oleszek
in Burke. Among the 80 or so guests attending were
Gov. Tim Kaine
; Fairfax County Board Chair
Sharon Bulova
;
Sen. Dave Marsden
; Fairfax County School Board candidates
Megan McLaughlin
,
Ryan McElveen
,
Ted Velkoff
; former FCDC chair Mary Ann Hovis; and
Fairfax Firefighters President John Niemiec
. Video is on the way, but for now, enjoy the photos here and on the "flip." The one with Ben Tribbett has him "introducing" George Allen's tracker, who was treated respectfully despite the bit of joviality on Ben's behalf. Quite a contrast to how Democratic trackers are treated by George Allen and Company. Also, Janet Oleszek announced that a new poll has her within the "margin of error" against incumbent and Tea Party/Cuccinelli Republican John Cook (the numbers are Cook 40%-Oleszek 38%-Campbell 4% and 17% undecided). This is VERY much a winnable race; now let's get out there and win it!
In a debate with Janet Oleszek (D) and Corey Campbell (an "Independent Green" running as the self-professed true "conservative" in the race), Braddock District Supervisor John Cook (R) brags about his relationship with Virginia Transportation Secretary Sean Connaughton, how he can call Connaughton up anytime to talk about Fairfax's transportation situation. Yes, this is the same Sean Connaughton about whom the
Washington Post writes in its lead editorial today
:
The bad news is actually good news, enthused Mr. Connaughton, since congestion is a symptom of prosperity. We take his point, but as Mr. Connaughton well knows, the charm of traffic jams has its perils.
The
Washington City Paper weighs in as well
, sarcastically noting, "
I really like Virginia Department of Transportation's spin on the fact that the Washington region has the worst traffic in the country
," then quoting Connaughton as calling Fairfax's gridlock a case of "bad news is good news."
Since John Cook is obviously tight with Sean Connaughton, maybe he agrees with him that horrendous traffic gridlock in Fairfax County is actually "good news?" Somebody should ask Mr. Cook about that, perhaps the next time he brags about how frequently he talks transportation with Connaughton, McDonnell et al?
How many gaffes and misstatements can Tea Party/Kookinelli favorite John Cook make before Braddock District voters yell, "enough!?!" If he keeps up his fast pace of debate screwups, and also of blowing off his constituents (Arab Americans last night), it might not be very long.
OLESZEK AND BARRY ANNOUNCE PLANS TO CLEAN UP LOCAL ROADWAYS

Issue was raised by community at 2nd Braddock District debate this weekend

Today, Janet Oleszek and Fairfax County Sheriff Stan Barry jointly announced their plans to cut the overgrown medians in Braddock District through the community labor force. The community labor force is non violent inmates from the Fairfax County Detention Center that are available to work on government property.

Janet Oleszek met with Sheriff Barry to discuss the use of the community labor force to address these problems in the Braddock District. "I have always had a great relationship with Janet and would be happy to work with her on this project" said Barry. "The use of inmate labor saves money for the taxpayers and improves the community".

"Our first priority in Fairfax County should be keeping our community safe," Janet Oleszek remarked. "I will make the expansion of this program a top priority of my office in the next budget". Oleszek also noted that the unmaintained roadways were "unattractive and make us appear to be a community in decline".

###

More Information
There's a stark contrast here: 1) on the one hand, a dedicated and effective advocate for public education in Fairfax and beyond (that would be
Janet Oleszek
); 2) on the other hand, a Tea Party/Kookinelli favorite (that would be John Cook) who's busy fundraising with a governor who's slashed education funding - and hinted at more to come. If you care about public education, the choice here couldn't be clearer:
Janet Oleszek for Braddock District Supervisor
!
Governor McDonnell Comes to Fairfax To Fundraise For John Cook

Oleszek demands to know John Cook's position on McDonnell's cuts to public education

Tonight- Governor Bob McDonnell is hosting a high dollar ($500-$5,000) fundraiser for Supervisor John Cook.

In response Janet Oleszek- endorsed this week by the Fairfax Education Association- released the following statement:

"Governor Bob McDonnell has spent his first two years in office cutting state support for public education and making local taxpayers in Fairfax pick up the bill. In 2010, Governor McDonnell called for $730 million in public education cuts- before eventually winning $646 million in cuts. Earlier this year, Governor McDonnell called for another $50 million in cuts to public education as well as announcing a $140 million dollar sales tax diversion that Politifact reported would have almost certainly come from public schools.

Yesterday the Governor attended the State Board of Education meeting and hinted at even more potential cuts to come next year.

John Cook needs to put our Fairfax County Public Schools first- not himself. I call on him to reject any money raised from this event until the Governor will pledge no more cuts to public education in his upcoming budget."