Home
Tags
Charniele Herring
Tag: Charniele Herring
From the Virginia House Democratic Caucus: Does Va. House GOP Support "Execrable" Trumpcare Bill? RICHMOND, Va. – As GOP nominee Ed Gillespie continues to walk back his stated opposition...
Nice job by Del. Charniele Herring. Shame on the Virginia GOP (not that they have any shame). GOP Passes Bill to Defund Planned Parenthood RICHMOND, Va....
Virginia Democratic House Caucus Leader Charniele Herring nails it. Unfortunately/disgracefully, Republican Virginia Del. Ben Cline's "Day of Tears" abortion-shaming resolution passed the House of...
From the Virginia House Democratic Caucus: More than 600,000 Virginians Would Save Money from Refinancing RICHMOND, Va. – At a press conference held at the State...
by Lauren Victoria Burke I wasn't paying attention to Virginia's Democratic Party Convention much until learning at about noon yesterday that there was a controversy...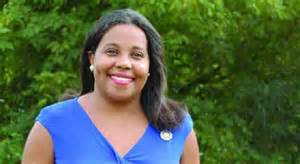 I had the opportunity yesterday to sit down with Democratic Party of Virginia Chair,
Del. Charniele Herring
, for an hour-plus discussion/interview in Alexandria on turning Virginia blue, on winning in 2013, on building the state party and Virginia Democrats' "farm system," etc. Thanks to Del. Herring for her time; I greatly appreciate it. Here are some highlights from our discussion.
1. According to Del. Herring, the 2009 elections in Virginia were a case of conservatives mobilizing, in the aftermath of their defeat in 2008, "to their benefit," while Democrats basically went to sleep. For instance, Herring won her January 2009 special election, in the solid blue 46th district (Alexandria), by just 16 votes, as Democrats "were tired" and didn't go vote. Later that same year, as we all know, Democrats were wiped out for governor, LG, AG, and the House of Delegates. The lesson: "every vote matters," and also we can't ever go to sleep or take anything for granted. Certainly, we'd better not do either of those things in 2013, unless we like the thought of saying "Governor Cuccinelli" for 4 years. Nope, didn't think so.
2. Del. Herring said we've been recruiting candidates for 2013, are doing pretty well, but frankly "candidate recruitment is a long-term thing; we've got to build a bench." Of course, Herring pointed out, it's the House Democratic caucus that is primarily responsible for candidate recruitment for the House of Delegates, while "the party does supplement and provides support" (e.g, voter file, media training, messaging, research, helping to identify donors). According to Del. Herring, "through time we're going to figure out a better way for candidate recruitment," but it's certainly "not easy," as a lot of people don't want to go through what it takes to run for office. The bottom line, in Del. Herring's view, is that it's going to take time to get back to where we need to be in the House of Delegates: "I think what we need to do is be in a place that in 2020, that we have some control of redistricting...it's slow building, I can't sit here and say that we're going to pick up 10 seats in 2013...we have to just realize the reality of our situation...it's going to have to be slow, methodical, and deliberate."