Earlier this afternoon, Virginia GOP Chair John Whitbeck stated unequivocally on The Politics Hour with Kojo Nnamdi and Tom Sherwood (see video snippet below)...
For those of you who aren't familiar with Virginia's 42nd House of Delegates district, here are a few factoids before we get into the...
by Elena Schlossberg Dominion Energy's paid spokesman Chuck Penn, at almost 6.5', towers over my petite 5' frame -- and outweighs me by probably more...
So many lies and smears by Republican Party of Virginia Chair John Whitbeck on today's Kojo Nnamdi Show (see below), so little (basically zero)...
See the video, below, of today's Arlington County Board debate on the Kojo Nnamdi Show. As always, Democrat Erik Gutshall demonstrated that not only...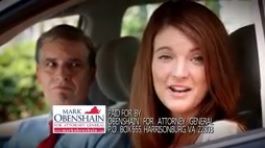 In quick succession, four polls have shown the race for governor is slipping away from Ken Cuccinelli. Yesterday Quenton Kidd, Director of the Wason Center for Public Policy at Christopher Newport University (CNU) discussed recent poll results with
Cathy Lewis on Norfolk's WHRV
. Not all the news was great.
After about a month or so with a McAuliffe lead of around five percent and margins of error around three and four percent, there had been an argument that the gubernatorial race could be closer than the numbers indicate. Two days ago, Politico published a poll showing McAuliffe holding a 10 point lead and soon afterwards CNU released the results of a poll with him up by nine percent. Roanoke College had McAuliffe up by seven and today the Quinnipiac University poll has him with a lead of eight.
Lewis asked Kidd about the libertarian candidate. Kidd responded that Sarvis continues to perform well with about eight per cent of the vote (according to CNU). Sarvis's support, by Kidd's assessment, is coming out of what would naturally be Cuccinelli's voters; he's a protest vote for Republicans and independents who would normally go with the Republican. So the real question is: What do they do on election day? Do they stay home, do they go back to their natural base and vote Republican, or do they stick with Sarvis? Kidd believes that is the real unknown right now.
Kidd told Lewis CNU is currently conducting a poll asking about the shutdown and who is to blame; he expected the Quinnipiac poll to address the shutdown (it did). This he said, would begin to give a clearer picture about whether the race opening up for McAuliffe is directly or indirectly attributable to the "larger politics" around the shutdown and Ken Cuccinelli's connection to those "larger politics."