Great stuff by Arlington Yorktown High School students, pushing back hard against the post-Trump "wave of hate" sweeping the country and their school, and...
Nice work by AG Mark Herring's office. Definitely need to reelect him next year! OAG SUCCESSFULLY DEFENDS BAN ON DISPLAY OF NOOSES FOR INTIMIDATION ~ The...
I think I started writing about the coming implosion of the Republican party here as far back as 2005.  It seems to be dawning...
This is in response to a posting here earlier today regarding Senator Tim Kaine's speech at the National Press Club yesterday. Senator Kaine's talk shows...
by Dan Sullivan The sorry souls whose autos sport bumper stickers and who man the tables for Ben Carson are confessing. They sense the terrible sin of...
Kathleen Parker, one of my favorite GOP columnists at the Washington Post, wrote a cautionary
column
last Sunday asking fellow Republicans to be more careful in picking their allies. She was of course referring to the enthusiastic backing of rancher Cliven Bundy, who refused to pay grazing fees for his cattle on federal land and threatened Bureau of Land Management agents with armed resistance. At first, delighted tea partiers and their conservative fellow travelers in Congress, state governor's mansions, and on a major TV network rallied around Bundy.
But it didn't take long for Fox's Sean Hannity, Senator Rand Paul, and Governor Rick Perry to walk back their support when Bundy claimed that blacks were better off under slavery.
Although Parker handled it with a light touch, making fun of the trio of embarrassed Republicans and tried to make it seem like flawed logic for liberals to conclude that the Republican Party was racist. No, she bravely soldiered on. This was a failure to vet Bundy properly, and she made the call that her party needed to do a better job of choosing their friends. That's all. Merely a zany and embarrassing misunderstanding.
It was a nice try from an embarrassed and decent but loyal Republican. But as the ever perceptive Dana Milbank argued in another column on the editorial page, Republicans, while probably not all racist, should not have been at all surprised by Bundy's racism. He pointed out the long history that the anti-government, anti-tax fringe movement has had with racism. He correctly cited their roots in the 1970s Posse Comitatus Movement and the 1990s Montana Freemen Movement, among others. He also pointed out that Perry, especially, has "flirted with secessionists" in Texas.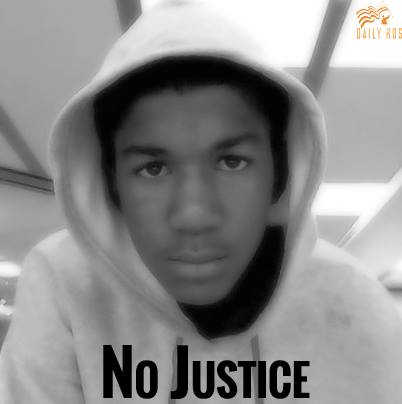 A friend of mine posted four words on her FB page shortly after the Zimmerman verdict Saturday night, "Sad I'm not stunned."
I have two children, a 39 year-old daughter and a 16 year-young son whom I have talked to about the Zimmerman case several times. We've talked about why the police let Zimmerman go without a thorough investigation in the first place; about why there had to be pressure initiated by the community for police to do their jobs; about why this young man, Trayvon Benjamin Martin, was treated differently than my son would have been; why justice for my son would have been different.
My son amazes me with his maturity one moment, and bewilders me with his immaturity the next. Odd for a child this age? Of course not, it is absolutely normal for him, passing from man-child to manhood is a slow, methodical, frustrating process. Young men at this age make coherent, sometimes brilliant decisions one moment, and mind-boggling less than prudent decisions the next.
Following the Washington Post's breaking news of racist photos posted by the Mecklenburg County VA GOP on Facebook - offensively targeting President Obama - outrage has spread across the Commonwealth and into the national spotlight. Last night, on the same day the story broke, the Rev. Al Sharpton covered the offensive photos on his MSNBC show PoliticsNation.
Today, following this attention and pressure from their own state party, it appears as though the Mecklenburg County Republican Party has taken down their Facebook page entirely.
Randy Newman crafts a new anthem for those other guys.
"[F]or me it's a reaction to the Republican Party, which seems to have drifted farther to the right than a major party has drifted in my lifetime in any direction," added Newman. "It seems to have become almost a radical party. The hate and . . . I don't think it'll last. That kind of thing doesn't seem to last."
"We will live in peace. We will live in peace. We will live in peace one day.... Oh, deep in my heart I do believe we will live in peace one day." ("The last verse to We Shall Overcome," which we sang on Dr. King's birthday.
Each time I sing those words, I am moved (sometimes to tears) by the the distance yet to go juxtaposed to the promise of equality and peace. This year I am not so hopeful. It has been a year of national backsliding. No matter what, we try to keep the dream alive. No matter what, we believe that we can make progress toward the dream. In many was we have. But in important other ways we have not.
We have an historic president. But the truth is that the institutions of America have found subtle and un-subtle ways to sabotage this presidency and our national progress on race. Racism is alive and not well. And it makes the accomplishments of this President against such constraints all the more remarkable. Lowkell has enumerated many of these accomplishments on this front page today. Nonetheless, we have substantial racism in 2012 America.
If you doubt that, you have only to look at all the institutional efforts to purport that quotas are required under Affirmative Action (they are not only not required but forbidden unless there is a court order). Yet the myth is professed to rile white America. You have only to look as far as Prince William County and its codified xenophobia. You have only to look to the shrinking enrollments of African Americans in some universities or the incredibly (even staggeringly) high unemployment among African American youth. You have only to look at our prisons and the prison industrial complex's unwillingness to move beyond the faux justice ("need" for "finality") in favor of real justice of getting the right person in criminal cases. The incarceration of so many people of color should make all Americans reflect. My reflection brings me to the point of resolving to work in some capacity on innocence and sentencing reform projects. They are the civil rights problems of our time.