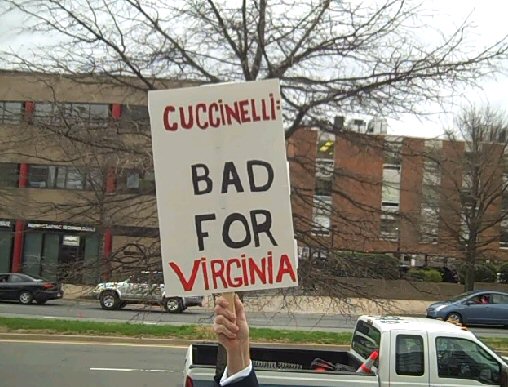 I just got back from George Mason University Law School, where students, alumni, faculty, staff, friends and allies are currently protesting Ken Cuccinelli's appearance at the school. More broadly, they are protesting Ken Cuccinelli's anti-gay attitudes, which Cooch is attempting to force on Virginia as a whole. This is unacceptable, as the protestors and speakers are eloquently and powerfully explaining right now. No wonder why Cooch snuck in the side door of GMU Law School, is not allowing reporters into the event, and apparently is refusing to speak to reporters afterwards. I mean, I can understand why he wouldn't want any sunlight on him, but still that's pathetic.
Also, I should have video shortly of the first speaker, who was absolutely superb. For now, here are some photos, including one (see after the "flip") of Del. Bob Brink listening to the speaker. Also, Miles Grant is there, so he may have more reports and photos.
UPDATE: Follow Miles' twitter feed for more. Other speakers included Arlington Co. Board Chair Jay Fisette & Del. Brink. Also there are Del. Adam Ebbin, Arlington School Board Members Sally Baird, Libby Garvey and Abby Raphael.