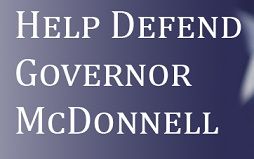 Bob McDonnell spent a week travelling the Commonwealth making 22 stops reminiscing about and claiming credit for all things positive during his term in office. At least one member of his administration was also dispatched to a partisan event in Virginia Beach. Were these also ethics lapses?
In an E-mail sent out last Friday by the Restoration Fund, a relatively new organization formed just before his journey to "help cover legal expenses arising out of the Governor's service in office" and to defend his record in office against attack, the tour was the centerpiece. So it begs the question: was the tour a public relations campaign to raise money for his legal defense or a bona fide effort to connect with his constituents?
And since when is it proper to dispatch a state administrator to address a partisan gathering with the message: "How Governor McDonnell made Virginia the Energy Capitol of the East Coast." The prospect of this revelation was too much to pass up, so I wrote the Chair of the Republican Party of Virginia Beach to ask if I could video the event. Chairman Longo responded that he would have to contact the speaker, Cathie France, Deputy Director, Energy Policy, Virginia Department Mines, Minerals, & Energy. But wait, maybe she wasn't acting as advertised, for yesterday Williams Mullins announced she would enter their employ effective 9 September joining the firm's State Government Relations practice. After the fact, Chairman Longo let me know that he never got permission. No wonder. But I digress.
Everything this Governor and his administration does merits close scrutiny. If not for the ethics challenges, at least for the entertainment value. But the bonus with this new scheme to raise money is that as a political organization under section 527(e)(1), the Virginia Public Access Project will broadcast to the world the list of donors who have made it clear that ethics in government matter not a whit to them.