( – promoted by lowkell)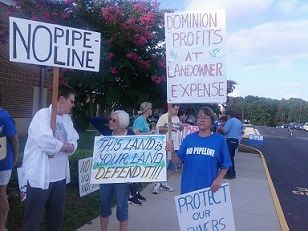 In an attempt to restrict access by the public to Dominion's pipeline "open house" in Augusta County, Dominion has moved the "public event" to a private venue, Augusta Expo, at Fishersville after Augusta County Administrator Pat Coffield canceled the event at the Verona Government Center. A request by Dominion to search the public before entering the open house because of "safety concerns" was denied by Coffield.
The Augusta Alliance, an anti-pipeline citizens group, had planned a rally to be held outside the Verona Government Center to coincide with Dominion's "Open House" scheduled for Monday, September 15. The "Open House" was to begin at 4 pm for elected officials. In an interview by Tri-Cities.com,
Coffield stressed that the government center is a working government building where public business takes place. "This overlaps with our operations," he said of the open house. He also said when a public meeting is held in a public building it is not proper to search bags or restrict access.
The Tri-Cities story can be found here.