Advertisement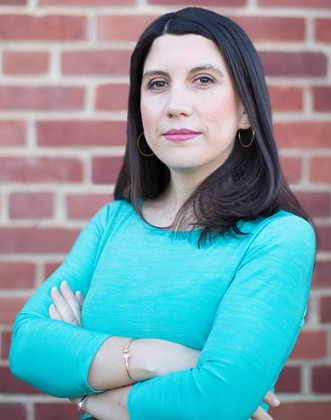 With the retirement announcement of Arlington County School Board member Emma Violand-Sanchez, Arlington Democrats have set May 19 and May 21 as the dates for a "firehouse primary" to endorse a candidate for this position. In addition, incumbent Nancy Van Doren is up for reelection, and her name will also be on the ballot at the "firehouse primary." Candidates running for the Democratic endorsement, in addition to Van Doren, are Michael Shea, Tannia Talento and Chaz Crismon. I'm hoping to talk to all of them in coming weeks.
This morning, I had the opportunity to sit down this morning for a couple hours with Tannia Talento. I mostly wanted to discuss her views on issues relevant to the Arlington public school system and to education in general, but I also wanted to give her the opportunity to respond to the recent story about a dispute with her former campaign manager, Courtney Hill. See the end of this post for a statement from her campaign on that issue. In addition, see below for a writeup on our wide-ranging discussion this morning. All in all, I found Talento to be personable, smart, passionate about public education, knowledgeable about the Arlington public school system and highly motivated to serve on the School Board. With that, here's the interview, edited for clarity and length.

I asked Talento if she wanted to respond further, in addition to the statement issued by her campaign (see below), to the accusations leveled by her former campaign manager. Talento's response was that she's running for the School Board "to serve our community," and that "these are attacks on my personal character and my personal life." She added that "anyone who has worked with me or broken bread with me…anyone who knows our family can see that these things are untrue." She said she is new to politics, didn't know anything about campaign managers, and that Hill was referred to her. "It's unfortunate that she's taken this route; I don't really understand what happened." She also stressed that she has no desire to turn this into a soap opera ("I'm not here to create [a telenovela]").
On her relationship with the African-American community, Talento said she grew up in a predominantly African-American community (Prince Georges County, MD), and that she was accepted for who she was — Latina, first-generation American (child of immigrants from Guatemala)  — by the African-American community. "These allegations are hurtful to me, because they're actually a group of community members that I advocate for; I believe that the Latinos and African Americans are some of the most underserved populations in the country…and in Arlington." She said she's been learning about Arlington's "deep history of segregation," "and I've always been aware that minority children don't always have access to the opportunities." She said she has African Americans supporting her, although none have publicly endorsed her yet. She added that she was excited about hiring Courtney Hill in part because "she is a minority who would understand some of the experiences I have faced in my life."
I asked her about her background as a Democrat, since she's running for the Democratic endorsement. She said she hasn't been heavily involved in politics, comes from an apolitical family (they were focused mostly on working/surviving and keeping the family together), but definitely considers herself a Democrat. When she started voting, she says "I always voted Democratic, because they were the party that actually cares about people, social justice…equality for everyone." She said she has no "political ambition at this time" beyond serving on the School Board. As for seeing herself being attacked in the media, she said "being a minority forces you to have thick skin." We talked a bit about her husband being a Republican, how they "do not always agree on things." As for her view of the Republican Party at this point, she said she can't support candidates who are not pro-choice, who don't want to invest in the community, who are against LGBT equality, who believe in making the rich richer, etc. Finally, she said she doesn't see how her husband's political views should have any bearing on her own run for the School Board as a Democrat.
Why did she decide to run for Arlington County School Board and why now? "Right now was a good time for me and my family." She pointed out that she's been involved in the schools for years, serving on a number of committees (e.g., Facilities Study Committee, Career Center Parent Advisory Committee), also was strongly encouraged to run by current Arlington County School Board member Emma Violand-Sanchez.
We talked about her educational background (attended community college, intends to finish her college education) and whether it's necessary to have advanced educational credentials to serve on the School Board. She said it's great to have an advanced education, but that there shouldn't be any specific requirement to be on the School Board. She added that it's wrong to equate education with intelligence, or with "the ability to manage a budget, to speak to parents, to hire and fire a superintendent, to make policy changes that are good for our students." "We need people [with advanced degrees in education] on our Board, but we also need people like me. Who on the School Board understands the perspective of an immigrant family…of an oppressed minority (with the exception of James Lander)…what it means to have to advocate for your education when noone…might suspect that you're capable…If we want to have a school system that provides equal access to every single child in our county, if we want to be the best school system in the country, we need every single perspective that is represented in our county, because that's the only we're going to make policy changes that are fair and equitable for all of our students." "I don't think you need five doctorates on the school board…it's nice to have one doctorate or two doctorates, it's also nice…to have people of different backgrounds" – including people who don't have kids in the school system. The bottom line is that the School Board needs diversity – ethnic, racial, gender, geographic, educational, etc. – to best represent all of the community.
Should the School Board be a full-time job? "I am planning on making this my primary focus…In Arlington it IS a full-time job…For our board members who are working full time, they really have two full-time jobs."
Would she like to serve on the School Board for more than one term? "I will always be a community service person now that I'm in a position where I have that time. So for me, School Board is just an extension of that, and I will do my service there for four years, and if after my first time I feel like I can still make positive change…then I will ask to be reelected." "This really for me is about serving my community."
Why vote for her as opposed to other candidates? She says all of the candidates are "great people," and that she respects anyone who is willing to put themselves out there for public office. In the end, she believes she has a unique perspective to offer and hopes that voters will vote to put that perspective on the Board.
Should Arlington spend more/the same/less money on the School Board? She strongly believes in investing in public education. She believes in working closely with community organizations and in multi-use buildings. She doesn't think there's a specific percentage of Arlington's budget that should go to the schools, it's more about what's needed, what resources are available, and what are the other priorities in the county. She strongly supports public-private collaborations, looking for efficiencies in the school system and generally getting the most bang from whatever budget bucks are available.
How about making our schools more energy efficient and "greener" in general? She says she's all for it, the only question is what the budget allows in terms of investing in making our schools greener.
SOLs and testing? She does "not believe that we should teach to tests, ever. We need to teach our children how to learn, how to think, critical thinking, problem solving…understanding how to advocate…communicate…have social skills." "That being said, we need to be able to assess how we're doing, so there has to be some testing but it should be minimal; testing should not be our focus in education."
What about the role of technology in schools? "It's an equity issue for me. A lot of families provide their students technology…if we have a group of students that don't have access to that, then we have an equity issue…A lot of teachers are requiring projects to be turned in via the internet."
STEM/STEAM vs. liberal arts education? "I don't think one is more than the other...Think about what we could do to our student population if we taught our children who are math people how to communicate through writing and if we taught our writers how to understand processes in math — math is an art…I don't think one is more than the other, we have to embrace it all, that's why I love the idea of STEAM…We really need to teach students how to do all of it."
Should it matter to replace Emma Violand-Sanchez with another Latina? "I think that it does matter, because I think that I do bring the perspective of being Latina…diversity is huge," including the perspective of being in a family of English language learners as a kid and having to interpret for her parents. Having said that, she definitely doesn't see herself as only appealing to the Latino community, but says she has broad support, including former Arlington County Board member Mary Hynes, former Delegate Karen Darner and former County Board candidate Andrew Schneider. As Talento puts it, "I'm not your cookie-cutter candidate on any level." 
Public Statement by Talento for School Board campaign:
I am running for the Arlington School Board, because I firmly believe in advocating for quality education and the success of every student in Arlington Public Schools. I believe that APS is capable of addressing our capacity needs in a responsible and effective manner while maintaining a focus on instruction and services for all of our students. It is important that we ensure equitable education for every child regardless of socioeconomic status, race, religion or gender. My vision will ensure a continued focus on the Whole Child and will make strides in closing the achievement gap. Therefore it is unfortunate that Ms. Hill is undertaking this present course of action.
At the onset of my campaign, Ms. Hill was employed as my campaign manager. Shortly after we began our work together, I realized we had different expectations for the direction of the campaign. Her employment was eventually terminated and unfortunately we had a contractual disagreement which will be settled judiciously in our court system.
I have established and maintained relationships and support from a number of prominent community members and civic leaders of various backgrounds and ethnicities. However, to date, Ms. Hill has unfortunately engaged in a whisper campaign that has been factually inaccurate and maliciously personal in the allegations she has alleged to a number of people in the community.
I am running for the School Board, because I believe our school system has the ability of being the best in the country and that we can make strides to close the achievement gap and ensure success for every student in our system. I am excited to collaborate closely with our community leaders and community organizations through our whole child initiative to solve issues facing everyone, from capacity to the achievement gap. I believe that Arlington is in a unique position to give every student the opportunity to reach their full potential and look forward to working with our community to achieve this goal.
Some of the allegations that Courtney has made are very hurtful not just to me, but also to my family. However, I will remain focused on the issues at hand and will continue my work to promote a school system which benefits every student in Arlington Public Schools.
I am happy and willing to meet with any members of the community to discuss school issues and any other concerns they may have. You can reach my campaign directly at my website: www.tanniatalento.org.