The Erik Gutshall for Arlington County Board is out with its latest mailer (see below), arguing (correctly) that Gutshall is the clear, better choice for voters on June 14. Among other reasons, the Gutshall mailer cites the fact that "Libby is divisive…only 1 of 22 current elected officials have endorsed her; None of the current County Board or School Board Members."
Also, see below for the Gutshall campaign's explanation of Garvey's failure to "refute the logical conclusion from her comments from the March 17 County Board meeting that she would like to eliminate the tax exemption [for Arlington Seniors who want to continue living in their homes].
Finally, check out the Twitter exchange over today's Kojo Nnamdi Show segment on the Arlington County Board race. Fun times! LOL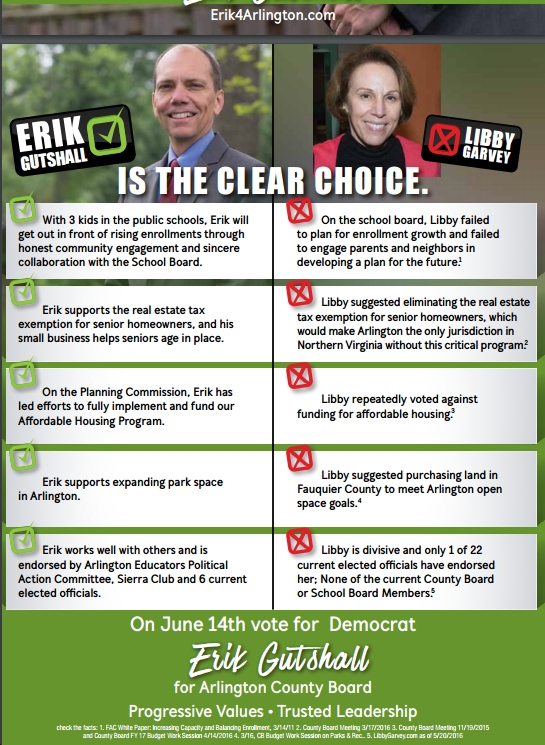 WHO'S PLAYING WITH THE FACTS?
Garvey's response to Gutshall mailer conflates the facts; video of County Board [fwd to 54:39] meeting supports Gutshall's account of Garvey's record on senior tax relief program.
Many of you received my mailer on Libby Garvey's recent suggestion to eliminate the real estate tax exemption for seniors, which would make Arlington the only jurisdiction in Northern Virginia without this critical program. In response, Ms. Garvey released a statement claiming my mailer was false, conveniently deflecting the issue to taxdeferrals. She does not refute the logical conclusion from her comments from the March 17 County Board meeting that she would like to eliminate the tax exemption.
This is an important policy issue with far-reaching implications for people's lives.  As explained to Ms. Garvey by County staff in that meeting, there is a significant difference between exemptions and deferrals to achieve the goals of the tax relief program for seniors.  County experience shows us that few seniors take advantage of the deferral program because it leaves a large tax burden for seniors' family members.  For this reason, only 25 households participate in the deferral program, while an estimate 900 households benefit from a full or partial tax exemption.  Just as many seniors won't consider a reverse-mortgage, if the exemption option was eliminated, many vulnerable seniors would choose to leave their homes in lieu of the deferral option.
Ms. Garvey further conflates the issue by citing a vote by the other County Board members to study this issue to justify her position.  However, she should also share that County staff presented a range of income and asset level alternates for County Board consideration, none of which included elimination of the real estate tax exemption option.  In fact, the County Manager recommends keeping the tax exemption in place. Further, though all Board members agreed to undertake a broader assessment of the program for next year, no other Board member remotely suggested support for cutting the exemption program like Ms. Garvey did.
Those who qualify for this program truly are the most vulnerable, low-income seniors, and on the County Board I'll fight to help them stay in Arlington.
Below is the complete factual record citation for our mailer.  Decide for yourself who's playing with the facts.
LIBBY GARVEY WANTS TO ELIMINATE TAX EXEMPTIONS FOR SENIORS.
FISCAL YEAR 2017 PROPOSED BUDGET WORK SESSION WITH THE COUNTY MANAGER
Department of Human Services and Department of Community Planning, Housing & Development
March 17, 2016
The quote we referenced takes place at 54:39: "I'm very comfortable with deferral, I'm not so sure about the exemption."
Click here for the link to the video.
In the FY17 budget review, Garvey suggested eliminating the real estate tax exemption for senior and permanently disabled homeowners, even though this was not one of the options recommended by the County Manager after a careful review of the tax relief program.  Garvey supports tax deferrals, the part of the program that currently only serves 25 households across Arlington, but does not support the means-tested tax exemptions that will serve an estimated 900 households. (See full Staff Report)
LIBBY GARVEY REPEATEDLY VOTED AGAINST FUNDING FOR AFFORDABLE HOUSING.
Garvey has recently twice voted against funding for the Affordable Housing Investment Fund (AHIF):
County Board FY17 Budget Work Session with the County Manager
April 14, 2016
Click here for the link to the video.
At 1:23 A board majority of Members Cristol, Dorsey and Fisette all indicate their support for additional funding for the Affordable Housing Investment Fund.  However, at 1:45 when Garvey finally puts a motion on the table, she instructs staff to strip out $1.5M from Affordable Housing Investment Fund, saying: "If we take out the $1.5 million for AHIF…" Then, at 1:46:30 she concludes her motion by saying: "I will move that that's what I would like to do…"
County Board Meeting
November 19, 2015
Agenda Item 42. FISCAL YEAR (FY) 2015 CLOSEOUT AND RE-APPROPRIATION INTO FY 2016.
Libby Garvey made a motion and voted to: "Reallocate $8,200,000 in attachment 1B, item 7 set aside for AHIF in FY 2017 to an unallocated contingent in FY 2017 to meet budget priorities of the County Board."  Fortunately, her motion failed.