A few minutes ago, I got off a conference call organized by the Chesapeake Climate Action Network (CCAN), and including several other speakers from across Virginia. The main topic was brand-new polling regarding Gov. McAuliffe's (flawed) policies on new fracked natural gas pipelines and coal ash waste disposal in the Commonwealth. To put it mildly, Virginians are not on the same page with McAuliffe (or with Dominion Power) on this one. Check out the press release below, and also the poll result graphics I've embedded.
First, when it comes to coal ash waste disposal, Virginians by an enormous 71%-14% margin do NOT want Gov. McAuliffe to follow Dominion Power's shoddy approach, but instead want him to have the ash moved away from rivers and drinking water supplies and put into lined, protected landfills instead.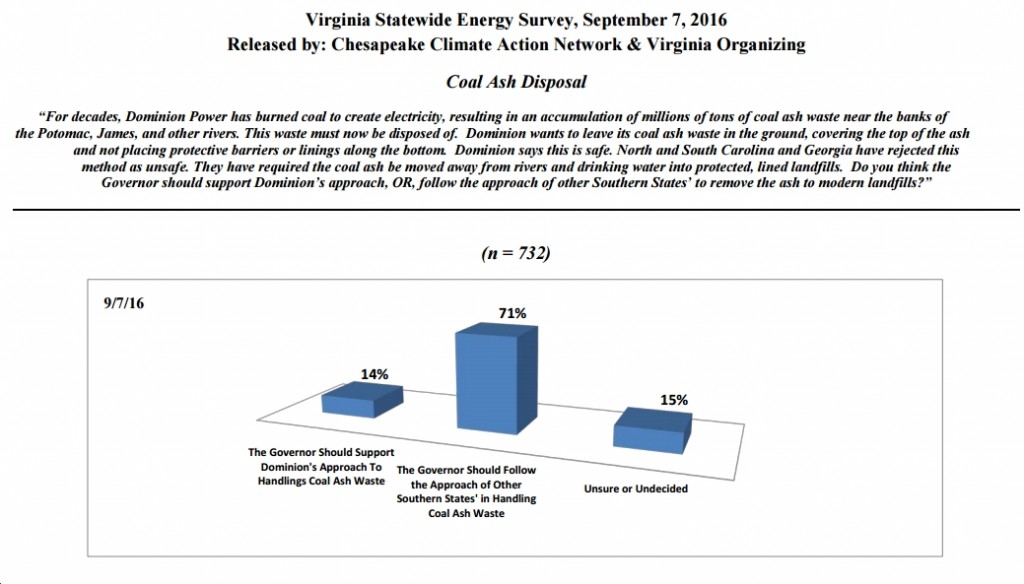 Second, Virginians by a 2:1 margin do NOT support Gov. McAuliffe on building two new pipelines across the state to carry fracked natural gas from West Virginia. Obviously, a much better (and far cheaper) answer would be to max out on energy efficiency first, then proceed to super-cheap, clean solar power (both utility-scale and distributed/rooftop), then tap into Virginia's enormous offshore wind power potential. Do all that first, and we'll never need these ridiculous, harmful, expensive natural gas pipelines that most Virginians don't even want! Is this a no-brainer or what???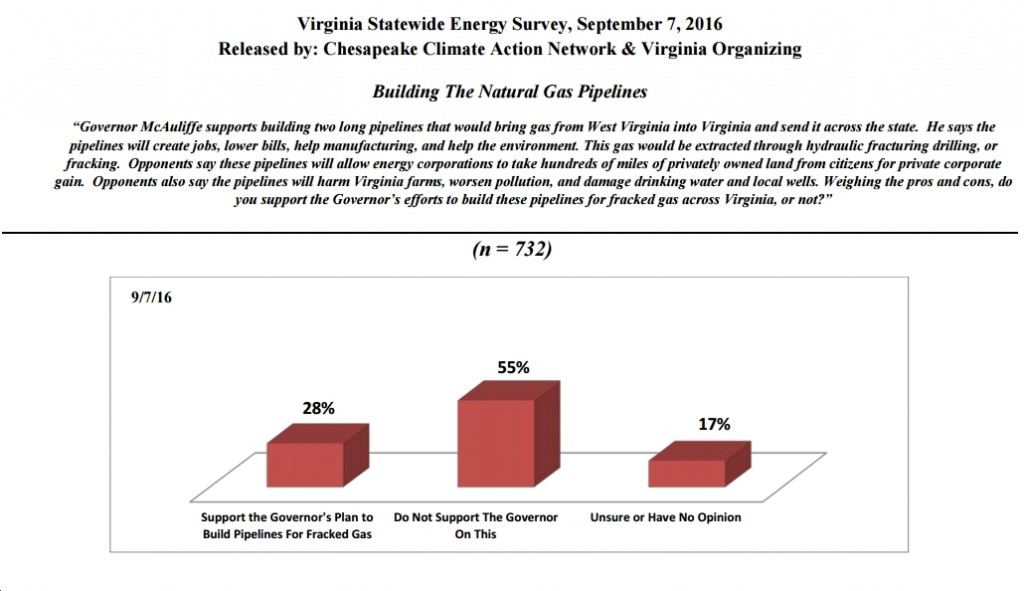 Poll: Virginia Voters Oppose Governor McAuliffe on Fracked-Gas Pipelines, Coal Ash Disposal
Citizens announce a three-day picket outside of Governor McAuliffe's Richmond offices in early October to demand protection from fossil fuel harm
RICHMOND, Va. — Statewide poll results released today show that, on the hot-button issues of fracked-gas pipelines and coal ash disposal, Virginia voters disagree with the approach being taken by Governor Terry McAuliffe by significant, bipartisan margins.
Only 28% of Virginia voters support Governor McAuliffe's efforts to build two major fracked-gas pipelines, while 55% oppose the Governor's efforts, a nearly 2-to-1 margin of opposition.
Opposition to Governor McAuliffe on pipelines was especially strong in rural Virginia, among Independents, and among women.
An overwhelming majority of voters polled — 71% — believe Governor McAuliffe should follow the approach of other southern states on coal ash disposal, requiring removal of the ash to modern landfills instead of allowing Dominion to bury it in place by rivers.
The coal ash results show a 5-to-1 margin against Dominion's approach and in favor of the approach of other southern states — including a majority across virtually every party, regional, and demographic group surveyed.
"This poll shows that Governor McAuliffe's cheerleading for fracked-gas pipelines is not only dangerous for communities and the climate, but decidedly unpopular in Virginia," said Mike Tidwell, director of the Chesapeake Climate Action Network. "The Governor likes to dismiss both the pipelines and coal ash as 'federal issues' beyond his influence, but that's untrue. He has direct executive power to act on behalf of Virginians facing direct harm now. Governor McAuliffe has the means and the moral responsibility to reject the pipelines and to reform coal ash disposal, and his legacy depends on it."
The poll results were released by the Chesapeake Climate Action Network and Virginia Organizing during a tele-briefing this morning, which also included Virginia citizens who are being directly affected by the proposed Atlantic Coast and Mountain Valley Pipelines and by water contamination linked to coal ash.
"Governor Terry McAuliffe was elected on promises to protect our environment, and that's what Virginia voters clearly still expect him to do," said Janice "Jay" Johnson, a Newport News resident and State Governing Board member of Virginia Organizing. "By putting the welfare of people over polluters, Governor McAuliffe can gain the support and trust of a growing grassroots movement. He can protect me and my neighbors in Hampton Roads who live in daily fear of flooding and extreme weather, wondering when 'the big one' will hit us."
Citizens on the call announced plans for a first-of-its-kind,
three-day picket
outside of Governor McAuliffe's Richmond offices during the first week of October. The picket line will unite dozens of Virginians across the state in bringing this message to the Governor: "Yes, you can, and
yes, you must
, protect our welfare from pipelines, coal ash, and rising seas."
"I'll be bringing drinking water from my family's well near Possum Point to Governor McAuliffe's offices to ask him directly, 'Would you let your kids drink this?,'" said Dan Marrow, a father from Dumfries whose family lives within 1,000 feet of a Dominion coal ash waste pond and whose drinking water recently tested positive for several toxic heavy metals. "If Governor McAuliffe lets Dominion continue with its 'cap in place' plan, more families like mine will face contaminated water and unknown health risks. Polling shows the public understands this threat and expects Governor McAuliffe to follow the safer approach of neighboring states."
"My father and I will travel from Southwest Virginia to Richmond to appeal to the Governor to protect our 10th-generation family land, our water, and our heritage," said Don Jones, the son of 86-year-old Korean War veteran George Jones, who owns property that would be bisected by the Mountain Valley Pipeline in Giles County. "Instead of doing the bidding of gas companies, it's time for Governor McAuliffe to stand with citizens, and help stop these pipelines."
"Our churches and seventy-five percent of our membership make up the ground-zero zone of the proposed compressor station for the Atlantic Coast Pipeline," said Pastor Paul Wilson, who ministers to the Union Hill and Union Grove Baptist churches in Buckingham County. "Dominion's message to us has been that 200-plus lives don't matter, so we're asking, does Governor McAuliffe agree? If the Governor believes in environmental justice, then he must commit to using his state authority to reject the Atlantic Coast Pipeline. The Buckingham County Board of Supervisors must also reject Dominion's permit request."
During the three-day protest in October, citizens will press Governor McAuliffe to make a positive difference on three major pollution threats facing Virginia, specifically by:
Rejecting permits for the Mountain Valley and Atlantic Coast Pipelines for fracked gas, using state authority under the Clean Water Act, as Governor Andrew Cuomo has done in New York State.
Requiring Dominion and other utilities to permanently protect Virginia waterways from toxic coal ash, as state authorities in the Carolinas and Georgia are doing.
Committing to serious clean energy and adaptation solutions to keep coastal communities above water, including a dedicated state funding stream for flood protection.
The Cromer Group poll, commissioned by the Chesapeake Climate Action Network, surveyed 732 randomly-selected Virginia registered voters in an automated phone survey. The survey carries a margin of error of + 4.0 percent at 95 percent level of confidence.