Are you feeling a bit angry, perturbed, disturbed, anxious, and/or sick to your stomach these days at the thought of Donald Friggin' Trump becoming President (despite having lost the popular vote by 2.9 million)? If so, and if you really want to tell Putin's BFF where to shove it, here's some good news: Virginia will be holding a special election on January 10, 2017, just ten days before the corrupt, disgusting orange freakazoid is sworn in, with control of the State Senate on the line.
Even better, you can do something about it — you can help Democrat Ryant Washington for Senate – SD 22 (Lynchburg City; Amherst, Fluvanna, Goochland, Prince Edward, Appomattox, Buckingham, Cumberland and Louisa Counties) win his special election.
Keep in mind that the Virginia State Senate is currently at 20-19 Republican, which means that if Washington wins this Republican-held seat (note: Tom Garrett is leaving the State Senate and headed to the U.S. House of Representatives, opening up this seat to a possible upset win by the "blue team"), it would tie things up 20-20. That, in turn, would effectively put Democrats in the majority, as Lt. Gov. Ralph Northam (D) would break ties.
So, can we win this seat? Normally, to be honest, I'd say NO, as the district leans strongly Republican (e.g., Cooch beat Terry McAuliffe by 16 points here in 2013). However – you knew there was a "however" coming, right? LOL – Democrats have four things going for us here that could potentially result in an upset win.
First, Ryant Washington is a very popular longtime Sheriff and Deputy Sheriff of Fluvanna County, a former Virginia State Trooper, and Past President of the Virginia Sheriff's Association. All of which means that he's well known in the district and also, by all accounts I've heard, very well liked and respected, even by Republicans.
Second, Washington has not one but TWO right-wing opponents: Lynchburg-based Republican Mark Peake and Farmville-based "Independent Conservative" (make that VERY conservative) businessman Joe Hines. This introduces potentially very interesting dynamics into the race, both in terms of the potential for these two conservative candidates to split the Republican vote, and also for some interesting geographic splits (see district map and county map of Virginia below) to develop.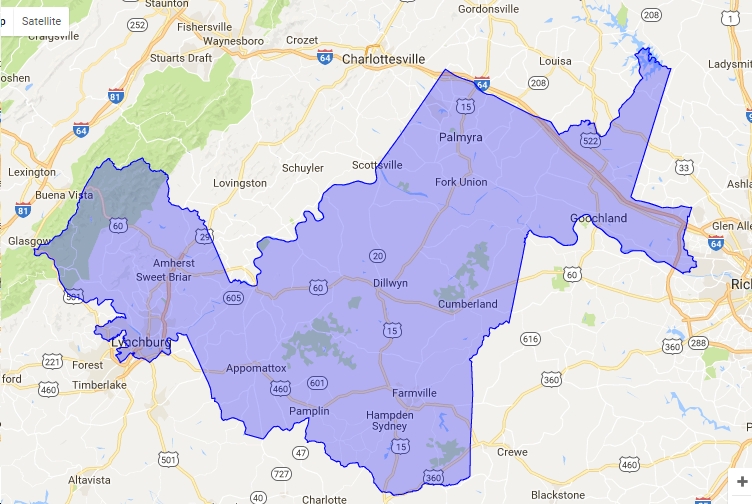 Third, this is a special election, which means that turnout will likely be low and also heavily dependent on how good each campaign's field/Get Out the Vote (GOTV) operation is. From what I hear, Democrats are very well organized on the ground and in terms of GOTV operations, which could bode well for January 10 (note: for phone bank information, see Ken Boddye's post here). As Democratic Party of Virginia Executive Director Rebecca Slutzky puts it:
We are very excited about our nominee Ryant Washington.  While traditionally this might look like a difficult district for us, Ryant's law enforcement credentials and years of community leadership make him a perfect fit for the constituents of SD 22.   We are very proud of the ground game we have built here in VA.  This election gives Democrats the opportunity to flip the senate if we show up big on Jan 10th.
Bingo!
Last but not least, the final variable is how motivated Democrats are relative to Republicans.To what extent, for instance, has Donald Trump gotten Democrats riled up, just as George W. Bush's unpopularity – plus the disastrous war in Iraq, the Hurricane Katrina fiasco/tragedy, etc. – helped Democrats go on a massive winning streak from 2005 to 2008? Yes, it's still very early, with Trump not even taking the oath of office yet, and yes he's still in the "honeymoon" phase, but if Democrats focus on this race and what it could mean both substantively (Dems taking back the State Senate) and in terms of "message" (Dems telling Trump where to shove it), good things – from a Dem perspective – could certainly happen.
I mean, imagine the headlines the day after this special election if Washington wins: something along the lines of "Virginia Democrats Send Trump a Message, Win Special Election and Take Back State Senate." Or maybe "Sign of 'Blue Wave' to Come? Fired-Up Democrats Take Back Virginia State Senate." How do those headlines sound to you? 🙂 Good; now please do whatever you can to help Ryant Washington win in 11 days. Thanks.