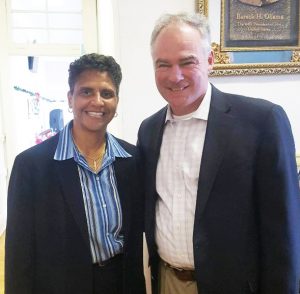 The field of candidates in the race for Richmond Sheriff has been a moving target since last June's primary, but one candidate has been steadfast in her commitment to seeking the office in order to bring new compassion, transparency, and accountability to the role that she is ready to step in to.
Dr. Antionette V. Irving surprised everyone – except her small campaign team – when she upset 12-year incumbent C.T. Woody in last June's Democratic primary.  Since then, several candidates, who did not have Antionette's fortitude to take on Goliath in the primary, have entered the race as independents or even last-minute write-in, hopeful that they have a shot at a surprise victory in next week's general election. 
At a recent meet and greet, Antionette provided some insight into the drive that has led her to becoming the Democratic nominee for Richmond Sheriff.  Despite growing up in the Creighton Court public housing complex in a household where physical abuse and substance abuse were present, Antionette always felt that she was meant to accomplish great things.  Known at Armstrong-Kennedy high school as quiet and studious, her determination led her to graduating from Shaw University, where she was later named to the Basketball Hall of Fame and selected by the Alumni Association as a Living Legend honoree. 
The circumstances of Antionette's childhood also give her an authenticity that served her well in her 26+ years in the Henrico Sheriff's Office.  "I could relate to the inmates because it could have been me sitting in that cell if I had not made some of the choices I made," Antionette shared with her supporters.  "I recently ran into a man who I had offered guidance to when he was incarcerated, and he thanked me all these years later for what I said to him back then, because my words had been so helpful to him."
That guidance is at the core of one of the central themes of Antionette's campaign – that inmates must be provided with the education, counseling, mental health services, and vocational training necessary to re-enter society as contributing citizens.  She envisions establishing partnerships with corporations and nonprofits in the community to accomplish this, an area in which she has substantial experience thanks to her work as founder and president of the nonprofit AVI Foundation. Programs already in place at the Justice Center will be closely evaluated as to their ongoing effectiveness. 
Irving's other primary focus will be restoring transparency and accountability, particularly through fair and just hiring and promotion practices.  During her career in Henrico, where she was the first woman to be promoted to the rank of Major, Antionette held management positions in all areas of operations, training, and administration, a perspective that allowed her to see firsthand a wide variety of what works – and what doesn't.   
It is this background that will allow her to hit the ground running on day 1 at the Richmond Justice Center.  In the words of incumbent Sheriff C.T. Woody, "Irving is more qualified than the other candidates running for Richmond Sheriff and will do a great job."
In the field of candidates on November 7, Antionette V. Irving is the ONE candidate who:
Has over 26 years of proven experience in Criminal Justice administration, management, and training


Was the first woman to be promoted to the rank of Major in either the Henrico Sheriff's Office or Police Department

Is a certified mediator through the Supreme Court of Virginia

Is a graduate of both Leadership Metro Richmond and Emerge Virginia

Serves as chair of the Virginia Center for Restorative Justice

Has a clear vision and plan for restoring compassion, accountability, transparency, and professionalism to the Richmond Sheriff's Office
Antionette is endorsed by:
Governor Terry McAuliffe
Commonwealth of Virginia

Earl Bradley
Bradley Development, LLC
The Honorable Betsy B. Carr
Virginia House of Delegates, 69th District
The Honorable Felicia Cosby
Richmond School Board, 6th District
Harold "Bud" Cothern, EdD
Former Superintendent of Goochland County Public Schools
The Honorable Kimberly Gray
Richmond City Council, 2nd District
The Honorable Chris A. Hilbert
President, Richmond City Council
The Honorable Edward Jewett
Clerk, Richmond Circuit Court
The Honorable Michael Jones
Richmond City Council, 9th District
Senator Tim Kaine
United States Senate
Senator Jennifer McClellan
Virginia State Senate, 9th District
Congressman Donald McEachin
U.S. House of Representatives, VA-04
The Honorable Delores McQuinn
Virginia House of Delegates, 70th District
The Honorable Cynthia Newbille, PhD
Richmond City Council, 7th District
The Honorable Dawn Page
Chair, Richmond School Board, 8th District
The Honorable Patrick Sapini, DPM
Vice Chair, Richmond School Board, 5th District
The Honorable Levar M. Stoney
Mayor, City of Richmond
Dr. Lance Watson
Pastor of the Saint Paul's Baptist Church
Sheriff C.T. Woody, Jr.
Richmond Sheriff's Office
The Richmond Crusade for Voters
The Richmond Free Press
4VABlue
Democratic Campaign Strategists
Find out more about Dr. Antionette V. Irving at www.IrvingforSheriff.com and this previous Blue Virginia article.