Great to see both Justin Fairfax and Larry Roberts doing the right thing from an ethical (and also the public perception of ethics) perspective by leaving their law firm, Venable. Both should be commended for doing so, even if it means a significant loss in income. I just wish a lot more elected officials in Virginia would do the same. Meanwhile, politically speaking, I'd say that the Fairfax/Roberts combination could continue to be a powerful and effective one in years to come. I've known Larry for years, since back when he was one of then-Gov. Tim Kaine's top advisers, and he's one of the sharpest folks around. So, congratulations and kudos to Larry Roberts on this important new job — now, let's get some great progressive policy passed for a change in Virginia!
Lt. Governor-Elect Justin Fairfax Announces Appointments 
RICHMOND — Lt. Governor-Elect Justin Fairfax today announced key appointments for senior leadership positions within the Office of the Lt. Governor.

Lawrence Roberts will serve as Chief of Staff during the 2018 General Assembly session.
Edward Reed will serve as Deputy Chief of Staff during the 2018 General Assembly session.
"I am pleased to have Larry and Ed continue to offer me their knowledge and experience during the 2018 General Assembly session. I will rely on their advice and judgment much as I did during the 2017 campaign where they served, respectively, as Campaign Chairman and Political Director. Each also has shown a capacity in prior government roles of working effectively with General Assembly members and other elected officials from both parties as well as nonpartisan government officials," said Lt. Governor-Elect Justin Fairfax.
Appointee Biographies

Lawrence Roberts, Chief of Staff

Larry Roberts has a long history of involvement in the legal, civic, and political life of the Commonwealth. He served as Counselor to Governor Tim Kaine from 2006-2009 after a successful career in communications law where he served as President of the Federal Communications Bar Association. Larry served as Chair of the Board of the Virginia Public Access Project and has been a Board member for many organizations including VPAP, the Sorensen Institute for Political Leadership, Virginia FREE, and the Democratic Business Council of Northern Virginia. Larry is also the founding Chair of a charitable foundation that has distributed millions of dollars in college scholarships and contributions to organizations serving those in need. He is also a member of the Hall of Fame of the Multicultural Media, Telecom and Internet Council. He is a graduate of the University of Virginia and the Georgetown University Law Center. Most recently, Larry was a lawyer in private practice at Venable LLP. Virginia Law Weekly named Larry as one of its 2017 Virginia Leaders in the Law and Venable awarded him its 2017 Pro Bono Lawyer of the Year award.

Edward Reed, Deputy Chief of Staff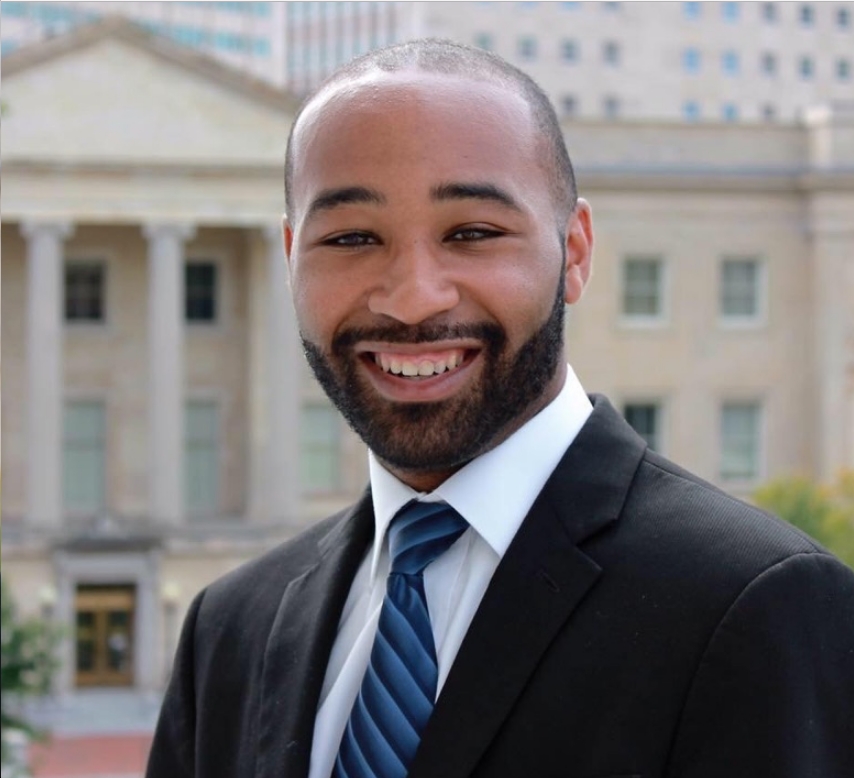 Ed Reed currently serves as the Transition Director for Lt. Governor-Elect Fairfax. He previously served as the Political Director for the Lt. Governor-Elect's successful 2017 campaign. Prior to that role, Ed served as chief of staff in the Senate of Virginia and as a legislative assistant in the Virginia House of Delegates. A native of the Northern Neck, Ed earned his Bachelor's degree in business management from Hampton University in 2010 and is a 2016 graduate of Virginia Commonwealth University's Minority Political Leadership Institute. In 2016, he was named Top 40 Under 40 for Hampton University Alumni.
****************************
Statement on Facebook by Larry Roberts
It will be my great honor to serve as Lt. Governor Justin Fairfax's Chief of Staff in Richmond during the 2018 General Assembly session. Throughout a successful statewide campaign in which he earned the votes of more than 1.36 million Virginians — the most in Virginia history for a candidate for Lt. Governor — Justin showed me a rare combination of exceptional leadership, inspiration, intelligence, dedication, fortitude, compassion, capacity for understanding the circumstances that Virginians face in their daily lives, serious devotion to thoughtful and innovative public policy, and an ability to work cooperatively whenever possible and competitively when necessary.
I believe he will make an outstanding Lt. Governor.
While my joining the Lt. Governor in Richmond has been reported before, I could not make a public announcement until I confirmed the date on which I would be leaving my law firm. I am now able to confirm that January 8 will be my last day at the firm. In mid-December, the firm and I chose that date so that I can make a final court appearance that day on behalf of a substantial pro bono client. I am proud that my work for that client over the past five years was a factor in my receipt of two awards this year — the Benjamin R. Civiletti Pro Bono Lawyer of the Year and Virginia Lawyers Weekly 2017 Leaders in the Law. The victory of the Northam/Fairfax/Herring ticket in November means that my client need not fear an unfavorable regulatory climate for women's reproductive rights over the next four years.
I hope to see many of you in Richmond during Inaugural festivities and over the next few months as I offer my experience and expertise to a terrific new Lt. Governor.