Advertisement

You've almost gotta feel a wee bit sorry for good little Trumpster/GOP soldier John Whitbeck, chair of the Republican Party of Virginia, who just got his head handed to him in November – losing all three statewide races badly, not to mention 15 (16? 17?) House of Delegates seats. And now, to top his great achievement in November, Whitbeck's apparently received his marching orders from his superiors, and of course he's dutifully obeyed, throwing Steve Bannon under the bus and defending his hero, Cheeto Mussolini. Check out Whitbeck's pathetic, bootlicking-but-utterly-predictable tweet, followed by the brutal reaction.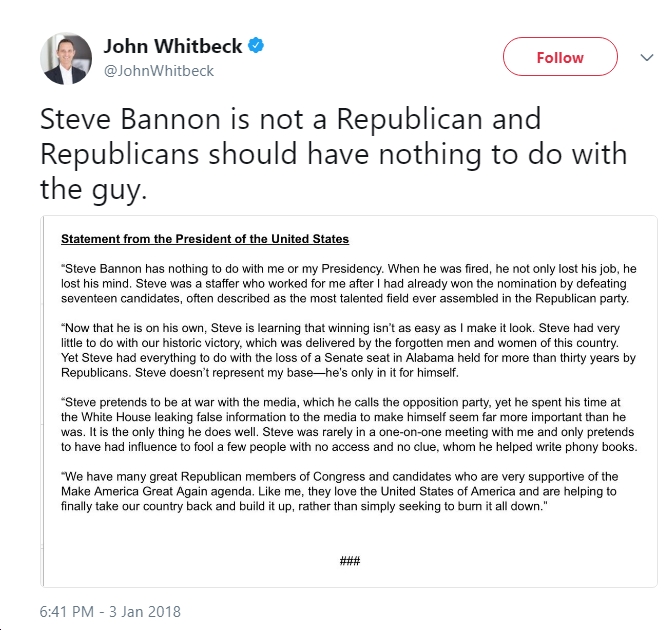 And now, check out the comments to Whit-less' tweet. Not a pretty picture!
"Oh, man, that's too funny. Did you keep a straight face as you typed it?"
"Nah, this is who you have become."
"Neither is Trump but that doesn't seem to be a problem for you."
"Republicans are stuck with Bannon."
"the same goes for corey stewart"
"Wait this is why we need 280 people!…ahem….AHAHAHAHAHAHAHAHAHAHAHAHAHAHAHAHAHAHAHAHAHAHAHAHAHAHAHAHAHAHAHAHAHAHAHAHAHAHAHAHAHAHAHAHAHAHAHAHAHAHAHAHAHAHAHAHAHAHAHAHAHAHAHAHAHAHAHAHAHAHAHAHAHAHAHAHAHAHAHAHAHAHAHAHAHAHAHAHAHAHAHAHAHAHHAHAHAHAHAHAHAHAHAHAHAHAHAHAHAHAHAHAHAHAHAHAH"
"You all own this trainwreck, sorry."
"Didn't seem to be an issue when Gillespie went full Bannon. Just bummed it didn't work?"
"But you've allowed this debacle!! Complicit!!"
"so you're choosing to live with daddy trump after the divorce?"
"Yet another one under the bus. You people are so predictable. I'm pretty certain I can go back (without even knowing who you are), and find endless support of Bannon in your commentary somewhere. And now the guy is evil. Good one. This is the stuff of people without integrity."
"You own this guy! No backing out now!"
"I'm so old I remember when Steve Bannon was the greatest Republican strategist since Karl Rove."
"LOL you'll be saying the same thing about Trump in another few months!"
Oh sure, Republicans never had anything to do with this guy ?pic.twitter.com/vSSkoHb1OS

— Johannes Riecke (@JohannesRiecke) January 4, 2018
"Neither is Trump. But you guys sold your souls anyway."
"Yeah. Good luck shedding that albatross."
"We've always been at war with eastasia!"
"Tell your base, brah. You drove away the non-Bannonites by embracing white supremacy, now you're stuck"
"Oh, you poor deluded sap. Steve Bannon is all of you."
"Neither is Trump but you still kiss his ass."
There's no paywall on Blue Virginia, and we definitely want to keep it that way! If you want to help support our work, you can donate here - thanks!
Also, you can
sign up for our weekly email list here
.