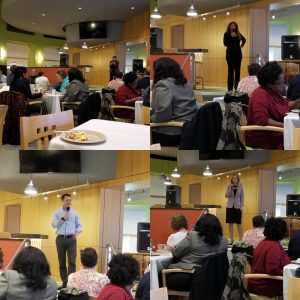 On Saturday, the DPVA Central Committee held its first quarterly meeting for 2018. With Democrats from all over Virginia attending the meeting and accompanying events, Virginia's 7th District Democratic Committee held a breakfast fundraiser to begin building a war chest to unseat Congressman Dave Brat.
Despite centering around the 7th District, Democrats from all corners of the commonwealth attended to show their support. County Chairs, committee chairs, caucus leaders, and various others packed into the dining hall of the Suntrust Building to first hear from 7th CD Chair Abbi Easter. Chairwoman Easter relayed the amount of energy that she's been seeing in her district, and how Democrats are hungry for victory this year especially after the historic wins in the House of Delegates and statewide last year.
Attendees then heard from the candidates vying for the Democratic nomination – Helen Alli, Dan Ward, and Abigail Spanberger. Their stories represent the diversity of Virginia's Democrats: Helen spoke about her accomplishments as a business owner, a veteran, an activist, and fighter for equality in Richmond's Public Schools; Dan Ward, also a veteran, spoke of his own struggles through life, and how he's living proof the social safety net is vital to achieving the American Dream for many of us; Abigail introduced herself as a lifelong public servant, first as a federal officer cracking down on drug and money laundering schemes, then as an operative of the CIA.
The field of candidates competing for the Democratic nomination has been cut in half over the past few months, and the 7th District was narrowly won by Ed Gillespie last year. Despite that, Dave Brat isn't exactly well-liked (even among his fellow Republicans) and each of the remaining Democrats have advantages that could spell victory in November. Dan Ward, for example, has already nearly raised as much campaign funds as Brat currently has on-hand per vpap (although he'll have to spend a good chunk of it to secure the nomination.) Helen meanwhile, has much lower campaign finance strength but enjoys institutional support from her network in Richmond and surrounding areas, which will be key to mobilizing and energizing voters in November. Abigail, finally, has raised a more-than respectable amount of campaign funds, is backed by a network of supporters from her career and personal life, and has probably the most social media visibility in relation to the others.
VA-7 will definitely be a race to watch in 2018! Brat's going down this year; the real question is who will be the one to get it done?