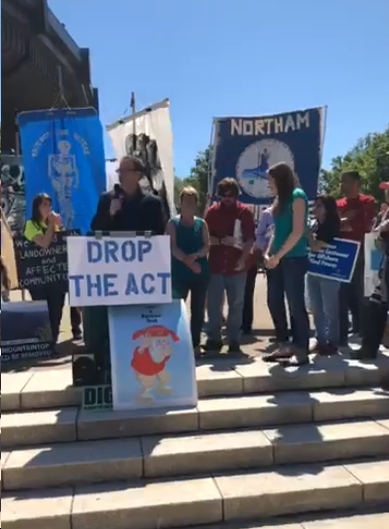 UPDATED with press release from the Virginia Sierra Club:
Check out the following video, courtesy of the Chesapeake Climate Action Network (CCAN), from this morning's rally outside the Dominion Energy shareholders' meeting in Richmond. As CCAN and other rally sponsors like the Virginia Sierra Club and Appalachian Voices correctly point out, "Dominion's greed costs consumers millions of dollars and stifles the clean energy economy" while "Dominion's dirty politics threaten our democracy." The statement concludes: "Time after time, issue after issue, the company's words and deeds show that its leadership is morally bankrupt. From dumping coal ash wastewater to destroying private property and National Forests for pipelines to relying on climate disrupting fracked gas, Dominion's dirty power threatens our climate, air, land, and water."
P.S. Great to see Blue Virginia contributor Jonathan Sokolow, who seems to be everywhere these days, speaking at the Richmond rally. Does Jon ever sleep? Sure doesn't seem like he does! 😉
(from the Virginia Sierra Club)
About 100 activists, experts and community leaders tell Dominion Energy to "Drop the Act" at shareholders meeting
Rally and press conference highlighted Dominion's dirty power, dirty politics, and double talk
RICHMOND, Virginia – About 100 activists, experts and community leaders from across Virginia converged outside the Richmond Convention Center the morning of May 9 to tell Dominion Energy to "drop the act" outside the corporation's annual shareholders meeting.
At the two hour event, dubbed "Drop the Act, Dominion", participants heard from a wide range of speakers including politicians, grassroots activists, authors and professors. Organizers and activists have been long frustrated by Dominion's double talk. They cite examples including Dominion's claimed carbon pollution reductions while carbon emissions data says differently and expensive advertisements promoting the company's clean energy investments when the vast majority of Dominion's resources go into fracked-gas infrastructure.
Del. Sam Rasoul (D-Roanoke) spoke at the event regarding Virginia's role in stopping dirty and destructive pipeline projects like the Mountain Valley and Atlantic Coast pipelines. Dominion Energy has a controlling interest in the $6.5 billion dollar Atlantic Coast Pipeline project.
"One principle that I use is just make sure you're always on the right side of history," Rasoul said of the pipeline fight. "We know that this struggle is difficult, we know it's uphill, but we know, we know standing here together that we are on the right side of history."
Organizers focused on numerous themes that underscore how Dominion Energy is a bad actor. This includes the moral bankruptcy present in Dominion's continued environmental and economic decision making highlighted by Mark Hoggard, a member of the Steering Committee of Virginia Interfaith Power & Light.
"All of us, in one way or another, are people of faith," Hoggard said. "And as Pope Francis reminded us, faith allows us to interpret the meaning and the mysterious beauty of what is unfolding. As people of faith, let our voices be heard. Let us tell Dominion investors that the Earth cries out for justice and all of our actions matter."
Organizations sponsoring the event included the Sierra Club Virginia Chapter, Chesapeake Climate Action Network, Appalachian Voices, Virginia Pipeline Resisters, Richmond Democratic Socialists of America, RVA Interfaith Climate Justice League. Further speakers spoke about Dominion's risks, including economic decision making.
"Even when you view these projects on a purely financial basis, any future investment in fossil fuels is ill advised," Bob Shippee, Legislative & Political Chair of the Sierra Club Virginia Chapter, said. "To sell a product, you need demand first. Because demand for energy is flat and starting to decline…Dominion had to create a corporate structure where they would sell this gas to themselves and pretend that there was demand for it."
The events speakers and the imagery of the demonstrators told stories that highlight the impacts of Dominion Energy's actions on Virginians, including plans to keep toxic coal ash by waterways forever.
Participants were joined by Theresa "Red" Terry and Theresa "Minor" Terry, landowners and residents of Bent Mountain, who until Saturday May 5 were taking part in a tree sit on their property in the path of the Mountain Valley Pipeline project. Their participation highlighted the consequences of Dominion's proposed fracked gas future, which would include eight new fracked gas power plants by 2033.
"We came down from our trees on Saturday, and on Sunday they cut everything down that we had been protecting," Minor said. "Everything from my mother's sit, in between those forested wetlands to my sit. And now I am here to talk to you and tell you we will not put these pipelines in the ground!"