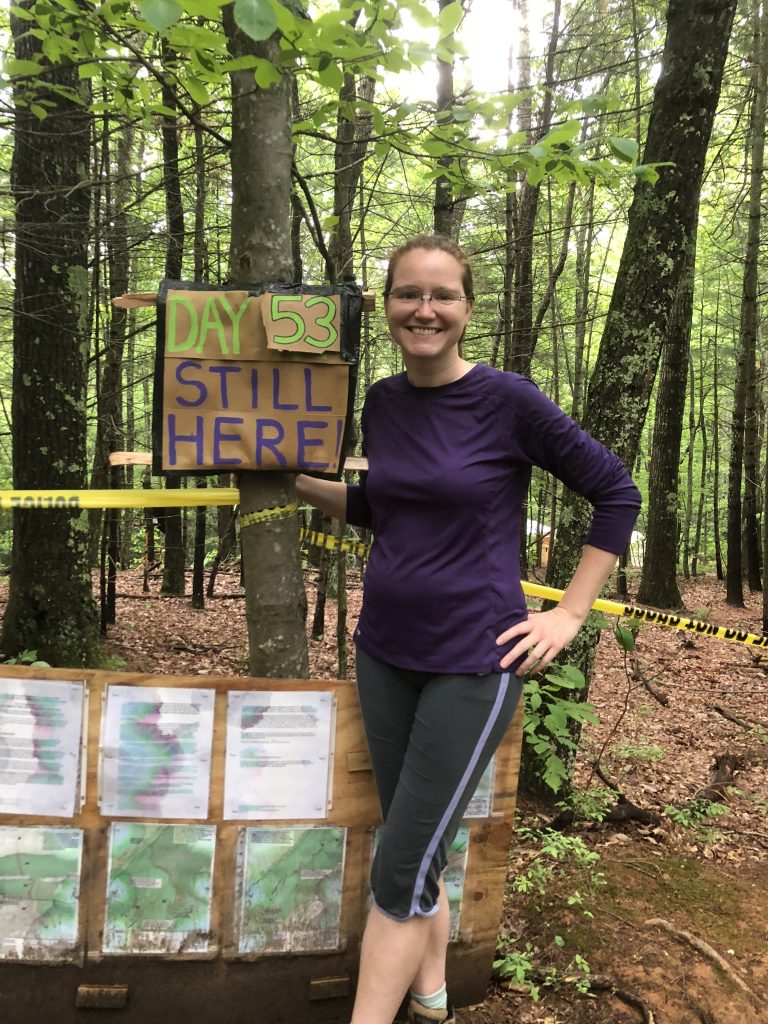 by Jon Sokolow
On May 5, "Red" Terry and her daughter, Minor Terry, came down from their 34-day tree sit protesting the planned Mountain Valley Pipeline, which would rip through their family's beautiful property on Bent Mountain in Roanoke County.  The land has been in the Terry family for seven generations, and a portion of it is being taken by eminent domain by the out-of-state corporations that seek to build the MVP. The #StandWithRed and #StandWithMinor movement that they inspired has helped to focus state and national attention on an environmental disaster in the making if the pipeline is allowed to go forward.
On May 19, Minor Terry led a Solidarity Hike to the "monopod" to shine attention on another amazing pipeline activist, a woman in her 20's who goes by the name of Nutty.  Nutty was on Day 53 atop a phone-pole-like structure called a monopod that she is occupying in the Jefferson National Forest on Peters Mountain in Giles County.  Nutty's monopod sits in the middle of Pocahontas Road, which MVP wants to use to transport a massive drilling rig to bore through the mountain.  And because her monopod is latched not only to the surrounding trees but also to the closed gate to the road, MVP has been unable to proceed with its destruction plans.
I joined Minor and about a dozen other hikers to walk up the steep and sometimes treacherous trail to get to Nutty's support camp – aptly nicknamed Slanty Camp.  The path closely parallels Pocahontas Road and was carved out of the forest by pipeline activists after the Forest Service closed the road to keep supporters from reaching Nutty.  The Forest Service, without a hint of irony, dubbed this formerly non-existent trail the "Public Safety Trail," but it is anything but safe.  Several of our party – all experienced hikers – fell on the way up.  This is one reason why State Senator Chap Peterson has filed a federal lawsuit to reopen Pocahontas Road.  The claim that the road is closed for public safety – because there might be vehicle traffic – is an outright lie.  During our hike in, not a single vehicle traveled the road.  And the Forest Service, which greeted us when we got to the base of Pocahontas Road, obviously knew we were coming for this publicly announced event.
Nutty sits in a structure no bigger than a camping cot, and she has not been supplied with food or water since April 6.  Her supporters are kept a minimum of 125 feet from the base of the monopod, with yellow police tape marking the line that, if breached, would result in arrest.  Several weeks ago, three supporters were arrested trying to bring food to Nutty.  Forest Service officials openly admit that their goal is to starve Nutty until she decides to come down.  Apparently, they underestimated this young woman's strength and dedication.
We had a good visit with Nutty – this was my second trip to see her – but the highlight was the brief but important exchange that Minor and Nutty had across the 125 foot expanse:
"I'm Minor from Tree Sit #2"
"Great to meet you"
"You're amazing"
"So are you"
Which brings us to Ralph Northam.
It should surprise no one that the U.S. Forest Service, a federal agency ultimately under the direction of Donald Trump, would seek to starve a peaceful protester into submission.  The serenity and beauty of the Jefferson National Forest should not fool anyone. This is a dangerous standoff, one which potentially could end badly for Nutty – especially if Forest Service officers or MVP personnel continue to shake the lines holding up her monopod, something I personally witnessed during my first trip.
But what is surprising to many – and frankly sickening – is that while Nutty goes without food and water, other than the starvation rations she might have remaining and the rainwater she is able to collect, Ralph Northam, a licensed physician as well as our state's governor, has said nothing and has done nothing to help her.
Northam might claim the Forest Service has primary jurisdiction. That may be true.  What also is true is that the Virginia State Police has been on site and in fact participated in the arrest of the three supporters who tried to get food to Nutty.  Northam has the power to direct the state police to feed Nutty.  He could do that today. Would the Forest Service actually stop the State Police from feeding Nutty? Perhaps. But why not try?  We feed prisoners on death row. We feed prisoners in Guantanamo.  Nutty has not even been charged with a crime, much less convicted.  Should the Commonwealth of Virginia sit by and do nothing while she is starved?
This is the Governor who famously called Donald Trump a "narcissistic maniac."  Tough words. But when it comes to trying to get food and water to a young woman, tough guy Northam is nowhere to be found.
This is the Governor who famously said he would stand up for women. Yet this young woman, Nutty, is still being starved. And when Red and Minor Terry were being starved for one week during their tree sit, Northam likewise did nothing.  It took other elected officials to intervene with the Roanoke Police Department to get them meager rations – bologna sandwiches made in a nearby jail. The support camp for Nutty is made up of women and, in my travels around the state, it has been striking that the movement fighting the pipelines overwhelmingly is being led by women.  Courageous women.  Women who have been abandoned by their governor.  Women who will persist.
This is the governor who bragged about his medical background and told voters "the lights are on and the doctor is in."  But when it comes to the women who are putting themselves on the line to defend their land – and our water – the lights are off and the doctor is out to lunch.
When Red and Minor were being denied food, Northam apparently believed it was a "local" issue.
When Northam was asked to direct his Department of Environmental Quality to do a stream-by-stream analysis of the 1,100 waterway crossings planned for the Mountain Valley Pipeline and the much larger Atlantic Coast Pipeline, he said it was a "federal" issue.
When Northam was asked again last week to get involved in the pipeline fight, he said it was an issue for the courts.
In short, Ralph Northam seems to believe it's never his issue and never his responsibility.  To the contrary, Northam seems to want to wash his hands of this whole pipeline fight.
Well, Gov. Northam, it may be easy to wash your hands, but it's going to be much harder for you to stop a movement.