Advertisement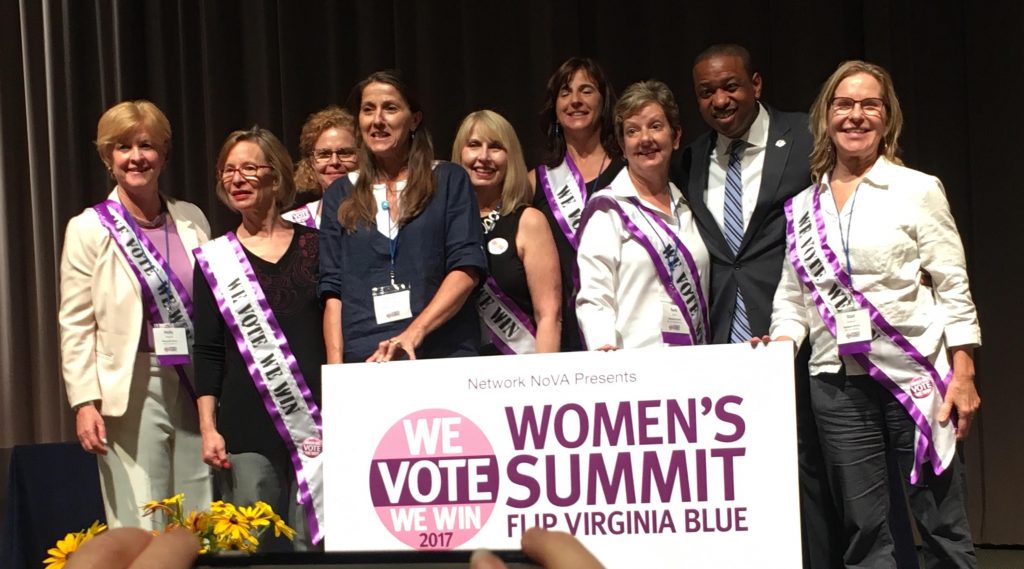 by Stair Calhoun and Katherine White
"Activism just doesn't stop when you win," said Danica Roem, VA House Delegate on last Thursday's Rachel Maddow Show, in reference to the historical passage of Medicaid expansion in Richmond on May 30, 2018. The women of Network NoVA agree. We cannot stop the activism that flipped 15 seats last year and narrowly missed winning the Virginia House of Delegates majority. We got a taste of winning in 2017 and now we want more. Last year's Women's Summit to Flip Virginia Blue was a start to galvanize the grassroots to come together to learn about electoral power. We came out ready to win! This year, the ladies of Network NoVA are doing it again – only bigger and better.

We are planning to make history again this fall, when we flip Virginia's Congressional delegation blue. But first, after our candidates across Virginia have been nominated on June 12, let's take a deep breath and plan for a weekend of celebration, inspiration and hard work.
Please join us at the Second Annual Women's Summit – "A Tour de Force for Activists" from Friday, June 22 to Sunday, June 24 at the Dulles Hyatt Regency, Herndon, VA. Our early bird rate expires June 8.
Lt. Governor Justin Fairfax closed our Summit last year with inspiring and supportive words. This year, he will open Friday evening's Grassroots Shindig with a celebratory toast. We are pleased to announce that Margaret and Shashi Gupta of Win VA, sponsors of the Friday night event, will also say a few words and introduce a special guest, Gold Star dad Khizr Kahn. Come on down to have a fun, celebratory evening! A blue carpet and photographer will await you; food trucks will serve you; a dance band will energize you; and, at this count, 40 grassroots and other Democratic groups from Virginia Congressional districts 1 through 11 with be there! Registration will start and many people have opted to stay the night.
Network NoVA has designed a jam-packed program for Saturday, June 23rd to motivate you and connect your interests to action. The Advocacy Fair opens at 8 a.m. with over 30 participating organizations. At 9 a.m. sharp, the program begins with lively speeches from diverse voices, live music, videos and more. The Women Effect Action Fund, the Summit's top sponsor, will host a panel with Neera Tanden of the Center for American Progress about putting women at the center of policy. At noon, the candidates from Virginia CDs 1-11 will take the stage and then lead breakout sessions to work with their supporters (YOU!) and the VA Victory Teams. Over 20 workshops/panels are being given to support our efforts to flip Virginia blue.
Our partners and sponsors, Emily's List and the Human Rights Campaign, are offering free half-day trainings on Sunday, June 24. Availability is first-come, first-served, so please make sure you register in advance via our website. Delegate Danica Roem, a popular and well-loved equality champion, will be part of the Human Rights Campaign training, so seats will be in demand!
In sum, let's kick off the 2018 general election campaign season here in Virginia with the tools to make history AGAIN! We have a long race ahead of us; endurance and sustainability are crucial. As we saw in 2017, when we work together, we make the impossible possible. Let's make history again in 2018!
There's no paywall on Blue Virginia, and we definitely want to keep it that way! If you want to help support our work, you can donate here - thanks!
Also, you can
sign up for our weekly email list here
.