I saw the following pop up this morning in some right wingers' news feed on Facebook, and it made me curious as to who neo-Confederate Corey Stewart might be sharing the stage with on September 8 at the weirdly named "Mother of All Rallies" ("MOAR") in DC. I was also curious about what "MOAR" stands for. See below for a few answers.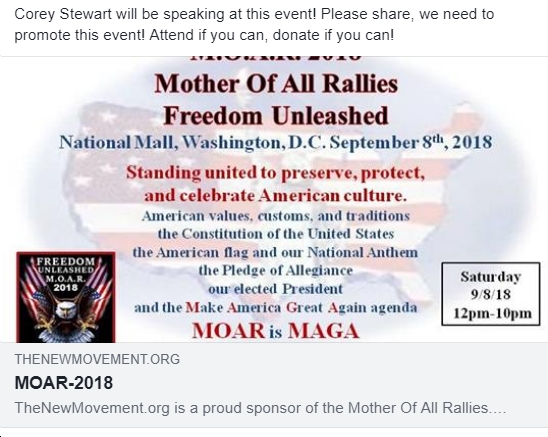 First off, a quick perusal of MOAR's website finds that topics of concern to these folks include: "SANCTUARY CITES & THE CRIMEWAVE IT CAUSES"; "ILLEGAL IMMIGRATION & VOTER FRAUD (ILLEGAL VOTING)"; "PRESERVATION OF THE 2ND AMENDMENT"; "EMBRACING & EDUCATING THE YOUTH (STOP THE INDOCTRINATION)" and "CONVENTION OF STATES & PRESERVATION OF ELECTORAL COLLEGE." Great stuff, huh? Nope, didn't think so.
Also check out the video they feature by extremist, conspiracy theorist, etc. Alex Jones talking approvingly about last year's "MOAR." Ee gads. Oh, and how did last year's "MOAR" do? Apparently, "MOAR" is LESS, as the event drew "not even 200 people to the National Mall," about 99.98% short of its goal "to rally 1 million patriots to Washington D.C. to send a shock-wave message to the world that they have to go through us to take this country or change its culture." Last year's "MOAR" also had about 99.9% lower attendance than the anti-Trump Women's March of January 2017. Great job by the "MAGA"/"MOAR" folks, eh? Finally, note that "MOAR" didn't even manage to draw a single Republican member of Congress.
So who's attending this year? Again, it appears that not a single Republican elected official, other than Corey Stewart, will be speaking. On the other hand, the event WILL feature such luminaries as:
Tommy Gunn: According to this article, Gunn calls himself "The Pissed Off American." That sums it up pretty well, huh? Oh, also see this interview, where Gunn says "this rally wasn't for Trump, it's for us as Americans…this is not North Korea, this is not Russia, people shouldn't be attacked for their views."
Outlaw Morgan: Here's a link to his website, where you can watch videos like "Facebook Banned Me for 'Hate Speech'," "Fuck Facebook," "Clintons on a Plane," and "Trump & Putin – The Establishment Is Scared."
Jeremy Herrell:  His claim to fame is writing the song "Build the Wall" (chorus: "Build the Wall, Build the Wall, 10 feet, 20 feet, 100 feet tall!").
Scott Presler: As the Virginia House Democratic Caucus wrote last August, Presler was "'lead activism strategist' of an anti-Muslim hate group, as identified by the Southern Poverty Law Center."
Tyler Yzaguirre: This guy is president of a group called the "Second Amendment Institute," whose mission is to "combat attacks on all American's Constitutional right to bear arms, and aid in the prevention of inappropriate gun control measures."
Harim Uzziel: According to the Southern Poverty Law Center, Uzziel is a "fringe political activist from California [who] took his obsession with Donald Trump a bit too far…and wound up getting the boot from not one but two American Airlines flights in Texas."
etc.
There's "MOAR," of course, but that should give you a decent idea as to who the 2018 Virginia Republican Party's nominee for U.S. Senate (!) is going to be hanging out with on September 8. Can we all please vow to do whatever it takes to make sure Sen. Tim Kaine absolutely CRUSHES this loser on November 6?  Thanks.