Advertisement

Here's some reaction to the drawing of Nazi swastikas on the Jewish Community Center in Fairfax. I'll add more as I find them. Just appalling. As Del. Marcus Simon put it, "This days after Trump amplified anti-Semitic conspiracies in an effort to discredit legitimate and sincere protests of his Supreme Court nominee. The two may be unrelated but there is no doubt that racist / anti-Semitic / alt-right activity is on the rise in the Trump era."
Shocked and terribly saddened…yet again. Woke up to hear the news of more hate-swastikas painted all over the front of the @JCCofNoVA. I am here now. So sad. Our community however, remains strong and united. This hate does NOT represent our Northern VA community! pic.twitter.com/zgPOsdZpTv

— Eileen Filler-Corn (@EFillerCorn) October 6, 2018

I'm devastated at this cowardly act of hatred. Please let us know how we can best help.

— Delegate John Bell (@DelegateJBell) October 6, 2018
This is the Fairfax Jewish Community Center this morning.

An insidious rise in hateful actions and anti-Semitism is happening in Virginia and across the country. We must meet it with fierce condemnation and an over-abundance of love and unity. We cannot allow hate to fester. pic.twitter.com/85bW2Hl0th

— Tim Kaine (@timkaine) October 6, 2018
Way too many politicians in Virginia are way too complacent about the rise of white supremacist violence and anti-Semitism. The threat is real, it's growing, and we have to take a stand. https://t.co/RPv8VitKGA

— Mark Herring (@MarkHerringVA) October 6, 2018
There is no place for the hateful act of vandalism at the Fairfax JCC today. NoVa is a welcoming community and we must come together and condemn the rise of anti-semitism.

— Gerry Connolly (@GerryConnolly) October 6, 2018
Happened in Fairfax County last night. You'd think this county had changed since my grandparents moved to Fairfax County in 1936. https://t.co/9N37E2wXrE

— Scott Surovell (@ssurovell) October 6, 2018
I'm no longer shocked @EFillerCorn , but the extremist cowards who resort to hate graffiti under cover of darkness should know they can't intimidate us. Virginia is better than them. #NeverForget https://t.co/WKWaC1qs3s

— Dan Helmer (@HelmerVA) October 6, 2018
I'm disgusted by this vandalism at the @JCCofNoVA. Hate has no home here and we will not be intimidated. https://t.co/4RA2tRty36

— Jennifer Wexton (@JenniferWexton) October 6, 2018
This hatred has no place in the Commonwealth. https://t.co/3jjhmf3Coh

— Ralph Northam (@GovernorVA) October 6, 2018
Yet another cowardly act of hatred directed at the Fairfax Jewish Community Center…

Heartbroken – but the ugliness & divisive actions of a few will never overcome what the Fairfax JCC represents.

Hate & Intolerance will never defeat Love, Acceptance, & Inclusion. https://t.co/ULtr7F3CjL

— Alfonso Lopez (@Lopez4VA) October 6, 2018
As soon as saw news about the horrific & cowardly vandalism at @JCCofNoVA, I tweeted to @FairfaxCountyPD urging a full investigation. I then ran into my friend Fairfax Deputy Chief of Police Gun Lee who assured me they are deploying all resources to go after whoever did this. pic.twitter.com/ngk2M88wg8

— Mark L. Keam (@MarkKeam) October 6, 2018
Although we're not Jewish, my kids loved going to summer camp at @JCCofNoVA and I've been to dozens of meetings at this welcoming center. America, we are better than this! https://t.co/YcWSQYtR8D

— Mark L. Keam (@MarkKeam) October 6, 2018
Distraught at news of anti-Semitic graffiti at the Jewish Community Center in Fairfax. This has no place in Virginia or America.

— Adam Ebbin (@AdamEbbin) October 6, 2018
Loudoun County Board Chair Phyllis Randall: "I stand in solidarity with the Jewish community. I offer them my prayers and support. In the face of hate our love MUST be felt. Our goodness must be shared."
The evil attack on the JCC last night is a disturbing reminder we must stay diligent in our fight against hate and bigotry. It seems that every low life in this country has been given a green light to do things like this since November 2016. Hate has no home in Virginia. https://t.co/YYoD9b1DgO

— Dick Saslaw (@DickSaslaw) October 6, 2018
I am saddened and angered by the vandalism of the Jewish Community Center of Northern Virginia. Anti-Semitism has no place in our community. I am confident the @FairfaxCountyPD will find the perpetrators and I hope they are swiftly brought to justice.

— Pat Herrity (@PatHerrity) October 6, 2018
Saddened and disgusted by what happened at the Jewish Community Center. Our diversity is what makes us great. Fairfax County will not tolerate hate. https://t.co/utXOcsuOn0

— Jeff McKay (@JeffreyCMcKay) October 6, 2018
Disgusting and un-American. Virginians stand with the Fairfax Jewish community. We stand against hatred and anti-Semitism. https://t.co/yG5YeUXgfW

— Mark Warner (@MarkWarner) October 6, 2018
P.S. Also see this reaction from the Jewish Community Center: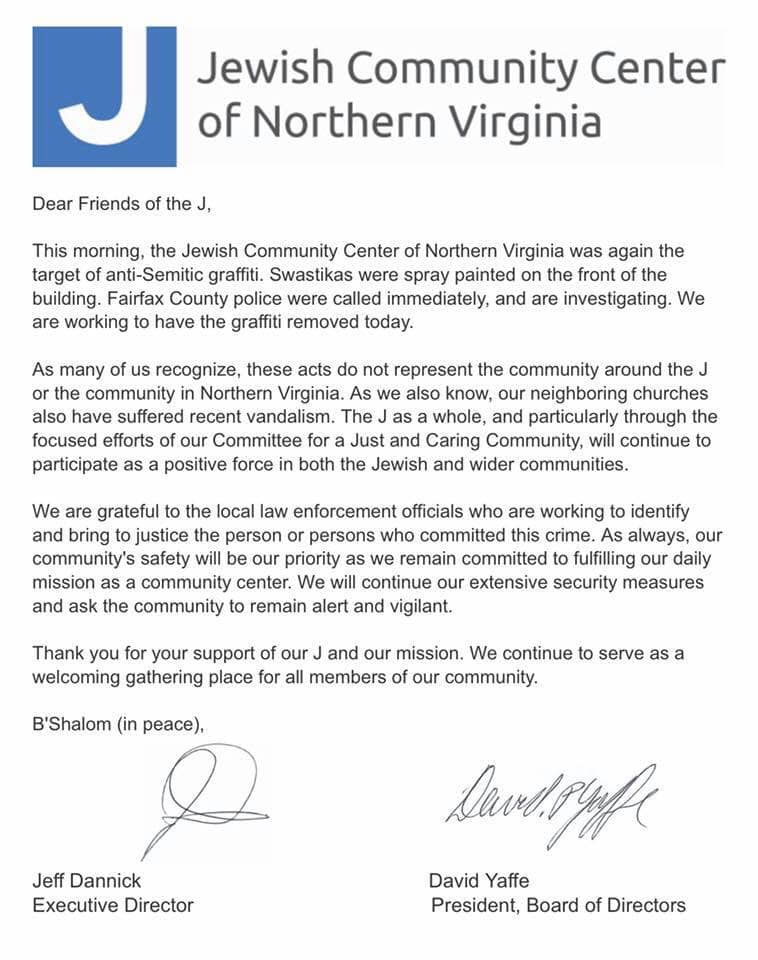 P.P.S. Also see this from the Fairfax Police Department and Fairfax County government.
Hate graffiti found at religious institution in Annandale. https://t.co/CQinITuoMk pic.twitter.com/WUB2ZTJEm1

— Fairfax County Police (@FairfaxCountyPD) October 6, 2018
There's no paywall on Blue Virginia, and we definitely want to keep it that way! If you want to help support our work, you can donate here - thanks!
Also, you can
sign up for our weekly email list here
.