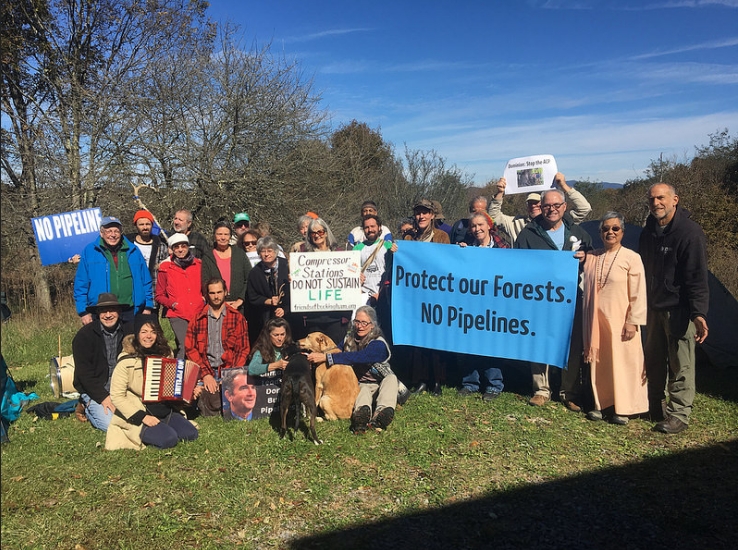 From the great folks at the Chesapeake Climate Action Network (CCAN):
Faith Leaders Commemorate "No Pipeline" Encampment with Interfaith Celebration of Forest and Land
Opponents to the two fracked-gas pipelines planned for Virginia honor and celebrate an old-growth forest threatened by Dominion Energy's Atlantic Coast Pipeline and call on Dominion to spare Virginia's forests
LITTLE VALLEY, Virginia — Today, dozens of faith leaders and activists joined for an interfaith ceremony to honor all forests threatened by Dominion's Atlantic Coast Pipeline and EQT's Mountain Valley Pipeline.
The "Ona Commemoration Celebration" took place on Miracle Ridge, an old-growth forest filled with 300-year-old trees, including one that Bill and Limpert — who own the property — have named "Ona." Ona has inspired residents from all across the Commonwealth to unite for the "No Pipeline Summer" protest encampment on the Limperts' land. Now, they have gathered again for a ceremony that featured Hinduism, Christianity, Judaism, the Indigenous Peoples' Prayer, and more.
"Lynn and I are pleased to have faith leaders and others from all over Virginia join us to celebrate Ona and our ancient forest, which has been virtually untouched by the hand of man," said Bill Limpert. "We have been blessed to be part of this beautiful land which has spiritually sustained us for nearly 10 years now. We appreciate the outpouring of love and grace from like minded friends, and will always hold them close to our hearts."
During the ceremony, the faith leaders installed a sculpture at the base of Ona that is intended to signify the life of the forest. Shaped in the form of an embryonic baby named Hope, with a curl reminiscent of maple seed embryos, it carries the following message: "All life is connected, interdependent, and sacred."
Weston Mathews, co-founder of the Interfaith Alliance for Climate Justice, said, "This group gathered today to honor the sanctity of God's creation. If constructed, the Atlantic Coast Pipeline would threaten Ona, Miracle Ridge, and the Bath County Community. As communities of faith it is our obligation provide moral clarity on such a clear injustice."
"We gather to do Creation Care, in a Circle of Protection around Great Grandmother Ona, maple tree," said Heidi Dhivya, owner of Blue Ridge Wellness. "We gather to lean on each other, to feed each other and to receive the eternal blessings from Mother Nature's eternal, bountiful beauty and wisdom. In the Wiccan tradition we remember who we truly are, by calling on all that we are to be present in the form of the 4 directions and Mother Father God; to guide protect and awaken us. And to remember that we are not alone, that we can draw from that Source that feeds us all."
Andrew Tyler, who gave the Indigenous Peoples' Prayer during the event, said, "We, as Indigenous People, have a direct connection to the land. For thousands of years, long before the first 'settler' arrived, we were here. And despite 500 plus years of colonization, we are still here. My intention is to honor this connection with this ceremony."
The event included songs written and sang by the Limperts, a song by the Richmond-based band Lobo Marino, and prayers of the Jewish, Islamic, Buddhist, Christian, and Hindu traditions.
This ceremony concludes a successful summer-long encampment on the Limpert property to save "Miracle Ridge" — the land once referred to as a "classroom camp in pipeline fight" — in which over 200 campers and visitors toured the property and visited "Ona" to view the pipeline right of way that would destroy hundreds of old-growth trees. Like-minded "no pipeline" supporters shared concerns surrounding the danger for those living in the blast zone and the risks to water pollution as the pipeline travels slopes in sensitive karst geology. The Limpert property has taken center stage as one of many sites of grassroots pipeline resistance, showing the strength of the movement taking place across Virginia, West Virginia, and North Carolina in opposition to new fossil fuel pipelines.