In Fairfax County's Hunter Mill District, long-time supervisor Cathy Hudgins is retiring, and five Democrats –  Parker Messick, Shyamali Hauth, Laurie Dodd, Walter Alcorn and Maggie Parker – are running for the June 11 Democratic Party nomination to succeed her. Recently, one of those candidates (Laurie Dodd) sent out a press release (see below) hitting another candidate (Walter Alcorn) for "campaign finance reports" showing that "his donors includ[ing] leaders of ALEC, the rightwing group funded by the Koch brothers, and that he has violated his own pledge not to take money from developers."
Not surprisingly, that caught my eye, as I have long believed – and written – that ALEC is utterly heinous, as are the Koch brothers, and also because I believe that it's *very* important to avoid even the appearance of influence by real estate developers over local elected officials. I wanted to get Alcorn's side of the story, so I emailed him and ended up speaking with him at length. In response, he sent me the following comments, including that he's returned the two contributions from individuals who work at ALEC, and that the donations from developers are "from two college friends who don't have projects in the district – or in Fairfax County at all."
With that, here are Alcorn's comments, followed by the full statement from Dodd, which I referenced above. I think it's healthy that Dodd raised these issues, and also that Alcorn (who, by the way, is widely viewed as the frontrunner in this race, with endorsements from Rep. Gerry Connolly, Supervisor Sharon Bulova, State Sen. Jennifer Boysko, etc.) responded promptly and forthrightly. May the best Democrat win on June 13!
"My commitment to Democratic values and principles is unwavering — I can't be bought.  I believe that cooperation is better than conflict, unity is better than division and inclusivity is better than exclusion. That's why several unions have endorsed me, and my campaign continues to gain momentum."
"From my work as an environmental professional in Arlington to my time on the Fairfax County Planning Commission, my record shows I have fought for balanced and responsible growth, required that developers provide more green spaces and developed and passed inclusionary policies requiring that developers provide affordable workforce housing."
"On May 2, 2019 Walter Alcorn's campaign returned two individual contributions of $250 to individuals who work at ALEC, which represents less than one percent of all donations received."
"Walter Alcorn's campaign has not broken his promise: 'Walter is not accepting contributions from developers with land use cases in the Hunter Mill District – every donation matters.'"
"Two donations come from two college friends who don't have projects in the district – or in Fairfax County at all."
"A central tenet of Walter Alcorn's campaign has been to have a check and balance on developers who act monopolistically."
Alcorn also note that he's been endorsed by various labor groups, including Keystone Mountain Lakes Regional Council Of Carpenters, Laborers' International Union of North America (LiUNA), International Brotherhood of Electrical Workers (IBEW) Local 26 and Service Employees International Union (SEIU) Virginia 512.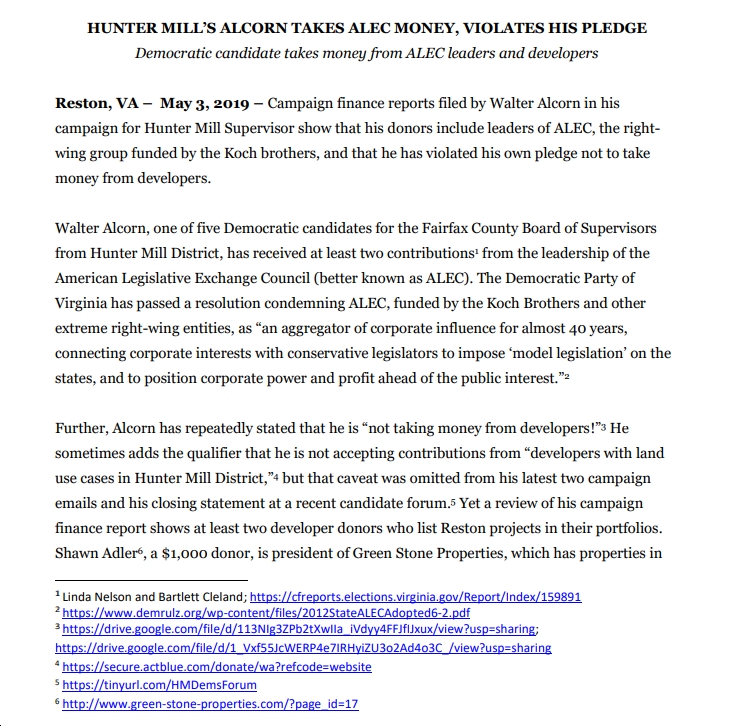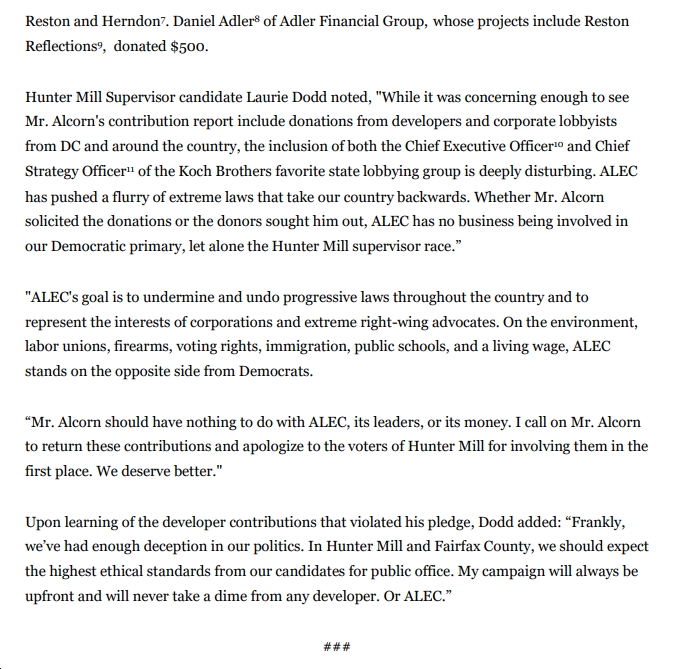 P.S. I'd note that one of the other candidates, Maggie Parker, is VP of Communications at Comstock Companies, which is "a diversified real estate organization with a 30+ year history of investing in, developing, owning and operating virtually all types of residential, commercial, and mixed-use real estate," including major projects in Fairfax County generally and in Hunter Mill District specifically. Now *that* seems like a huge potential conflict of interest!