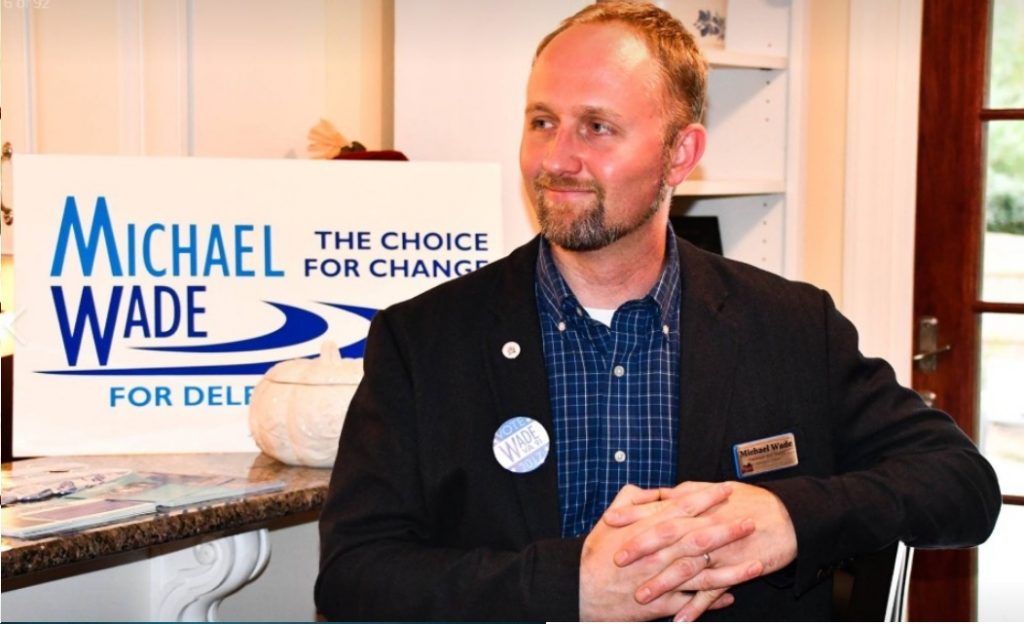 by Mary Vause
Virginia's 91st district, which includes parts of Hampton, parts of York County, and Poquoson, has swung 20 points more Democratic in the recent Virginia redistricting that addresses racial gerrymandering. With long-time Republican incumbent Del. Gordon Helsel stepping down, and especially in a Blue Wave election, the winner of the Democratic primary is likely to be the general election winner.
But how strong of a Democrat will VA-91 nominate? In the June 11 Democratic primary, self-described "moderate Democrat" Martha Mugler, who currently serves on the Hampton School Board, will face off against progressive Democrat Michael Wade, an information technology professional. But even beyond calling herself a moderate Democrat, Mugler has a tendency to take surprisingly conservative stances on issues ranging from abortion rights, to gun violence prevention, to labor unions, to Confederate nostalgia. In contrast, Wade is a strong progressive who is proudly pro-choice and pro-labor, who is supportive of comprehensive gun violence prevention measures, and who has advocated for the removal of Confederate names from local cities and streets, including from the Jefferson Davis Memorial Arch on Fort Monroe.
Mugler stated on Facebook that she would NOT support an abortion bill that Virginia Democrats sponsor every year in the General Assembly.
Mugler recently made anti-choice comments on her campaign Facebook page, assuring conservative commenters that she is a "moderate Democrat" and that she "would not have supported" Del. Kathy Tran's abortion bill. Tran's bill aimed to help women who in the third trimester of pregnancy heartbreakingly discover that their fetus is not compatible with life. Here are stories from women who Tran's legislation would have helped. Tran's bill – which is identical to bills proposed by Virginia Democrats every year – aimed to help women in these heart-wrenching circumstances. It also would have ended coercive regulations on women's health clinics that provided just first-trimester abortions. Known as Targeted Regulation of Abortion Provider (TRAP) laws, these regulations seek to force providers to comply with restrictions that no other comparable medical professionals are subjected to. TRAP laws have shut down a third of Virginia's first-trimester abortion laws. Even these blatant attempts to circumvent constitutional law are acceptable to Mugler, who publicly stated that she won't support the bill that ends those TRAP laws.
Mugler on Guns
Mugler stated on the May 21st episode of HearSay with Cathy Lewis that protecting gun owners' rights is a priority for her. Mugler then reiterated her support for 2nd amendment rights at a local NAACP meeting on June 3rd, in the wake of the Virginia Beach mass shooting tragedy.
Wrong on Right-to-Work
Mugler recently suggested to local labor leadership that conservative "right-to-work" (aka, anti-worker) legislation is good for business. In reality, the misleadingly named "right-to-work" legislation actually weakens the power of labor unions to advocate for workers.  Mugler
According to the AFL-CIO, "right-to-work" is associated with an average 3.1% drop in worker's pay and a 36% increase in discrimination complaints to the Equal Employment Opportunity Commission. Michael Wade was the first candidate to stand before the largest plant local in the country, United Steelworkers Local 8888, and call for repealing right-to-work legislation and for collective bargaining for all Virginia employees, including teachers. Wade has already been endorsed by the following labor unions: the Mid-Atlantic Pipe Trades Association, the Norfolk Federation of Teachers Local 4261, and American Federation of Government Employees Local 448. Wade has also received support from many volunteers in the United Steelworkers and the International Brotherhood of Electrical Workers, although these organizations wait until after the primary to endorse.
Mugler Failed to Act on Renaming Confederate School Names in Hampton
The final two public schools with Confederate names on the Virginia Peninsula were two Hampton City Schools, according to the Southern Poverty Law Center. Why did public schools named after Confederates continue for so long in Hampton when it has such a diverse school district? 73.6% of Hampton's public school students are non-white (see page 39 of this).
Looking through Daily Press news coverage from 2016 reveals an interesting contrast between the way that the nearby Newport News School Board versus the Hampton School Board (led by then-Chair Martha Mugler) handled the Confederate school renaming issue. In 2016, the Peninsula chapter of the Southern Christian Leadership Conference (SCLC) advocated with members of both boards for changing local Confederate public school names. The local SCLC requested name changes for Davis Middle School in Hampton, for the Campus at Lee in Hampton, and for Magruder Elementary in Newport News.
The Newport News School Board heeded the SCLC's recommendation and voted to drop Magruder from the school name in 2016. During public comments before the vote, 3 citizens spoke against removing "Magruder" from the school name and 1 citizen spoke for renaming. The Newport News School Board nonetheless voted in favor of social justice.
In contrast, in 2016 the Hampton School Board, led by Mugler – who had served as Hampton School Board Chair since 2012 – voted to hold public hearings about possibly changing the Confederate school names. Unfortunately, conservatives organized a sizeable turnout in support of keeping the Confederate names — 10 people spoke in favor of renaming the schools and 31 spoke against during two Hampton School Board public hearings in 2016. Mugler then led the board in voting AGAINST creating a committee to even consider renaming the schools.
Many school boards come to a consensus behind the scenes and vote unanimously on issues in order to avoid public controversy. And indeed, the Hampton School Board voted unanimously in June 2016 against considering renaming the Confederate-titled schools. However, the reorganization vote a month later revealed major discord behind the scenes on the board. In July 2016, two newly elected School Board members officially took their seats on the board. With the change in board members, the Hampton School Board became predominantly African-American, like the school district it represents.
In a contentious and rare 4-3 split vote that the Daily Press noted fell along racial lines, Mugler was voted out as chair just a month after she led the Hampton School Board in voting against considering changing the Confederate school names. (Mugler nominated a Board ally for vice chair, and this was also defeated 3-4, which the Daily Press again noted was along racial lines.).
As Chair of the Hampton School Board in 2016, Mugler failed to stand up for Hampton's minority students, who shouldn't have had to attend schools named after slaveholders all the way into 2017 and 2018.
VA-91 constituents deserves to have a true blue, progressive Democrat like Michael Wade representing them in the General Assembly.
Learn more about Michael Wade for Delegate: www.michaelwadefordelegate.com
Donate to Michael Wade for Delegate: https://secure.actblue.com/donate/wade2019?refcode=web