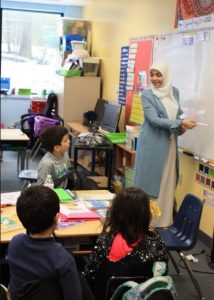 by Abrar Omeish
Since the beginning of my campaign for the Fairfax County Public School (FCPS) Board, I have been advocating for a more inclusive and equitable school system. I have emphasized how education is a child's first chance at building a successful future. When we ensure youth can maximize their potential, we introduce into our communities "the great equalizer" needed to address impending barriers facing our generation. I decided to run for the Fairfax County School Board to bring this vision. You can read more about my plans for FCPS here.
This spring, I had a very traumatic personal encounter that shook me to my core and reminded me even more why I'm doing this. With the chaos of campaigning leading up to the endorsement and with the favorable conclusion of my case only very recently, I am now able to process and share this information.
Given that I could not publicly comment, some of you might have heard distorted accounts of what occurred. Let me reassure you: I do not have a criminal record. In fact, after thorough study of the incident and what unfolded, the prosecution agreed to expunge the record and pursued only two minor traffic infractions. This is all public information. I stand by my word to be accessible, transparent, open, and honest as I committed to in bringing forth the new standard of public service I aim to set. I detail the events below and, as always, encourage any and all to reach out with questions.
On March 5 of this year, while driving from a meeting of the Fairfax County Democratic Committee (FCDC) Diversity Committee to give remarks at the monthly meeting of the Sully Democrats, I was stopped by an officer for failing to come to a complete stop before turning right.
The officer stated the charge and asked me to agree with his claim. I began asking the officer questions, upon which he demanded my driver's license. I was in a hurry and asked about my options. The officer demanded my license again and quickly pulled out his pepper spray bottle, brought it close to my face, and began yelling at me to "get out of the car!"
I told the officer multiple times that I would produce my license. As he held the pepper spray bottle to my face, I told him that it was an unwarranted escalation and repeated variations of, "sir, we really don't need to do this." My mind was racing with worst case scenarios and the many police videos where routine traffic stops result in deadly encounters. I genuinely feared for my safety.
I was pepper-sprayed, dragged out of my car, and arrested. My phone, with which I had attempted to film, was taken from me. Police backup arrived and four officers came to restrain my body against their car. I was scratched, bruised, concussed, utterly humiliated, and physically violated. I ended up being charged with a traffic violation and with obstruction of justice for refusing to present my license.
Later that night, I was forced to remove my hijab despite pleading for respect of my rights and repeatedly explaining the religious guidelines that I live by. Meanwhile, the arresting male officer – who shortly before had made a comment indicating that I would be compelled to remove my scarf – insisted on observing the event. I indicated then and state again that for a Muslim woman who covers, this is an extremely humiliating experience. This treatment by the Sheriff's office violated my civil rights, was gratuitous, and, as I have come to understand, is contrary to custom in many jails. I know Sheriff Kincaid personally and do not doubt she stands for higher ideals. Her office has started an investigation, and I am confident she will act accordingly and look forward to a constructive resolution.
I remind everyone that a "submit or be punished" logic in the engagement of law enforcement with citizens damages our communities. I hope for better. I remain baffled by the officer's aggression and refusal to de-escalate although I did not explicitly refuse and posed no threat to anyone involved. It amazes me that such a set of events could happen to a Muslim woman in Fairfax County. I am confident that had I been someone else, the night would have unfolded very differently. I now know how real situations people like me face are.
Still, I choose to propel myself towards compassion for all sides, inspired by great faith leaders of the past, to engage all parties– including the officer– in ways that humanize their realities to effectively solve our problems with integrity and grace. Remembering the human being in each actor here matters a lot to me.
On March 6, the morning after the incident, I received a phone call on behalf of Fairfax County Police Chief Roessler asking whether I would agree to an investigation of bias in my case. I did so. I put faith in the Chief's handling of such issues and anticipate a favorable conclusion on the pending investigation.
Looking ahead, I think of other similar cases where people have been subjected to similar treatment. Perhaps they were not as fortunate. What if I had been a young black male? Or undocumented? Or if I could not speak English? What if I had been deaf or on the autism spectrum or in some way required more patience from law enforcement?
I am committed to ensuring that something like this never happens to anyone. I am more fervently driven to push for the equity that I have been talking about during the campaign and look forward to starting with our school communities.
OneFairfax is a welcome start that calls upon us all to see the challenges and opportunities that come with disparity and, from there, to help empower "the leader in every child." When we look to facilitate an environment that secures fairness for all, we can imagine schools that not only educate but raise our children. Our reality is such that more than half of our students come from a minority background. Still, black students are three times more likely, and Hispanic students and students with disabilities are two times more likely, to be referred for disciplinary action. For the possibility of what these youngsters can be, we ought to do better.
Moreover, what if we imagine an FCPS where a mistake is in fact a remarkable learning opportunity for a student? What if "getting into trouble" means the chance to completely reverse the course of a child's life and offer the child tools for recovery and restoration? We can make schools places that enlighten the whole student.
As we saw in the February meeting of the Successful Children and Youth Policy Team and as I outlined in my comprehensive plan for equity in discipline, we can better equip our School Resources Officers to ensure they are prepared for the diverse communities that they serve. We can encourage interactions between SRO's and families that instill trust and protect even our most vulnerable students from information-sharing and other practices that lead to irreversible and grave consequences.
We can build a better Fairfax. Facing our shortcomings is where we begin. It is our collective responsibility to entrust with power only those civil servants who are raised and nurtured to care for our community.
As you all know, I am currently a School Board candidate. I am also a citizen and civic leader here in our community. In those capacities and informed by my recent experience, I will advocate for public policy initiatives that improve conditions for all of us– starting with our schools and reaching beyond. In fact, the parallels are clear. We raise children more effectively when they belong in community and feel connected to the authorities that make decisions for them. In the civilian-police interaction, we can do better. That is my commitment to you and that is another step towards the new standard of public service I hope to bring.
Let's constructively bring our community to a place of collective healing where we all tap into the better sides of our hearts and learn to empathize with one another. We all know how we like to treat those closest to us– our loved ones, our spouses, children, and parents. That is who we already are for some, and that is who we can be for many.
As the current election draws us all in, for all offices county-wide, we citizens face a crossroads: Do we seek incremental, mostly procedural progress into the 21st century, or are we willing to stride boldly forward with innovative and visionary reforms reflective of the needs and realities of all the citizens of Fairfax County?
You know where I stand. Now it's your turn.
Will you join me?