Advertisement
This is crazy; check out the scoop by RTD political reporter Graham Moomaw on the huge f'up by hard-right Del. Nick Freitas (R-HD30; 61% Gillespie district). Also, see below for some analysis by Chaz Nuttycombe, Geoffrey Skelley of 538 and Ben Tribbett. The bottom line, though, is that "it would be the funniest thing on earth if Nick Freitas screwing up his paperwork led to this district flipping Democratic by R's not being able to have anyone in the race, because there is no, I repeat, no path to a majority for R's if this seat flips." Hahaha. Oh, and don't forget to support Democratic nominee Ann Ridgeway – she's great!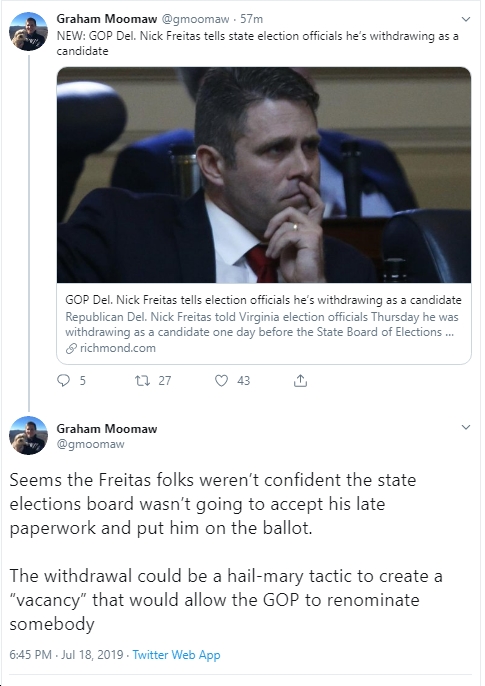 Background on why Freitas was treated differently than Kilgore and Jenkins.

He was missing 2 forms. He didn't get a reminder of the 10-day grace period because @vaELECT says it didn't have enough on file to treat him like a real candidatehttps://t.co/2B0CxJDf63

— Graham Moomaw (@gmoomaw) July 19, 2019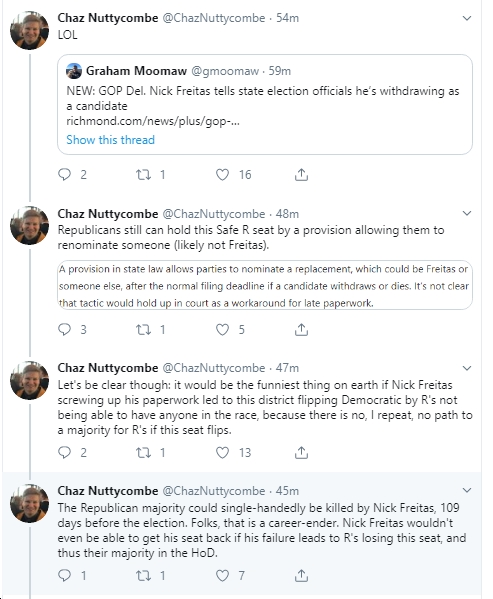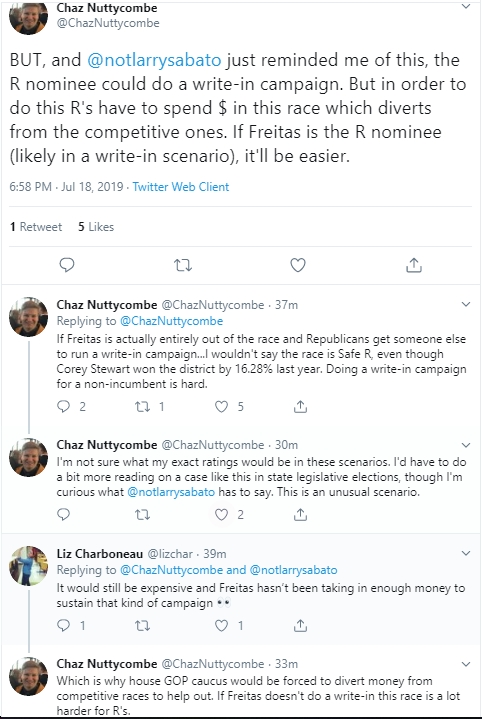 Oh right they could get Tina Freitas to run. Forgot about that. https://t.co/ILVusXXCmL

— Chaz Nuttycombe (@ChazNuttycombe) July 18, 2019
I don't see why Nick Freitas doesn't just run as a write-in candidate. Incumbents have a very viable path to re-election as write-ins compared to non-incumbents. So let's not everyone celebrate like this seat just fell into our lap or anything. Because it hasn't…yet(?)

— Chaz Nuttycombe (@ChazNuttycombe) July 19, 2019
I can't seem to find any recent example of a successful write-in candidate for a state legislative seat, though I'm sure it's happened before. I've been thinking of the appropriate rating for HD-30 (Freitas) race, but it will depend whether Freitas runs as a write-in or not. 1/2

— Chaz Nuttycombe (@ChazNuttycombe) July 19, 2019
Republicans really don't have a choice. They can't afford to lose this seat. If this seat fell into Democratic hands miraculously, there is a 100% chance of Democrats having a majority in the House of Delegates. There is no path for Republicans to hold their majority w/o it.

— Chaz Nuttycombe (@ChazNuttycombe) July 19, 2019
Wow what a mess! https://t.co/lrV3licIGw

— Geoffrey Skelley (@geoffreyvs) July 18, 2019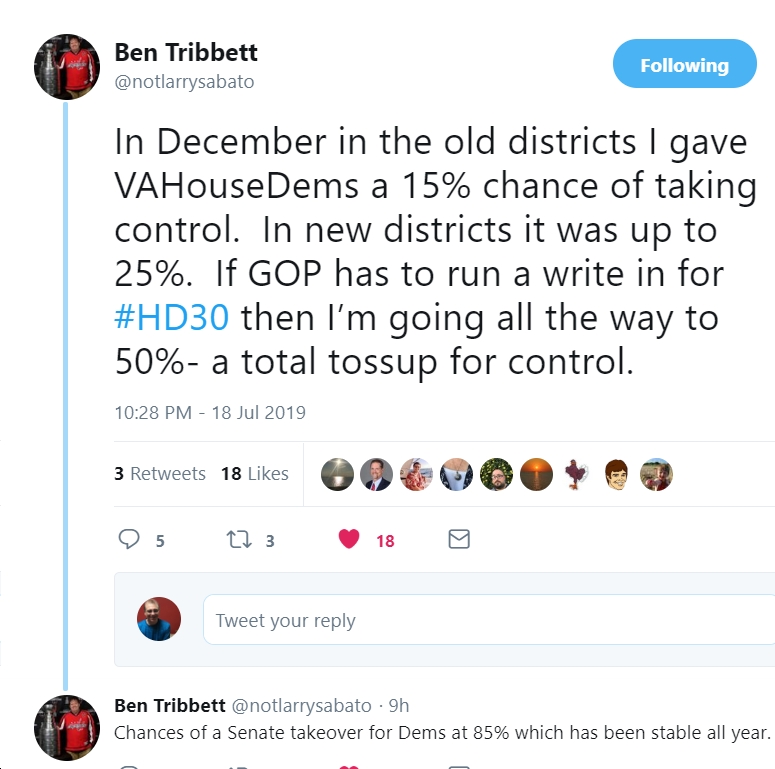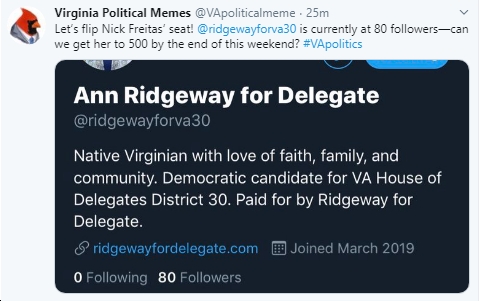 There's no paywall on Blue Virginia, and we definitely want to keep it that way! If you want to help support our work, you can donate here - thanks!
Also, you can
sign up for our weekly email list here
.