Advertisement

See below for tweets, photos and video from today's commemoration at Jamestown. My view is that Democrats absolutely should be there, but not when the Racist-in-Chief is on stage. At that point, they should either walk out or, at the minimum, protest in some way. Because, the fact is, in addition to being a virulent racist, Trump also is completely antithetical to democracy, is working hard to destroy it actually, which makes his appearance at this celebration of the early beginnings of American democracy so laughable, offensive, etc.
"Mr. President, you can't send us back, Virginia is our home!"

Protester holding "Deport Hate" and "Reunite My Family" signs interrupts Pres. Trump's remarks at Jamestown 400th anniversary celebration. https://t.co/M5slGg72vA pic.twitter.com/Jxx2t3rPfv

— ABC News Politics (@ABCPolitics) July 30, 2019

HAPPENING NOW: More than 100 protesters lining the street across from Jamestown Settlement where President @RealDonaldTrump set to speak at 11. Chanting "Love, not hate makes America great." https://t.co/4HBWv9orwd @WTKR3 pic.twitter.com/QL5BVUgP6L

— Anthony Sabella (@AnthonyWTKR) July 30, 2019
.@GovernorVA & other state leaders enter church in Historic Jamestown for 400th Anniversary of the First Representative Legislative Assembly. WATCH LIVE: https://t.co/4HBWv9orwd via @WTKR3 pic.twitter.com/fHUI4rVvpD

— Anthony Sabella (@AnthonyWTKR) July 30, 2019

Hundreds of people gathered near Jamestown settlement to protest president trumps arrival. @WAVY_News pic.twitter.com/aRJSdyYqEj

— Deanna Bettineschi (@DeannaWAVY) July 30, 2019
More from Jamestown. Setting the scene. @WAVY_News pic.twitter.com/JVfbyTFKFc

— Andy Fox (@AndyFoxWAVY) July 30, 2019
Virginian's united against the RACIST occupant of White House at #Jamestown 400th Commemoration @washingtonpost @NBC12 @Indivisibleteam @maddow pic.twitter.com/RyUlDpsw7L

— HRIndivisible (@hr_indivisible) July 30, 2019
.@GovernorVA speaking with @SpeakerCox ahead of program honoring 400 years of representative democracy in America. Lt. Gov also here. @WTKR3 https://t.co/4HBWv9orwd pic.twitter.com/jROImAG4JY

— Anthony Sabella (@AnthonyWTKR) July 30, 2019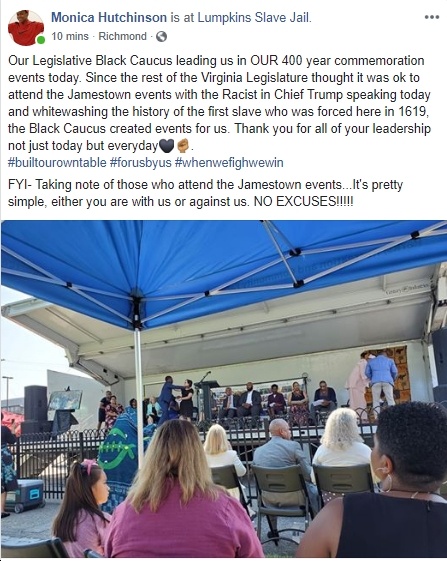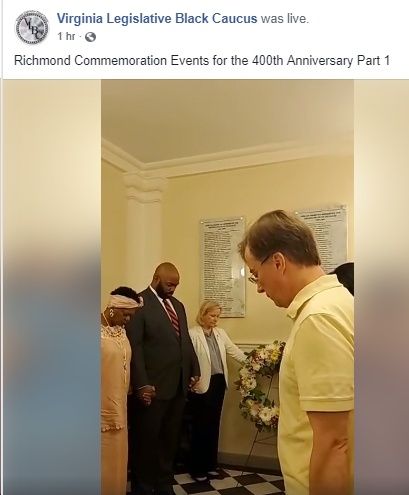 I am in #Jamestown today standing in honor of millions of formerly enslaved African-Americans, including my great-great-great grandfather Simon Fairfax.

Their courage in the face of incredible odds will never be erased nor diminished by this President.https://t.co/5CzmqEyjc1

— Justin Fairfax (@LGJustinFairfax) July 30, 2019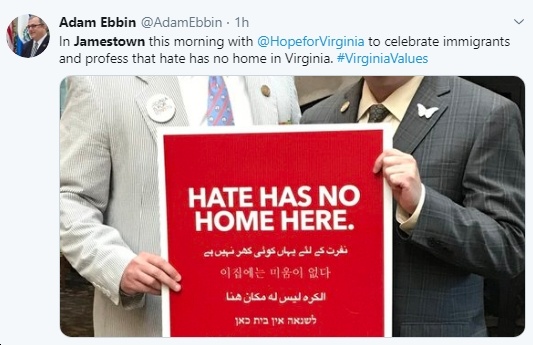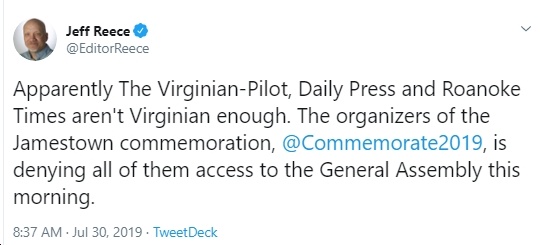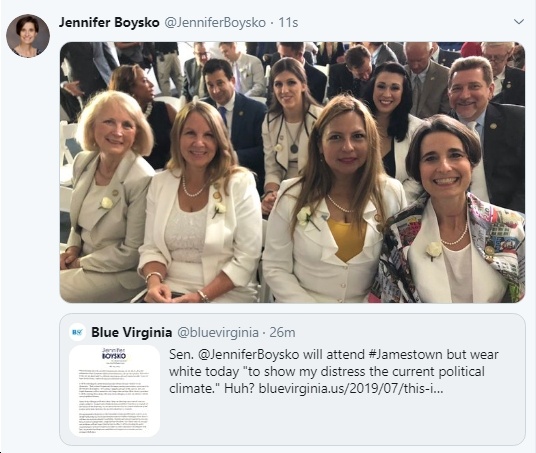 More than 200 people are at Jamestown Beach to protest Trump with more coming in #VGJamestown400 pic.twitter.com/iO38y7v0A4

— Emily Holter (@EmilyHolterNews) July 30, 2019
.@GovernorVA, @LGJustinFairfax and other Virginia officials gather early this morning at the old church on Jamestown Island pic.twitter.com/oyMSuVLf59

— Greg Schneider (@SchneiderG) July 30, 2019
I love my country and respect the office of the President. Yet I do not respect or support this President. I will not be at Jamestown in the morning.

— Creigh Deeds (@CreighDeeds) July 30, 2019

Attorney General Mark Herring attends @VaBlackCaucus boycott event in Richmond. https://t.co/q7roN55VOS pic.twitter.com/Jb9LiWfrhi

— Allison Mechanic (@AllisonWTKR) July 30, 2019
There's no paywall on Blue Virginia, and we definitely want to keep it that way! If you want to help support our work, you can donate here - thanks!
Also, you can
sign up for our weekly email list here
.