No stranger to leveraging their reputation and discounting their mission to partner with fossil fuel companies looking to "greenwash" their image, The Nature Conservancy recently accepted $25,000 for tree restoration from Dominion Power. While an increasing number of politicians and nonprofits across the region shy away from accepting Dominion's money, the Conservancy appears to embrace the opportunity by actively promoting the partnership across their numerous web and social properties.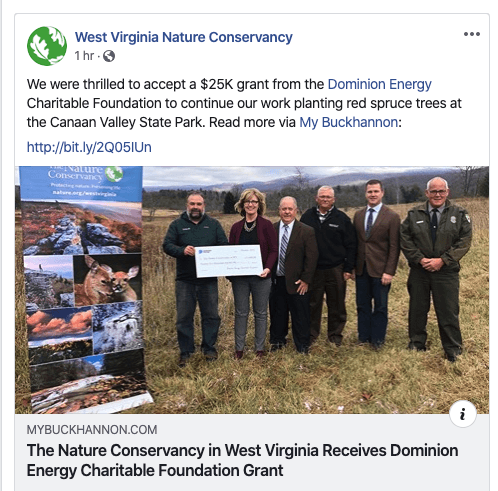 For nearly seventy years The Nature Conservancy has been one of the more dynamic environmental organizations. Borrowing strategies from corporate America, establishing public and private partnerships, leveraging their financial might, an army of scientists and a savvy real estate team to protect environmentally vulnerable lands and species.
Unfortunately, the Nature Conservancy has been no stranger to controversy, from a history of questionable ties with big business to a recent sexual harassment scandal that saw the resignation of their CEO and other executives. The Conservancy's board of directors and corporate business council now include several fossil fuel and chemical companies including Duke Energy, BP, Dow Chemical and Royal Dutch Shell.
With a cast characters that would be equally at home in an EPA report, the Conservancy appears to have no qualms about selling their public relation services to companies looking to "greenwash" their image. Unfortunately, we're not talking millions of dollars for climate science or even a thousand-acre, salamander-saving, land swap. We're talking about $25,000 from a corporation with a $65 Billion market cap in exchange for an international conservation org blasting out the news across their social media channels and helping sell positive news media coverage for a troubled energy company in the midst of numerous environmental legal battles.