With everything going on in the world, including impeachment of course, I was curious what Virginia's Congressional members have been talking about recently. So, I looked at each member's Facebook feed, back to December 1, and the results were fairly revealing. See below for each member's word cloud, as well as highlights.
Rep. Rob Wittman (R-VA01): Surprisingly, there's nothing about impeachment in Wittman's Facebook feed, also minimal about Trump. Instead, it's mostly about Wittman's work in Congress and the district – on funding the government, healthcare costs, military funding, etc.  In sum, there's not much "red meat" there, at least not since December 1, for this right-wing Republican in a solidly "red" district…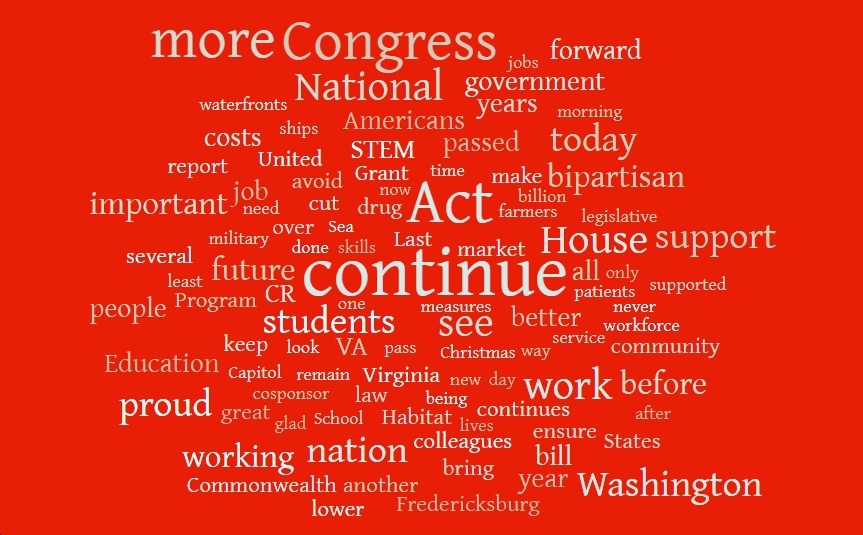 Rep. Elaine Luria (D-VA02): There's nothing in particular about impeachment or Trump in the Facebook feed of this Democrat in a "purple," swing district. Instead, Luria is focused on her district, "coastal Virginia," the military, veterans, the Navy, families, community, etc.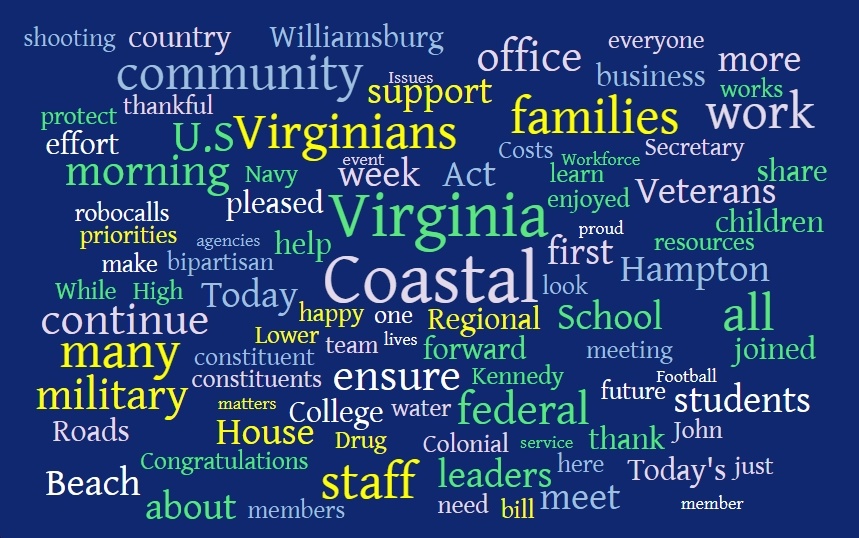 Rep. Bobby Scott (D-VA03): This deep-blue-district Democrat's Facebook feed focuses on voting rights, healthcare, lowering drug costs, the National Defense Authorization Act, a pay raise for "our men and women in uniform," etc. There's also one post about impeachment, arguing that "The report from the Intelligence Committee makes the case against President Trump clear. No one is above the law."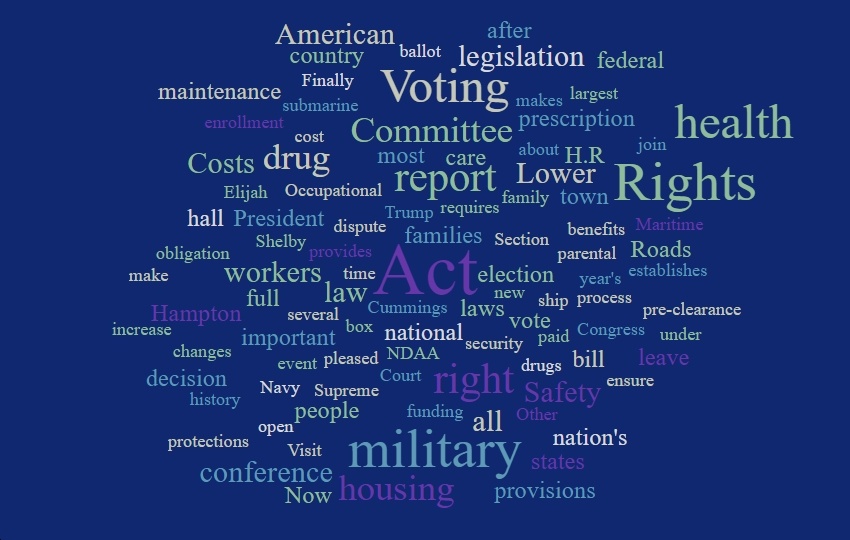 Rep. Donald McEachin (D-VA04): There's nothing in this blue-district Democrat's Facebook feed since December 1 on impeachment or Trump. Instead, topics include: prescription drug prices, coastal communities, the climate crisis, the Esther Martinez Native American Programs Re-Authorization Act, the anniversary of Rosa Parks' arrest in Montgomery, Alabama, etc.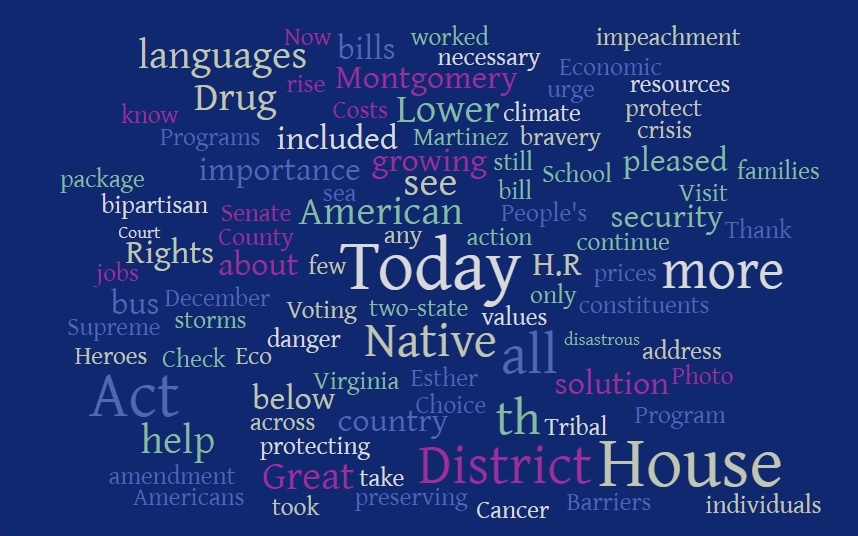 Rep. Denver Riggleman (R-VA05): Riggleman, who represents a Republican-leaning district, talks about a bunch of things, including that he's a "strong supporter of the Second Amendment" and his support for Nelson County becoming a "Second Amendment Sanctuary"; support for Trump; the USMCA; the UVA-Clemson football game; etc.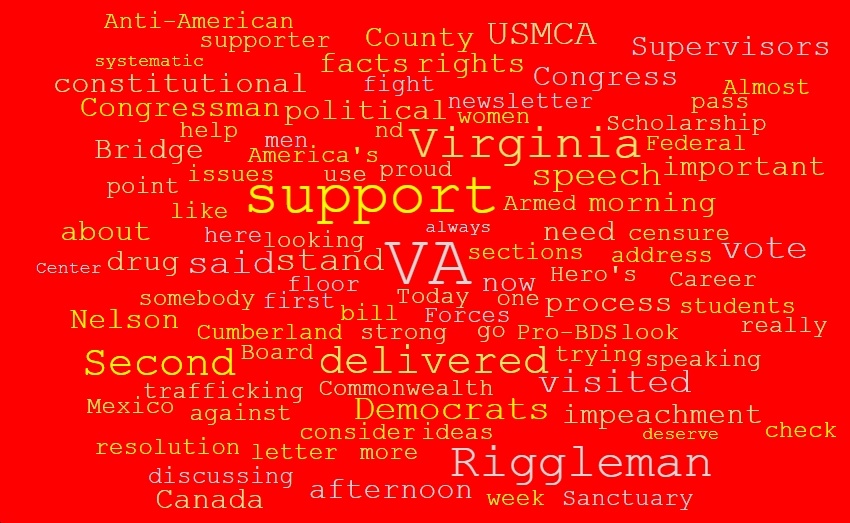 Rep. Ben Cline (R-VA06): Cline, who represents a deep-red district and who serves on the House Judiciary Committee, unsurprisingly talks a *lot* about impeachment, the Judiciary Committee and his support for Trump (natch).  Cline also mentions the National Defense Authorization Act, robocalls, Pearl Harbor, and his strong support for the Second Amendment and for "sanctuary counties."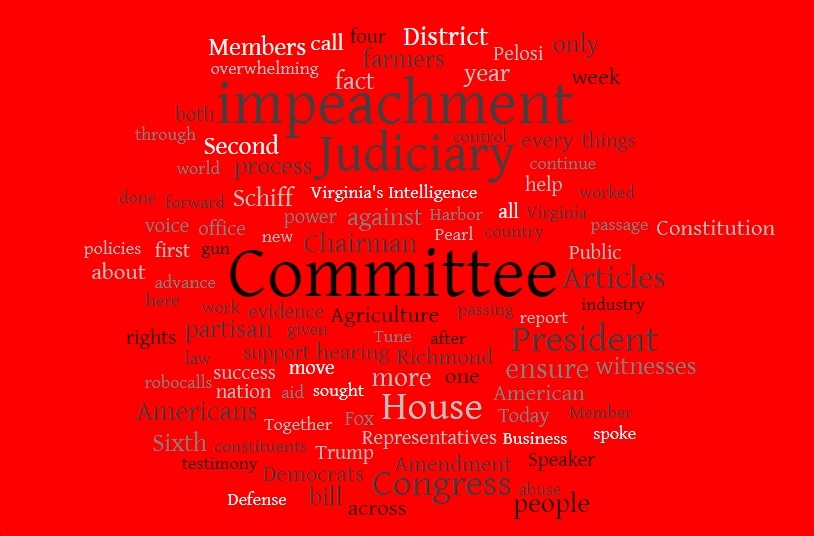 Rep. Abigail Spanberger (D-VA07): First of all, it's worth noting that Spanberger – who represents a very "purple" district, one that went for Donald Trump in 2016 – posts a *lot* on Facebook – several times a day. As for the content of her Facebook feed, she avoids talking about impeachment, and instead focuses on her "bipartisan" (a favorite word) efforts, including with Rep. Rob Wittman (R-VA01) and even meeting with VP Mike Pence; her work to "keep Central Virginia's economy strong," voting rights; education costs; USMCA; her local town halls and other appearances; etc.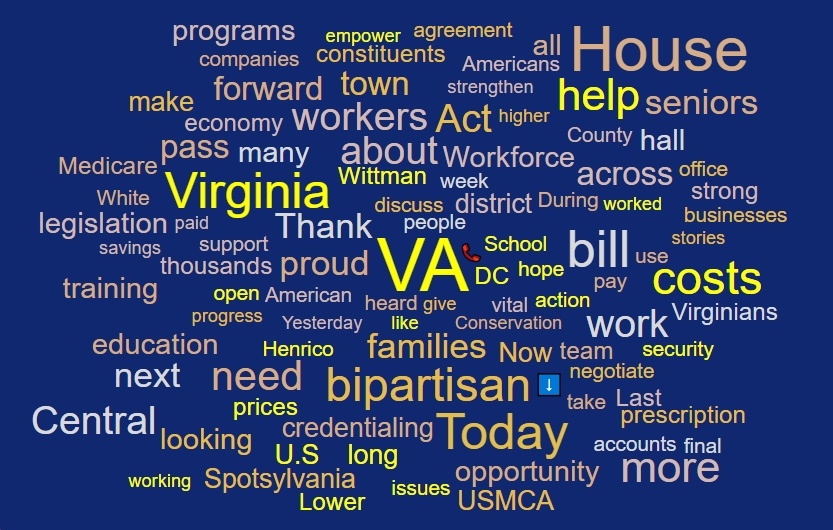 Rep. Don Beyer (D-VA08):In a deep-blue district bordering Washington, DC, people care a lot about what's going on with impeachment, and not surprisingly, Rep. Don Beyer talks a lot about it (e.g., "The facts allow for no other interpretation: President Trump violated his oath and abused his power"). Beyer also talks about lowering drug costs, the USMCA, etc., but as you can see from the word cloud, the biggest words are "Trump," "House" and "President.".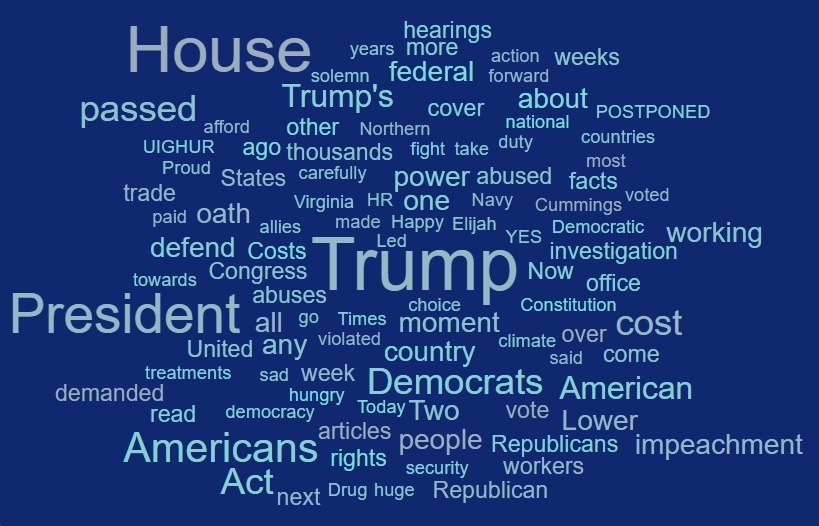 Rep. Morgan Griffith (R-VA09): Griffith, despite being in a deep-red district, didn't have almost anything to say about Trump or impeachment on his Facebook feed since December 1. Instead, Griffith wrote a long piece on Hong Kong, and also talked about prescription drug prices, his support for the Second Amendment, etc.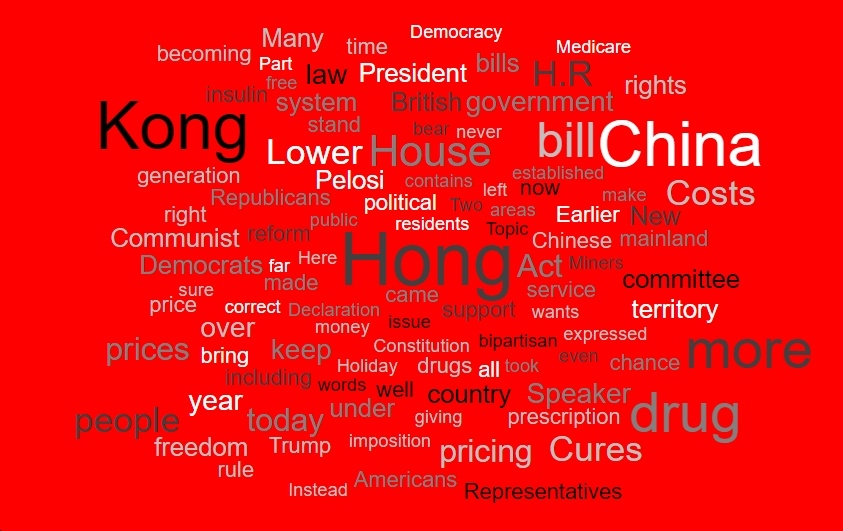 Rep. Jennifer Wexton (D-VA10): Rep. Wexton, who was elected in 2018 to a district that's trending blue but had long been represented by a Republican, has a very active Facebook feed, with multiple posts per day. Wexton didn't talk about impeachment or Trump, but instead focused on: gun violence reduction, the Paris climate agreement, the Elijah Cummings Lower Drug Costs Now Act, USDA moving hundreds of federal jobs out of the DC area, the Jersey City shooting, parental leave for federal workers, the Violence Against Women Act, voting rights, robocalls, etc.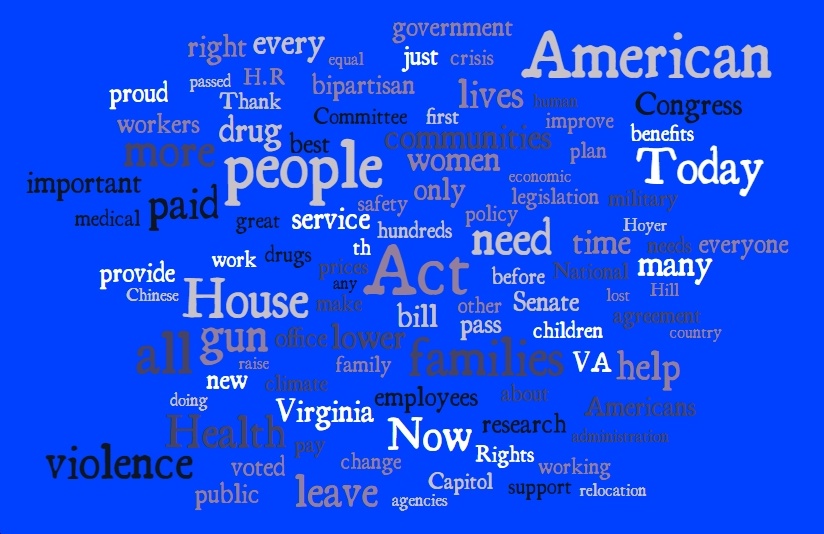 Rep. Gerry Connolly (D-VA11): Rep. Connolly has had a very quiet Facebook feed from December 1 through today. To the extent that he posted, it was not about Trump or impeachment, but about paid family leave, Real ID, enrolling in healthcare.gov, and being proud of his "F" rating from the NRA.