See below for just a sampling of the many excellent bills posted this morning on the Virginia Legislative Information System for January 1 and January 2, 2020. If you're interested in seeing what's being introduced in the Virginia General Assembly, I strongly recommend you bookmark this link and check it every day.
Check out this very interesting bill from Del. Sam Rasoul (D). I'm *strongly* for ranked-choice voting; not sure about voter-nominated open primary elections, mostly because I haven't looked closely at the pros and cons of such a system (e.g., is it similar to California's "jungle primary" system, which seems problematic?), but it definitely seems worthy of consideration!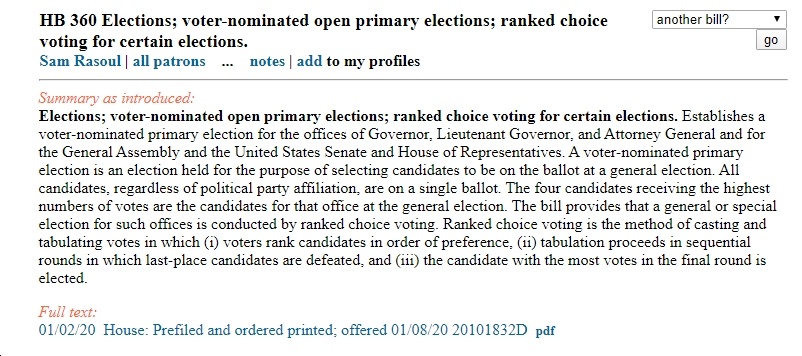 An important bill by Del. Cia Price (D) that should definitely pass!

Two excellent bills – one on housing discrimination on the basis of a person's source of income, the other on Project Labor Agreements – by Del. Alfonso Lopez (D).


This bill, also by Del. Alfonso Lopez (D), seems like a no-brainer. 

Seems like a good bill from Del. Glenn Davis (R) on THC-A and cannabidiol oil.

Definitely need to pass this bill by Del. Paul Krizek (D).

Several strong bills – Family and Medical Leave, collective bargaining by public employees, local alternative minimum wage – by Del. Mark Levine (D). Pass them all, please!