See below for statements from all eleven members of the U.S. House – the good, the bad and the ugly.
First, here are the good ones, from Reps. Jennifer Wexton (D-VA10), Bobby Scott (D-VA03), Donald McEachin (D-VA04), Gerry Connolly (D-VA11), Don Beyer (D-VA08) and Abigail Spanberger (D-VA07).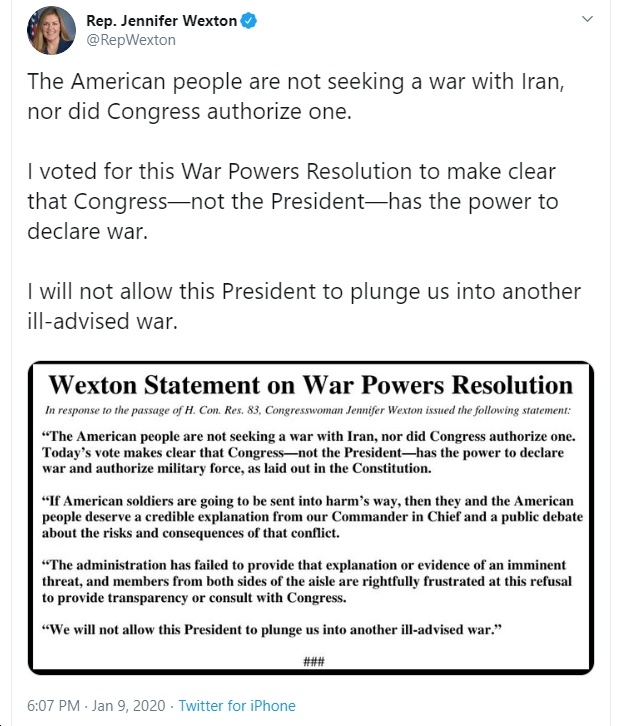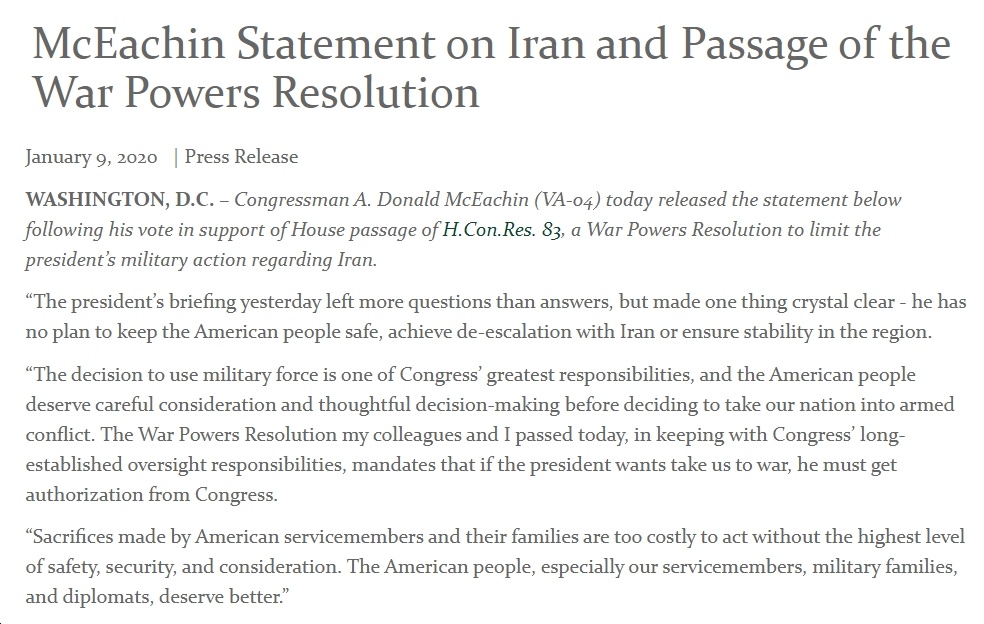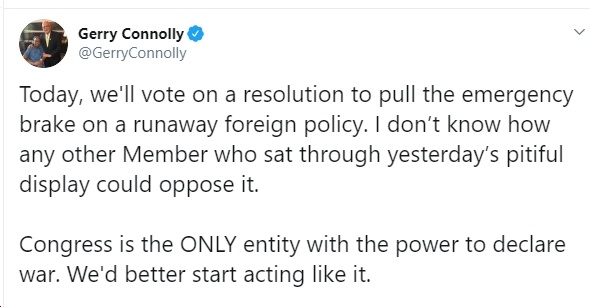 ]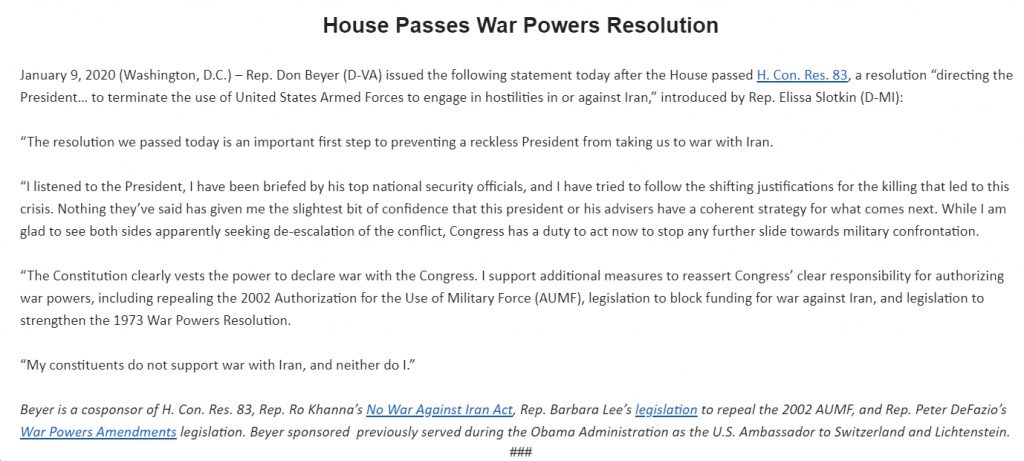 Spanberger Joins Bipartisan Majority in Voting to Reassert Congressional War Powers Authority & Affirm U.S. Inherent Right to Self-Defense, Calls for Congress to Address Outdated AUMFs
Washington, January 9, 2020
WASHINGTON, D.C. – U.S. Representative Abigail Spanberger—a former CIA case officer who worked Iran and counterterrorism issues—today released the following statement after voting in support of the House War Powers resolution.
"Today, I voted to affirm that the United States has the inherent right to act in self-defense and that the Executive Branch can engage our Armed Forces as 'necessary and appropriate to defend against an imminent armed attack upon the United States, its territories or possessions, or its Armed Forces.'
"I also voted to affirm that the authority and responsibility to make war is a solemn duty that constitutionally rests with Members of the U.S. Congress, the people who were elected to represent both those who go off to war and their families—those who bear the burden, risks, and loss of the choices we make. As we face ever-changing tensions and military engagements with Iran—a foreign adversary nation and state sponsor of terrorism—affirming this constitutional responsibility of Congress is important, but it is not nearly enough.
"We have been at war in the Middle East under authorities debated and voted on nearly two decades ago. We have seen men and women fighting and dying under authorities voted on half a generation ago. These authorities have been abused and contorted by successive administrations—Republican and Democratic alike. We have seen some Members of Congress call out the misdeeds of the opposing party's president, but remain silent when their own party's president took liberties overstepping Congress and stretching these Authorizations for Use of Military Force (AUMF) to engage in hostilities a continent away from the original target, half a generation later.
"Today's vote does not change that, and today's vote is not enough; it is merely a first step. At a time when hyper-partisanship is plaguing our country and our Congress, the most solemn of our responsibilities—to deliberate on and authorize war—is one we should fight to keep from the clutches of partisan hackery. We should fiercely debate, fight, and disagree, but we should do so based on what is in the best interest of our nation, our national security, and the men and women fighting to keep us safe.
"In the face of the evolving situation with Iran, I thank our nation's intelligence services, diplomatic corps, servicemembers, military leaders, and our Commander-in-Chief for working toward de-escalation after a week of heightened tensions. I also thank my colleagues across the political spectrum who have demonstrated principled consistency in their work to assert Congress' constitutional responsibility to discuss, debate, and vote on AUMFs over their tenures in Congress.
"Over the past few days, I have had conversations with Members from across the political spectrum—from the most conservative Members to the most liberal Members—about the best path forward to ensure we are doing our jobs to keep Americans safe, end endless wars, and protect the balance of Constitutional powers. If Congress passes this resolution but takes no further action, we will have failed in reasserting this Congressional authority under Article I of the Constitution."
In July 2019, Spanberger cosponsored and helped pass a bipartisan amendment to prohibit the unauthorized use of military force against Iran. Spanberger also voted in favor of U.S. Representative Barbara Lee's (D-CA-13) bipartisan amendment to repeal the 2002 AUMF.
Next, the bad…sadly, Rep. Elaine Luria (D-VA02). I have no clue what argument she's making here.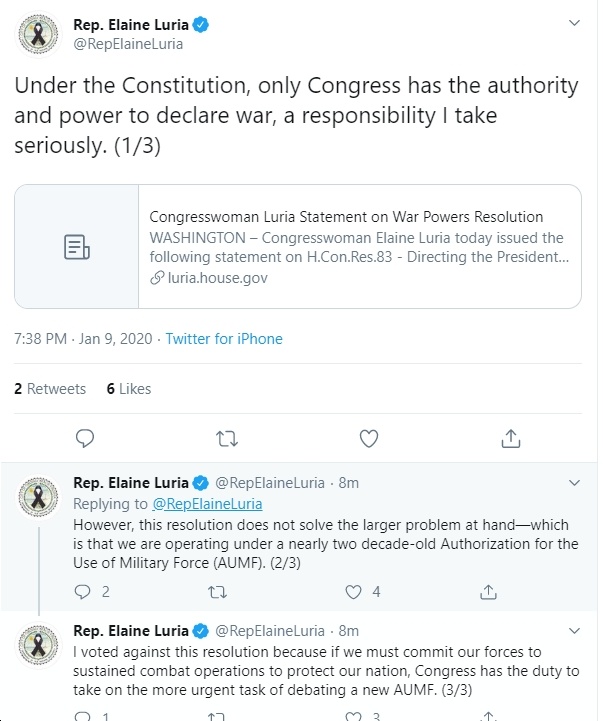 And finally, the ugly, from Virginia Republicans Denver Riggleman (VA05), Ben Cline (VA06), Rob Wittman (VA01) and Morgan Griffith (VA09). "Political tripe?" "Puts our troops and our allies in harm's way?" "Emboldening our enemies?" All about "denigrating President Trump?" This stuff is just utter dreck, but sadly typical of Virginia's Republican U.S. House members these days…