From Reps. Elaine Luria (D-VA02), Abigail Spanberger (D-VA07) and Jennifer Wexton (D-VA10):
Joint Statement from Virginia Congresswomen Ahead of House Vote to Remove ERA Ratification Deadline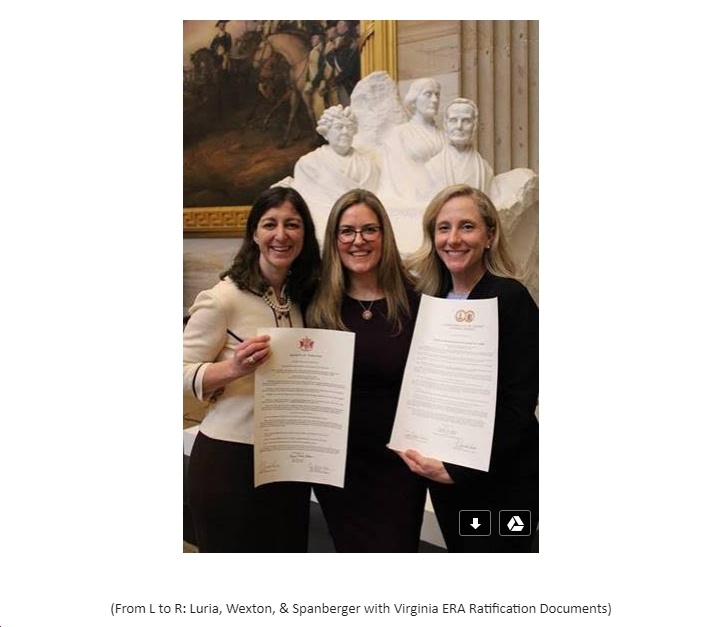 WASHINGTON, D.C. — U.S. Representatives Elaine Luria (D-VA-02), Abigail Spanberger (D-VA-07), and Jennifer Wexton (D-VA-10) today released the following statement ahead of the U.S. House of Representatives voting to remove the ratification deadline on the Equal Rights Amendment (ERA) to the U.S. Constitution.
"Equality should have no expiration date. As the three women of Virginia's congressional delegation, we find ourselves positioned at a unique moment in our nation's history. As lawmakers, we feel the momentum of this decades-long movement of mothers, daughters, and sisters who've fought for their equality and their protection under our laws. And as Virginians, we are proud to represent our districts in light of our Commonwealth becoming the 38th state in the union to ratify the ERA last month.
"Last week, we all received the physical copies of Virginia's ERA ratification documents. These proclamations are more than pieces of parchment—they are a symbol of long overdue progress and a reminder of our unpaid debt to the women and men who strove for constitutional equality generations before. In a matter of hours, Congress will move one step closer toward enshrining the idea that all Americans—no matter their sex—are protected under our Constitution. 
"By removing the deadline for ratification, Virginia's role as the 38th state to ratify the ERA will be noted in history. Today's vote in the House is dedicated to the Virginians who advocated in the halls of power, marched alongside their fellow organizers, educated their neighbors, and inspired others to pursue the cause of equality over the last 100 years. Only through their boundless determination could we have reached this moment." 
The three Virginia Congresswomen are all original cosponsors of the resolution, H.J. Res. 79, which would remove the deadline for the ratification of the ERA. H.R. Res. 79 is led by U.S. Representative Jackie Speier (D-CA-14).