I'll add video as soon as it finishes uploading to YouTube [UPDATE: video added, below], but suffice it to say, that was an emotional debate a few minute ago – with several dramatic twists and turns – over the Virginia Clean Economy Act (SB851). In the end, the bill passed 51-45, including a surprising "Yea" vote by Del. Terry Kilgore (R-Coal Country); "Nay" votes from Democrats Lee Carter (who gave a highly emotional speech about the urgency of climate action) and Sam Rasoul (who offered what Majority Whip Alfonso Lopez and House Democratic Caucus Chair Rip Sullivan called "poison pill" amendments regarding the cost of offshore wind, which were first adopted, then reconsidered, then rejected); a somewhat surprising "Yea" vote by Del. Ibraheem Samirah (who talked about how this was far from sufficient, but we need to get moving); and another "Yea" vote from Del. Josh Cole (who also talked about the urgency of taking strong action on the climate crisis and also protecting ratepayers).
Of course, passing the House is only one part of what needs to happen; the Senate also will need to pass the VCEA, then it will need to be signed into law by Gov. Ralph Northam. I urge the Senate and Gov. Northam to do just that, for the reasons articulated by Delegates Lopez, Sullivan, Cole, Samirah, etc.
P.S. See below for VAPLAN's summary of the new VCEA Subsitute's key features, including a stronger energy efficiency goal, greater SCC oversight, more competition, etc.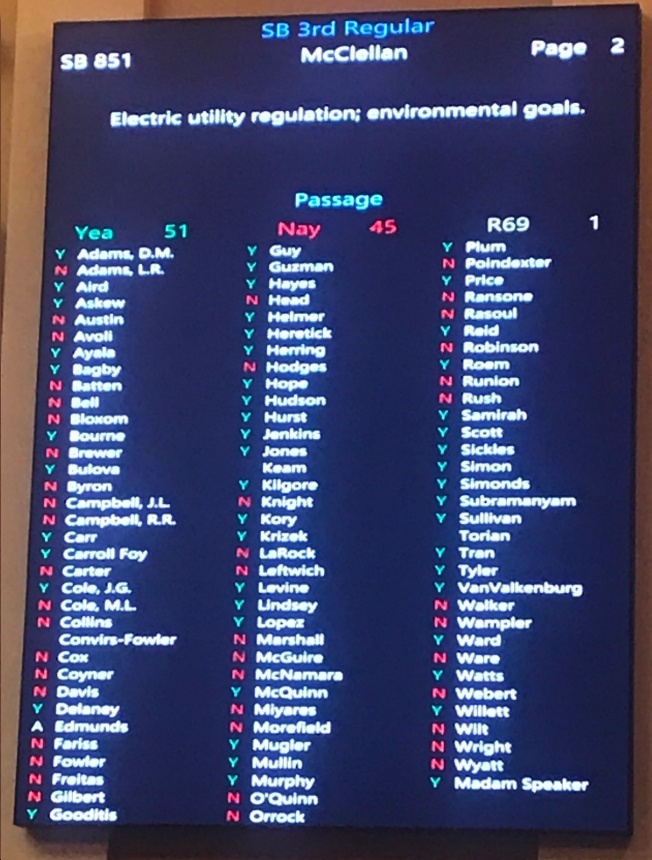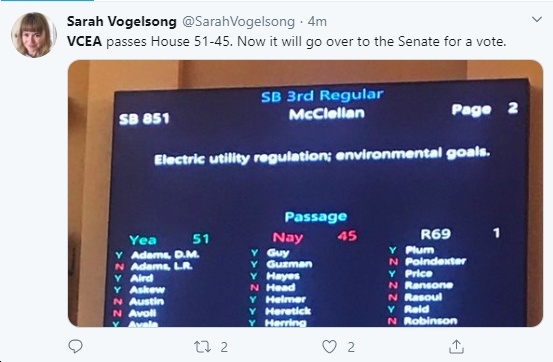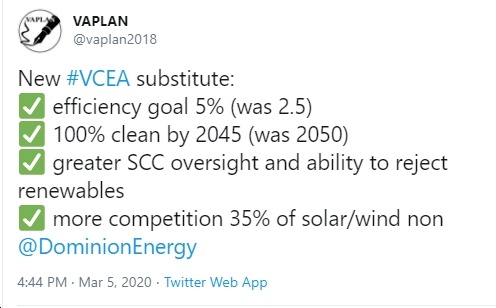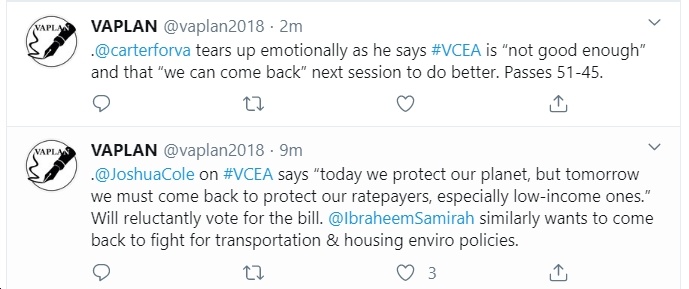 Breaking: Virginia Clean Economy Act Passes House of Delegates' Final Vote
Statement: "Virginia is one step closer to leaping from the back of the pack to being a leading state on clean energy" 
Richmond, VA – Today, the Virginia House of Delegates voted 51-45 to pass the Virginia Clean Economy Act (SB 851, HB 1526).
Harrison Wallace, Virginia Director of CCAN Action Fund, stated:
"With today's vote, Virginia is one step closer to leaping from the back of the pack to being a leading state on clean energy and carbon reduction. We are proud that this bill has gotten even stronger since being passed by the House and Senate chambers before crossover.

"Today, the House voted to unleash distributed solar into the Commonwealth and put an expiration date on dirty fossil fuels in our power grid. And now, for the first time ever, Dominion is mandated to save ratepayers money through energy efficiency.

"This bill puts polluters in Virginia on notice: it's time to stop investing in the fossil fuels that will soon become stranded assets, and start investing in a new renewable economy.

"We now look forward to the Virginia Senate passing this bill later tonight."
Introduced in December by Senator Jennifer McClellan, Del. Rip Sullivan, Del. Jennifer Carroll Foy, and Del. Alfonso Lopez, the VCEA takes four actions to decarbonize the electricity sector: creates Virginia's mandatory efficiency standard of 5% over a 2019 baseline by 2025 for Dominion Energy and 2% for Appalachian Power Company; enacts a Renewable Portfolio Standard of 45% renewable energy of the non-nuclear load by 2030 and 100% clean electricity by 2045 for Dominion Energy and 2050 for Appalachian Power Company; extends participation in the Regional Greenhouse Gas Initiative to 2045 and eliminates all fossil fuel utility pollution by that date; unleashes clean energy by placing new goals on rooftop solar, offshore wind, and energy storage.
This bill passed both chambers on February 6, and has since been strengthened by the legislators backing the bill. The version that passed today includes provisions for stronger oversight of the State Corporation Commission and improved ratepayer protections for the offshore wind requirement.
###
The CCAN Action Fund is the advocacy arm of the Chesapeake Climate Action Network, the oldest and largest grassroots organization dedicated exclusively to raising awareness about the impacts and solutions associated with global warming in the Chesapeake Bay region. For 17 years, CCAN has been at the center of the fight for clean energy and wise climate policy in Maryland, Virginia, and Washington, D.C.
**************
Virginia House Passes Landmark Clean Economy Act
National business group applauds House of Delegates for putting Commonwealth on path for 100% clean energy by 2050, saving customers money, and creating tens of thousands of jobs. Senate action up next, with session ending Sat., March 7
RICHMOND, March 5, 2020 – Today, national business group Advanced Energy Economy applauded the Virginia House of Delegates for passing SB 851, the Virginia Clean Economy Act (VCEA), a bill that puts the Commonwealth on a historic path for 100% clean energy by 2050 while saving customers money, and creating tens of thousands of jobs. The vote was 51-45.
"We applaud House leaders for passage of this historic legislation, which puts Virginia on a path to 100% clean energy with energy efficiency, solar and wind energy resources. These and other measures will reduce the state's carbon emissions, drive economic growth, and create tens of thousands of in-state jobs, all while reducing monthly electric bills for customers," said Harry Godfrey, director, Advanced Energy Economy.
"We look forward to working with the Senate to secure final passage of this historic legislation that is widely supported by business, environmental, consumer and health groups," said Godfrey.
Background Resources:
*AEE offers free, complimentary access to its PowerSuite online platform tracking all federal and state energy legislation and regulatory filings to credentialed media. Sign up for a free trial and contact Monique Hanis (mhanis@aee.net) for permanent access.

About Advanced Energy Economy:
Advanced Energy Economy (AEE) is a national association of businesses that are making the energy we use secure, clean, and affordable. Advanced energy encompasses a broad range of products and services that constitute the best available technologies for meeting energy needs today and tomorrow. AEE's mission is to transform public policy to enable rapid growth of advanced energy businesses. Engaged at the federal level and in more than a dozen states around the country, including Virginia. AEE represents more than 100 companies in the $238 billion U.S. advanced energy industry, which employs 3.5 million U.S. workers. Learn more at www.aee.net, track the latest news @AEEnet.