From the DCCC:
Does Denver Riggleman Approve of Supporter Jerry Falwell Jr.'s COVID-19 Response?
Over the objections of students, professors, and state and local officials, Liberty University President Jerry Falwell Jr. reopened Liberty University last week. Since then nearly a dozen students have already begun displaying symptoms similar to those that come from COVID-19.
Falwell's decision to reopen the university is just part of a larger pattern of dangerously dismissive and conspiratorial remarks and actions concerning the pandemic. Over the course of just a few weeks, Falwell has called the disease an "overreaction," argued it was designed to hurt President Trump politically, and suggested the disease was a North Korean bioweapon.
This puts Congressman Denver Riggleman in a tough spot after Falwell endorsed the embattled congressman last year. Riggleman has proudly highlighted the endorsement, citing their shared values and even said he was "honored" to stand with Falwell just weeks ago: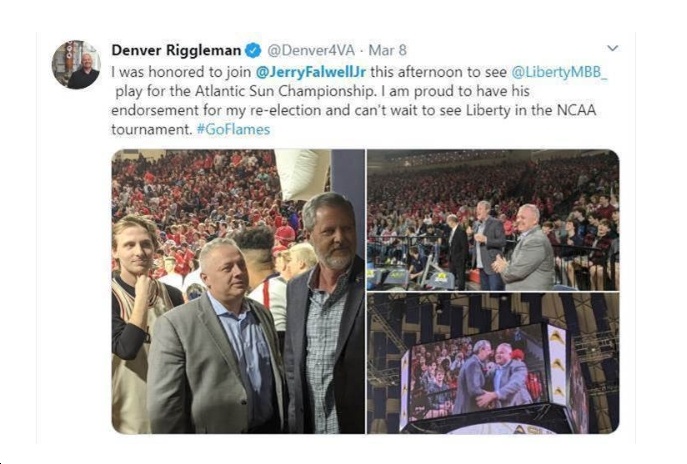 "Despite Jerry Falwell Jr.'s claims, COVID-19 is not a hoax, it's a global pandemic. Falwell's actions are not only reckless, but they put the lives of Liberty University's students and Virginians in danger," said DCCC Spokesperson Sarah Guggenheimer. "Voters in Virginia's 5th Congressional District deserve to know, is Congressman Riggleman still 'tremendously excited' to have Falwell's support or will he instead stand up for what's right and condemn Falwell for his actions and dangerous conspiratorial statements?"