by Gina Bradbury, Freelance Journalist 
Medical cannabis will finally be available for sale in Virginia. What you need to know about the new laws, how to become a registered patient, how it could impact the economy, while debunking some of the myths and stigmas preventing federal legalization.
Lawmakers in the Commonwealth set an historic record, working overtime throughout the weekend of early March to close-out the 2020 legislative session. From increasing the minimum wage, bolstering LGBT protections, to ratifying equal rights for women, elected officials are implementing the policies Virginians voted for.  A plethora of progressive bills have been sent to Governor Ralph Northam's desk for his signature, including much-anticipated, bipartisan-supported cannabis reform.
Since Democrats gained control of the General Assembly last November, cannabis legislation has rapidly advanced. The passage of Senate Bill 2, which addresses decriminalization, has advocates rejoicing.  The new measure reduces the state's draconian criminal penalties for possession.
Currently, first-time offenders can be charged with a maximum fine of $500, and even sentenced to 30 days in jail. The new law, which goes into effect July 1, reduces the penalty to a civil offense – treated like a traffic violation – with a fine of $25 for possession of up to half an ounce. Civil charges won't appear on records, and former convictions will be sealed. If patients or caregivers are stopped by law enforcement or must appear in court before July 1, they can show proof of "affirmative defense" with a VA medical cannabis card, obtained from the Virginia Board of Pharmacy. A recommendation for medical cannabis can be obtained from one of Virginia's Board of Pharmacy-registered practitioners. Affirmative defense serves as legal proof that a certified practitioner has recommended cannabis to treat a patient's medical condition. Additionally, it applies to pharmaceutical staff and caretakers, since nursing home and assisted care patients will be able to medicate with cannabis.
In February 2018, Governor Northam, who happens to be a physician, approved the Let Doctors Decide bill, after the Virginia Senate Education and Health Committee unanimously approved bipartisan-drafted legislation. Senator Siobhan Dunnavant (R-SD12), who introduced the companion bill SB 726, stated, "I finally decided that I needed to advocate for the physicians being the decision makers. We, physicians, are the ones that follow the literature and know which treatments are best for different conditions. The literature on medical cannabis is going to be evolving rapidly now, and because of this, it is not a decision that should be in the hands of the legislature. Instead, it should be with physicians."
Around the same time SB 726 passed, the Virginia Board of Pharmacy approved five medical cannabis dispensaries to operate as "pharmaceutical operators."  Sales in Virginia are expected to boom, filling the economic void from the Commonwealth's dwindling tobacco industry. Illinois kicked off the new year by legalizing recreational cannabis, and raked in profits of nearly $3.2M the first day.
Dispensaries are scheduled to open mid-year in Bristol, Richmond, Portsmouth, Staunton, and Manassas.  Dalitso, LLC, a multi-state cannabis processor, will grow, sell, and regulate medical cannabis in a 50,000-square-foot facility in Manassas. Last September, Aaron Lopez, Dalitso's spokesperson, met to address safety questions from the community at an event hosted by The Prevention Alliance of Greater Prince William.
Fielding questions from a group gathered in Novant Health UVA Prince William Medical Center, Lopez was joined by Jenn Michelle Pedini, development director of the National Organization for the Reform of Marijuana Laws (NORML), and executive director of Virginia NORML.  Lopez, a Virginia resident, explained how the company came together by a local group of like-minded professionals advocating for common sense cannabis reform. Lopez and Pedini fielded questions, explaining how cannabis will be safely processed and regulated, strictly abiding by State regulations. Dalitso will participate in monthly regulatory audits by the Virginia Board of Pharmacy. Products will be tested on-site, and by a third-party lab, to ensure they are contaminant-free.  "That's the main goal of this company, to make sure that it's provided in a safe, effective and efficient way," Lopez said.
Under the trade name Beyond-Hello, Dalitso will feature a storefront scheduled to open this summer. Beyond-Hello will offer delivery service to Virginia Board Pharmacy-registered patients in Health Service Area II, which includes Loudoun, Prince William, Arlington and Fairfax counties and the cities of Falls Church, Fairfax City, Manassas, Manassas Park and Alexandria.
Edibles, capsules, tinctures, topicals, and suppositories containing up to 10 milligrams of tetrahydrocannabinol (THC), are among Beyond-Hello's vast variety of medicinal products. State-registered staff can offer cultivar suggestions depending on a patient's diagnoses, and patients can order up to a 90-day supply. Certain health conditions include, but are not limited to:
Chronic pain
Cancer
HIV/AIDS
Severe Nausea
Epilepsy and other seizure disorders
Glaucoma
Neuropathic pain disorders
Crohn's disease
Terminal illness
Spasticity
Muscle spasms
Anorexia and bulimia
Inflammation
Cachexia and wasting syndrome
Despite the recent advancement of cannabis reform, the Virginia ACLU argues that decriminalization doesn't go far enough, and advocate for full cannabis legalization. The civil liberties union has written extensively about the racial disparity of cannabis-related arrests. A black person is 3.73 times more likely to be arrested for cannabis possession, while both black and white people use cannabis at similar rates. Around the time neighboring Maryland and DC opened dispensaries, Virginia cannabis possession arrests skyrocketed to the highest level in 20 years. In 2018, Virginia prosecuted close to 30,000 residents for cannabis possession. Roughly half of those arrested for first-time-possession charges are black, yet black people make-up only 20-percent of Virginia's population. Virginia spends over $100M a year on cannabis-related law enforcement.
Recent statistics show two-thirds of Americans support cannabis decriminalization. And more than three-quarters of Virginia's population approves of adult-use, medical cannabis. Virginia Attorney General Mark Herring responded by taking action.
Ahead of the 2020 legislative session, Herring spoke at the first-ever Cannabis Summit in Richmond last December. In his opening remarks, Herring stated:
"I don't believe that Virginia's current approach of criminalizing cannabis is working. It is needlessly creating criminals and burdening Virginians with convictions." He continued, "The human and social costs are enormous, in addition to the millions of dollars it costs Virginia taxpayers. And the negative consequences of the current approach fall disproportionately on African Americans and people of color. It's clear to me that the time for cannabis reform has come. Justice demands it. Virginians are demanding it. And I'm going to help make sure we get this right."
The summit was coordinated by House Chair Steve Heretick (D-79) and Senate Chair Dave Marsden (D-37) who comprise Virginia's newly formed Cannabis Control Commission. Hearing from policy makers, regulators, law enforcement, and other stakeholders, Virginia legislators learned about safe, successful medical cannabis programs in California, Illinois and Massachusetts.
Senator Marsden remarked:
"This effort will include a more robust medical cannabis program and Attorney General Herring's summit is a big step in ensuring we are knowledgeable on the issue and prepared to do this right. There are better, smarter ways to handle cannabis policy. Virginia is ready for evidence-based reform and that is what we will provide."
But it's a tricky system, as cannabis is technically not legal in Virginia. Nor is it legal federally. So Virginia falls into the same legal limbo as the growing number of states and the District of Columbia who have expanded regulation of cannabis for adult use. So, until full legalization is passed, Virginians run the risk purchasing cannabis. Some may ask why anyone would take that chance, wondering if medical cannabis is worth it.
The story of a little girl named Charlotte Figi inspired Dr. Sanjay Gupta to do a complete 180 on cannabis. In 2009, Gupta wrote a blistering anti-cannabis article for Time titled, "Why I would Vote No on Pot", which has since been retracted. Gupta initially argued that cannabis offers no medicinal value and should remain a Schedule 1 narcotic. By 2013, after a handful of states decriminalized cannabis, Gupta dedicated a year to traveling the world, researching the plant, starting with a trip to Colorado to meet Charlotte. He ultimately submitted an apology as part of a pro-cannabis documentary series titled, Weed for CNN.
Charlotte Figi was just three months old when she began suffering from uncontrollable seizures that lasted for three to four hours at a time. The first episode had her parents Matt and Paige rushing her to their local emergency room. The infant went through a series of MRI's, neurological tests, and a spinal tap. The results were shocking. Charlotte's blood results and images showed she was fine. The doctors were perplexed, and suggested Charlotte may grow out of it.
A week later, Charlotte's eyes began fluttering to the back of her head again, and her body seized uncontrollably. The seizures became more frequent and lasted for longer durations. Charlotte's ER visits increased, and she was placed on seven medications, including heavy-duty, addictive barbiturates and benzodiazepines. The relief from the drugs was only temporary, and her seizures were becoming more severe. At two, she began declining cognitively.
When Charlotte was two and a half, Matt and Paige took her to Children's Hospital Colorado. A neurologist tested Charlotte for the SCN1A gene mutation, which is 80- percent common in Dravet Syndrome cases. The results confirmed what the ER doctors originally suspected, and Charlotte tested positive for the rare form of epilepsy. Paige and Matt were relieved they finally had a diagnosis and began an aggressive search for treatment.
But nothing was making Charlotte healthy. Matt had been a Green Beret at the time and decided to leave the military. Paige was juggling their two other children while Charlotte's ER visits became more frequent, and days in the intensive care unit grew into weeks. The Figis traveled to Chicago to seek a Dravet specialist, who put Charlotte on a ketogenic diet specifically designed for epilepsy patients. When the body produces ketones, seizures are minimized. The diet stopped the seizures, but Charlotte's immune system declined, causing her bone loss and a host of behavioral issues. The diet only worked for two years. Charlottes' seizures came back.
The five-year-old began suffering 300 grand mal seizures a week. She was back in the hospital so often, her parents signed a "do not resuscitate" order. Charlotte's heart had stopped several times, with her parents having to administer CPR waiting for the ambulance. The doctors even considered putting her in a medically induced coma, to end her lifelong suffering.  The doctors admitted there was no more they could do. And then Matt discovered an online video that changed their family's lives forever.
During Matt's extensive online searches for other cases similar to Charlotte's, he discovered a video of a California boy with Dravets. The video explained that cannabis was effective in stopping the boy's seizures, without causing any negative medical, cognitive, or developmental side effects. The boy experienced no psychoactive reaction from the cannabis. It worked like magic. But the thought of a five-year-old experimenting with cannabis was unheard of.
Luckily for Charlotte, Colorado had passed Amendment 20 in the 2000 election, requiring the state to set-up a medical cannabis program. But Matt and Paige were in unchartered territory. Even though epilepsy is one of several medical ailments treatable with cannabis, scientists agree that until more research concludes otherwise, patients under 21 should not consume cannabis with high levels of THC.
An oil derived from the Cannabis Ruderalis-4 cultivar, similar to hemp, contains very low levels of THC, but is enriched with CBD. It was the very cultivar that stopped the California boy's seizures. Matt and Paige knew Charlotte would be a Guinea pig candidate for this type of experiment. But they understood this was their only option. Naturally, it was an uphill battle to get Charlotte registered as a patient. It was 2011, a little over a decade after Colorado became one of the few pioneer states to sell cannabis, regulating an industry that was still growing its legs.
Paige admitted she was terrified to break federal law. She had consistently voted against marijuana legalization. But she paid $800 for two ounces of R4-cannabis, and her friend was able to process the CBD oil. They initially administered a small drop into Charlotte's mouth. For the first hour, Charlotte went from having three or four seizures to none. Matt and Paige were stunned. They dosed her again, and the results were astounding. Charlotte had gone a full week from having a single seizure.
Charlotte's life changed forever that day. She began to thrive physically. Within a year, she was able to walk again, feed herself, and even ride a bicycle. She receives two doses of CBD a day, which is mixed into her food. Her seizures occur only a few times a month, mostly while she sleeps. She became one of the handful of patients under 18 to receive a medical cannabis card. Cannabis saved Charlotte's life, and her story saved the lives of other children struggling with epilepsy.
The Figi family learned about six brothers operating one of Colorado's largest medical cannabis dispensaries, experimenting with various hybrid cultivars. One of which was the same R4-cultivar that changed the lives of Charlotte and the little boy in California. But due to the cultivar's low THC levels, the Stanley brothers weren't making much profit, since the majority of patients are adults seeking high percentages of THC. When they learned about Charlotte's success story, the brothers worked together with the Figis and established the Realm of Caring Foundation, a non-profit charity that donates to patients fighting epilepsy, cancer, Parkinson's, and a host of other costly diseases for patients who can't afford treatment. The Stanley brothers named the R4-cultivar "Charlotte's Web".
For decades, advocates have debunked cannabis misconceptions and stigmas, providing lawmakers with evidence proving cannabis is a far safer alternative to prescription opioids. It's been a challenge, particularly since the pharmaceutical industry remains the top political influencer in Washington. It didn't help that pharmaceutical executives lied to the very same politicians they lobbied, claiming opioids are not addictive. By the early 2000's, doctors' offices were plastered with Purdue Pharmaceutical promotional posters, post-its and prescription pads. Pharmacies were doling out pills like candy.
Opioid addiction became a national crisis. In 2018, opioids claimed the lives of 67,300 Americans. Yet Big Pharma still profits more than any other industry. Opioid deaths in Virginia soared.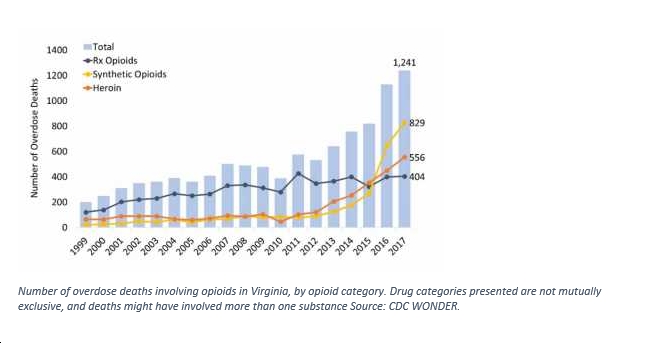 Number of overdose deaths involving opioids in Virginia, by opioid category. Drug categories presented are not mutually exclusive, and deaths might have involved more than one substance Source: CDC WONDER.
"Medical cannabis laws have demonstrated significant impact on the opiate crisis," said Virginia NORML's Jenn Michelle Pedini, a two-time cancer survivor, themselves. "States with such laws see on average a 25-percent reduction in opioid fatalities. We are losing three Virginians every day to opioid overdose. It's time to give doctors in the Commonwealth the ability to utilize this powerful tool in mitigating addiction and overdose."
Cannabis growers continue to experiment, combining genetics to develop unique hybrid cultivars.  Researchers track cannabis development from seed to sale, finding more ways to treat a variety of diseases and ailments. Pharmaceutical Processors in Virginia will soon be able to recommend one of over 700 different cultivars of cannabis that combat a variety of medical and neurological diagnoses.
Virginians can learn more about medical cannabis, find a certified physician, register for a medical card, and receive up-to-date news on State legislation by visiting Virginia NORML's website.
UPDATE 4/9: Tragically, Charlotte Figi died on April 7 at the tender age of 13. The Figi family suspects Charlotte contracted the COVID-19 virus, which caused her seizures to return, resulting in respiratory failure and cardiac arrest. In a statement to the Denver Post, Charlotte's mother Paige stated, "Her fighting spirit held out as long as it could, and she eventually passed in our arms peacefully."