We're now past the June 30, mid-year fundraising deadline, and money numbers are starting to come in. For instance, see below for a press release from former Gov. Terry McAuliffe, which announces that his PAC brought in $1.7 million "from a broad and diverse coalition of donors over just the last two months." Also, see below for far-right Republican and 2021 gubernatorial candidate Amanda Chase's claim that she "CRUSHED OUR FIRST AND MOST IMPORTANT FUNDRAISING GOAL LAST NIGHT BEFORE MIDNIGHT!!" Understated, as always – lol.
It will be very interesting to see how other announced and potential Virginia 2021 candidates did, but for now, see here for State Sen. Jennifer McClellan's press release on having raised $275,000 in her campaign's first week, and some information on Del. Jennifer Carroll Foy's fundraising as well.
UPDATE 10:21 am – Here's a press release from Del. Jennifer Carroll Foy
Jennifer Carroll Foy Campaign Announces $776,000 Raised
Putting Working Virginians First, Carroll Foy Gains Tremendous Early Support
(Woodbridge, VA) – Today, Delegate Jennifer Carroll Foy's campaign for Governor of Virginia announced that it has raised $776,000. Carroll Foy's tireless efforts to address the biggest challenges facing working Virginians have attracted widespread support, bringing in over 3,000 donations—90% of which are less than $100.
"My campaign is about making sure that Virginia's future is better than the past. That means rejecting the status quo and taking on the biggest challenges facing working families.  Our campaign's support comes from concerned Virginians—working families like mine that want a change. They're tired of the kind of politics that always puts corporate interests ahead of the people's interests. I'm honored to have their support, and I'll keep fighting on their behalf every single day,"  said Del. Jennifer Carroll Foy.
Carroll Foy has always put working families before corporations and special interests. During her time in the legislature, Carroll Foy led Virginia's effort to ratify the Equal Rights Amendment, proudly supported the successful fight to expand Medicaid to 400,000 Virginians, and successfully led the passage of a bill to bring better broadband to rural Virginia. She has been a champion for commonsense gun safety legislation and helped lead efforts to pass seven historic and comprehensive measures that will help stem violence and keep our families safe.
In response to the COVID-19 pandemic, Carroll Foy has led the call for comprehensive paid sick leave, an increase in unemployment benefits, stronger support for public school teachers and students, a new vote by mail system for the November election, and more.
Recently, Carrol Foy released her Racial Justice Framework to work toward building a more just and equal Commonwealth. Rooted in conversations with community leaders, constituents, and working families, this framework serves as a starting point for leaders in the Commonwealth to address the concerns of Virginians calling for change on racial disparities and inequalities.
Carroll Foy has been an effective leader because she works with anyone, regardless of background or party affiliation, to tackle the problems Virginians face—a skill she learned at Virginia Military Institute. During her time in the General Assembly, she passed over 15 bills with broad bipartisan support, including bills to give veteran and women owned businesses more access to capital, to create career and technical education opportunities for Virginia students, and landmark legislation to expand broadband to rural Virginia.
Carroll Foy grew up in Petersburg, VA and was raised by her grandmother. Over the years, she watched her hometown of Petersburg decline, families like hers get sick, and the number of good jobs decline while the opioid and guns epidemics took over. Ever since, Carroll Foy has been dedicated to serving others. As one of the first women to graduate from Virginia Military Institute, a foster mom at the age of 24, a magistrate judge, and public defender, she embodies the ideals of community, honor and commitment in every facet of her life. In 2017, she flipped a district from red to blue with 63% of the vote. She is ready to serve and solve the problems Virginia families have faced for too long.
*************************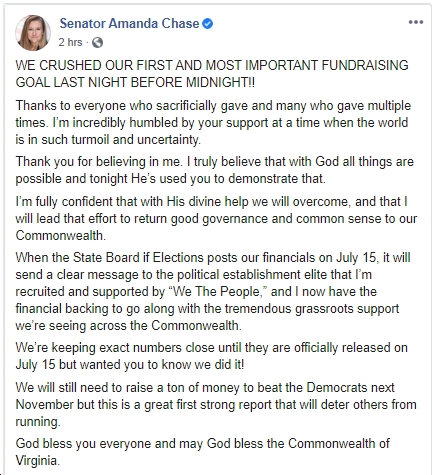 McAuliffe's PAC Raises $1.7 Million From Broad, Diverse Coalition of Progressive Virginians
Donors Include State Legislative Leadership, Local Elected Officials, Labor Leaders, Progressive Activists
MCLEAN, VA – Today, Common Good Virginia PAC announced that it has raised $1.7 million dollars from a broad and diverse coalition of donors over just the last two months. From elected officials to labor leaders to progressive activists, Virginians all over the Commonwealth are powering former Governor Terry McAuliffe's efforts to keep Virginia blue in 2020 and beyond.
In 2019, Common Good VA was the top individual PAC donor to the Democratic Party of Virginia, helping Democrats gain control of both chambers in the General Assembly. On top of the financial support, Gov. McAuliffe appeared at more than 140 events all over the Commonwealth in support of Democratic candidates.
This year he is focused on electing Joe Biden and continuing to advance progressive causes both here in Virginia and nationwide. In 2020 alone, Gov. McAuliffe participated in 45 events supporting Joe Biden and Democratic efforts both in Virginia and across the country. He has also focused on making sure Democrats have critical infrastructure in key battleground states as the national co-chair of Organizing Together 2020, and has been fighting for fair redistricting as state engagement chair for the National Democratic Redistricting Committee. Gov. McAuliffe will continue campaigning all over the Commonwealth for Joe Biden and Democrats down the ballot.
"The path to expanding and protecting our progressive gains in Virginia is through a broad and diverse coalition of people who overwhelmingly support our efforts. I'm proud this coalition represents Virginians from every corner and background in our Commonwealth," said former Governor Terry McAuliffe. "Helping Virginia recover from the economic and health crisis of COVID-19 will require strong Democratic leadership that will fight for all. I'm extremely excited about the work Common Good VA will do to elect Democrats up and down the ballot this year and beyond."
"Since he flipped the Commonwealth in 2013, Governor Terry McAuliffe has been fighting relentlessly to keep Virginia blue. He has made sure Democrats in Virginia have the funds, infrastructure, and organization necessary to enact progressive policies that help all Virginians," said Virginia Senate President Pro-Tempore L. Louise Lucas, Treasurer of Common Good Virginia. "We are excited to have such a diverse and broad coalition ready to build on the progress we have already made. I am confident with this support, we will make sure Democrats keep winning in 2020 and beyond."
Below are notable supporters of Common Good Virginia in the past three months:
Senate President Pro-Tempore L. Louise Lucas, Portsmouth
Senate Majority Leader Dick Saslaw, Fairfax
Senate Finance and Appropriations Chair Janet Howell, Fairfax
Senator Adam Ebbin, Alexandria
Senator Lionell Spruill, Sr, Chesapeake
Senator John Bell, Loudoun
House Appropriations Chair Luke Torian, Prince William
House Health, Welfare and Institutions Chair Mark Sickles, Fairfax
House Privileges and Elections Chair Joe Lindsey, Norfolk
House Majority Whip Alfonso Lopez, Arlington
Delegate Kathleen Murphy, Fairfax
Delegate Don Scott, Portsmouth
American Federation of State County and Municipal Employees, the largest union of public employees in the United States
Laborers' International Union of North America, labor union representing workers in the construction and energy industries, as well as, public service employees
National Air Traffic Controllers Association, labor union representing nearly 20,000 aviation safety professionals
Congressman Jim Moran, Former Member of Congress, VA-08
Mayor Kenny Alexander, Mayor of City of Norfolk
Dr. Babur Lateef, Chair of Prince William County School Board
Vice Mayor Martin Thomas, Jr, Vice Mayor of Norfolk
Leader Dick Cranwell, Former Majority Leader of the Virginia House of Delegates
Mayor Paul Fraim, Former Mayor of Norfolk
Treasurer Molly Ward, Treasurer of City of Hampton
Commissioner Ross Mugler, Commissioner of Revenue of City of Hampton
Commissioner Evans Poston, Commissioner of Revenue of City of Norfolk
Sheriff Joe Baron, City of Norfolk Sheriff
John Grisham, Best Selling Author and Progressive Activist
David Baldacci, Best Selling Author and Progressive Activist
Margaret Gupta, Progressive Activist
Dario Marquez, Progressive Activist
Sophie Lynn, Progressive Activist
Barbara Fried, Progressive Activist
Virginia Automobile Dealers Association