Advertisement

UPDATE 1:45 pm – Response from Rep. Abigail Spanberger (D-VA07)
Spanberger Statement on President Trump's Suggestion to Delay November 2020 General Election 

WASHINGTON, D.C. – U.S. Representative Abigail Spanberger today released the following statement after President Donald J. Trump suggested delaying the November 2020 general election. 
"The President's suggestion to postpone the upcoming election is a dangerous distraction from the actual challenges we face ahead of November. This statement only undermines confidence in the integrity of voting by mail, which, as a former federal postal inspector, I know can be a safe and secure option for those worried about their health amid the pandemic. Beyond that, the President does not have the constitutional authority to delay the election — it isn't legal, nor is it possible, as the authority to do so rests with Congress. However, the President does have a responsibility to the American people to safeguard our elections. At a time when a global pandemic continues to surge in communities across the country, we need a national strategy for how we will deal with risks to Americans' health as they make their voices heard. Additionally, as federal officials indicate that foreign interference is still a major threat to our electoral system, the administration must work with Congress to build our resiliency against malign actors who seek to divide, misinform, and sow chaos."
UPDATE 12:57 pm – Responses from Gov. Ralph Northam and his predecessory, former Gov. Terry McAuliffe.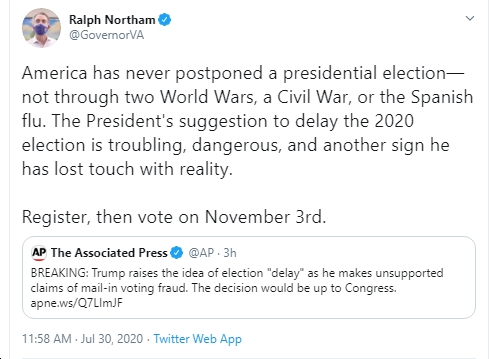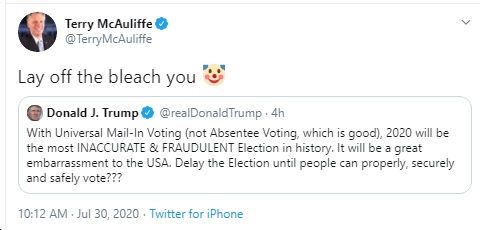 UPDATE 11:47 am – Check out this exchange between Sen. Tim Kaine and Secretary of State Mike Pompeo. Disturbing.
"In the end, the Department of Justice and others will make that legal determination" — Mike Pompeo on Trump's tweet suggesting the presidential election should be delayed pic.twitter.com/lmCoolwAg0

— Aaron Rupar (@atrupar) July 30, 2020
See below for reactions from Virginia elected officials and others to Trump's bats***-crazy, authoritarian tweet this morning about possibly delaying the November 3rd presidential election…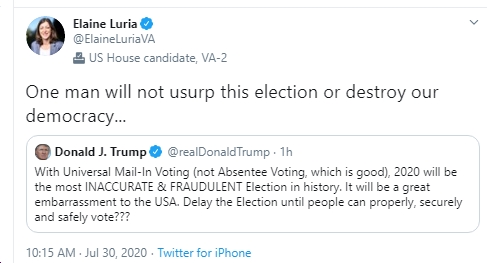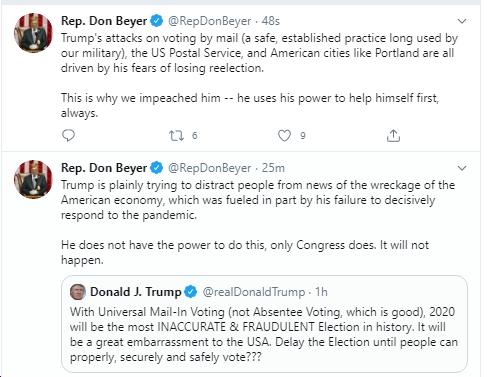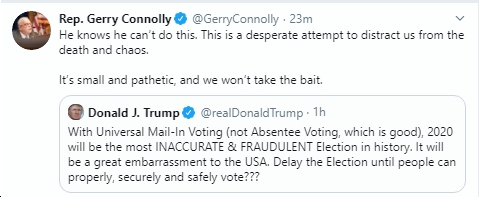 Trump is trying to distract us with the insinuation of delaying the election. He wants us to look away from today's news. That news being:

"The U.S. economy's contraction in the second quarter was the worst on record."

THE. WORST. ON. RECORD.https://t.co/TrtUO4SUml

— VoteVets (@votevets) July 30, 2020
No, Mr. President. We're not delaying the election. The American people are sick and tired of your authoritarianism, your lies, your racism. On November 3, 2020 democracy will prevail and your disastrous presidency will end. Bye-bye. https://t.co/wmBYriSxGs

— Bernie Sanders (@BernieSanders) July 30, 2020
"The Congress may determine the Time of chusing the Electors, and the Day on which they shall give their Votes; which Day shall be the same throughout the United States."

— The U.S. Constitution https://t.co/cbuERgYuK0

— Tammy Duckworth (@SenDuckworth) July 30, 2020
Donald Trump is terrified. He knows he's going to lose to @JoeBiden. It will require every single one of us to make that happen.

We will see you at the ballot box on November 3rd, @realDonaldTrump. https://t.co/GeEH6Csvym

— Kamala Harris (@KamalaHarris) July 30, 2020
I'm calling on the heads of Justice, Defense, Homeland Security and Interior to not allow their departments to be turned into Trump's own personal militia—especially in the event Trump loses the election in November and refuses to leave office peacefully. pic.twitter.com/WwNj6TTvqd

— Elizabeth Warren (@ewarren) July 30, 2020
You can rant all you like.

Spread all the lies you want.

Stoke all the fear and division you desire.

But …

We voted during the Civil War.

We voted during World War II.

And nothing that you can do or say will stop us from voting you out of office on November 3, 2020. https://t.co/dPtkmuK38B

— Adam Schiff (@AdamSchiff) July 30, 2020
The USA held an election during the Civil War, and we will hold one in 96 days. No distractions—let's get to work.

— Pete Buttigieg (@PeteButtigieg) July 30, 2020
Never in American history—not even during the Civil War and World War II–has there been a successful move to "Delay the Election" for President.

— Michael Beschloss (@BeschlossDC) July 30, 2020
Delay the election? Unless Trump takes over the government by military force and suspends the Constitution, it will be President Pelosi on January 20th by default. Because without an election, Trump has absolutely no authority to remain in power unless he does a military coup.

— Eugene Gu, MD (@eugenegu) July 30, 2020
Trump's election delay suggestion is getting panned even on the conservative, pro-Trump Fox News.

Politics editor Chris Stirewalt calls it "a flagrant expression" of Trump's weakness which is "telegraphing his weak position in the polls." pic.twitter.com/iQ0RucHe39

— The American Independent (@AmerIndependent) July 30, 2020
The line between autocracy and democracy just become threadbare. Every GOP leader and candidate needs to be asked to respond to this desperate attempt to cling to power. https://t.co/H4qhZNOSI3

— David Plouffe (@davidplouffe) July 30, 2020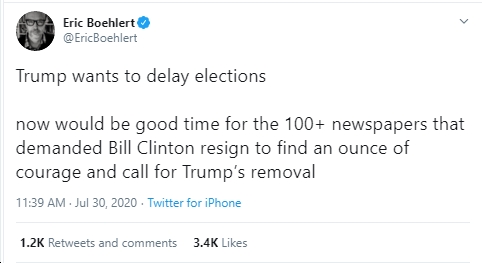 There's no paywall on Blue Virginia, and we definitely want to keep it that way! If you want to help support our work, you can donate here - thanks!
Also, you can
sign up for our weekly email list here
.