Advertisement

Great stuff from Tim Hickey, a public school teacher for 17 years who now works for the Virginia Education Association — "an interactive map of VA school divisions & how they're re-opening (virtual vs hybrid)." According to Hickey:
By my count, we have 38 divisions as of today opening virtually: Albemarle, Arlington, Brunswick, Caroline, Charles City, Charlotte, Charlottesville, Chesapeake, Chesterfield, Cumberland, Danville, Essex, Fairfax, Falls Church, Gloucester, Harrisonburg, Henrico, Henry, Hopewell, King George, Lancaster, Loudoun, Manassas City, Manassas Park, Martinsville, Nelson, Norfolk, Northampton, Petersburg, Prince Edward, Prince George, Prince William, Richmond City, Spotsylvania, Southampton, Virginia Beach, Williamsburg/James City County, & York.  [Note – I'm seeing Stafford County on Tim Hickey's map as well]

That makes up a majority of Virginia's population, as it includes most of the largest population centers in Virginia: Fairfax County (1.14 million), Prince William County (465k), Virginia Beach (453k), Loudoun County (415k), Chesterfield County (351k), Henrico County (329k), Norfolk (245k), Chesapeake (245k), Arlington County (242k) Richmond City (227k), Stafford County (152k), Spotsylvania County (136k), Albemarle County (110k), etc. Several other large jurisdictions remain to be determined, including Alexandria, Suffolk, and Hampton. And a bunch of mostly rural, less-densely-populated jurisdictions are in "hybrid" mode…including most (if not all) in which parents can choose a 100% virtual option. So basically, nobody – even in "red" areas politically – is doing what Trump, DeVos, and some Virginia Republicans were advocating for, namely to fully reopen schools. Interesting…
UPDATE: According to these tweets, Hanover County "is offering a 100% virtual option, but to get it students & teachers are required to apply for a transfer out of their current schools and into a new stand alone virtual school. + Otherwise, students, teachers, and staff are going back face to face 5 full days a week–like before. I live in Hanover and we've been fighting this plan. It's going to be a public health, educational, & institutional disaster."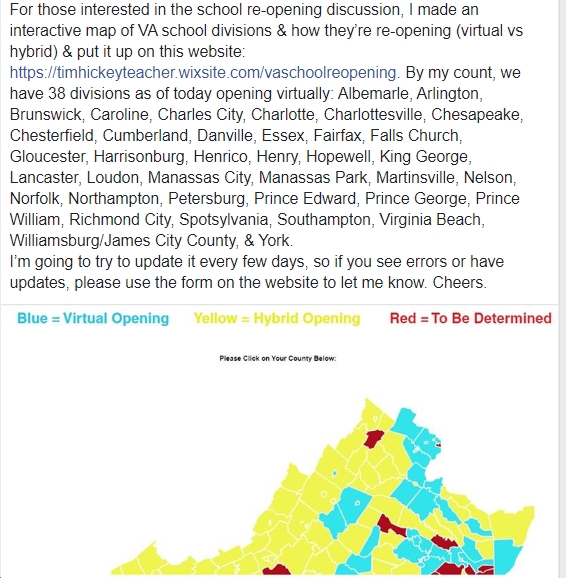 UPDATE #2: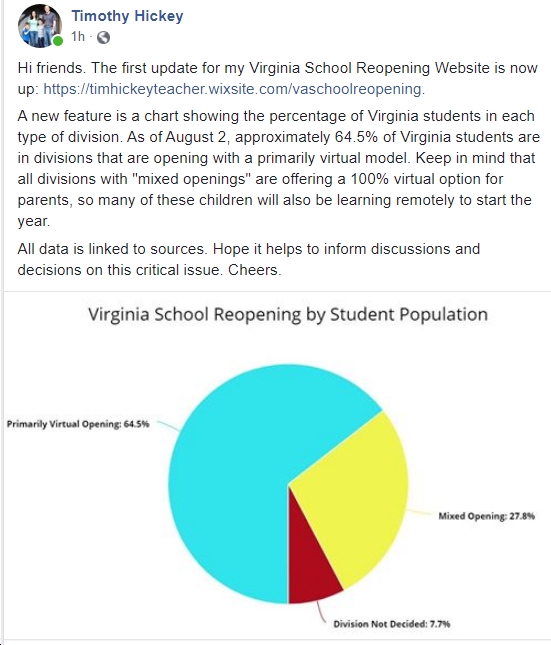 There's no paywall on Blue Virginia, and we definitely want to keep it that way! If you want to help support our work, you can donate here - thanks!
Also, you can
sign up for our weekly email list here
.