Clean Energy for Biden's DMV chapter has three events coming up in the next week of particular interest for Virginia and Virginians.
30 Sept, 7 pm ET
This event is targeted for young people/professionals as a roundtable with business people including breakout sections to discuss opportunities and potential paths forward. Join regional green industry leaders in the areas of solar/wind development, clean tech, environmental advocacy, in addition to recruiters and legislators to discuss green job opportunities. This will be followed by networking/breakout sessions with industry leaders.
5 October, 7 pm ET
Featuring Senator Jennifer McClellan and Delegate Lashresce Aird, this event will examine how America can forge an equitable and clean energy future, addressing environmental injustices and creating new economic opportunities for disadvantaged communities while rapidly decarbonizing. Virginia can serve as a model for this clean and equitable transition. Between policies like the Clean Economy Act and the Clean Energy Advisory Board, the Commonwealth has already laid the foundation .. but there's much that remains to be done.
6 October, 5 pm ET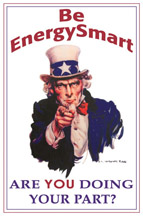 Being "Energy Smart" is just smart for the Department of Defense. Energy Smart practices improve operational capabilities and resiliency; reduce casualties and risks; and lowers costs and consequences. A good part of this falls into the clean energy — both energy efficiency and renewable energy (through, for example, reducing fossil fuel demands in forward operational bases).
This 6 October panel will explore Clean Energy & the Department of Defense in a Biden Administration. Speakers will include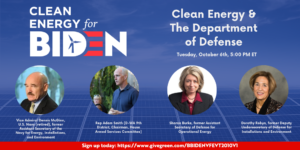 With the Chairman of the House Armed Services Committee and multiple Obama Administration DOD appointees, this virtual discussion will focus on why clean energy matters for the Department of Defense and potential clean energy agendas and opportunities in a Biden-Harris Administration.
Clean Energy For Biden (CE4Biden) has many other events the might interest you … check them out.