By Josh Stanfield of Activate Virginia
For decades now, it's been illegal for "the chairman or any full-time paid employee of a state political party…or a member of his immediate family" to "be employed as a lobbyist by any principal." The obscure § 2.2-435 of the Code of Virginia became law in 1994.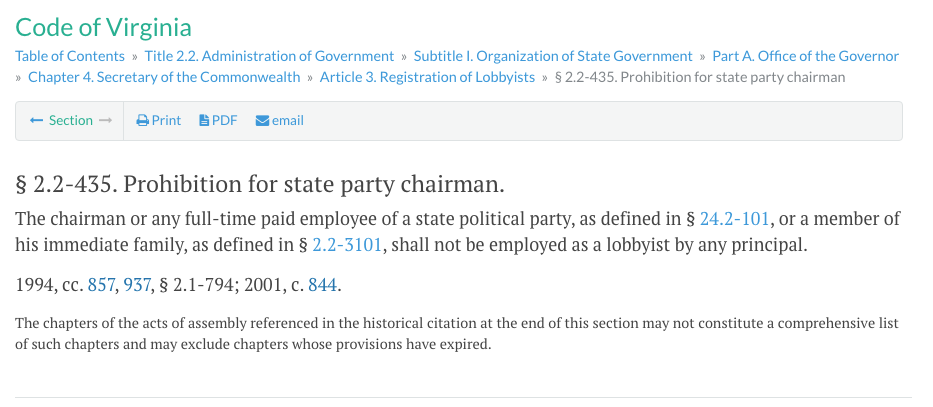 Yet we're confronted today with cases of elected DPVA leadership – not simply a state chairperson or full-time staffer – who are paid to push corporate interests while simultaneously holding party leadership positions. 
Consider the cases below. Then consider whether or not it would make sense to prohibit corporate lobbyists from occupying elected DPVA leadership positions. While some or all of this activity is likely legal, perhaps it's time for the DPVA Central Committee to consider changing the Party Plan to better conform to the spirit of the actual law.
Origin of State Party Chair & Staff Lobbying Ban

On June 2, 1992, Governor Doug Wilder issued Executive Order Forty-Six – creating the historic Governor's Commission on Campaign Finance Reform, Government Accountability, & Ethics. The Commission was charged with reviewing Virginia law and making recommendations in the policy realms from which the committee got its name. In December of 1992, the Committee reported its findings and recommendations to the Governor.
The General Assembly studied the Commission's report. In 1994, the joint subcommittee studying the report completed its own report – which led to the 1994 legislation from which the lobbying ban in question emerged.

Neither the report from the Governor's Commission nor the report from the subcommittee included any analysis, recommendation, or even mention of the lobbying prohibition for state party chairs, full-time staff, and their families. Despite – or perhaps because of – this curious omission, the prohibition made it into legislation.

The original language, before a committee substitute was adopted, included broader wording than what eventually became law:
"No chairman or full-time paid employee of a state political party, as defined in § 24.2-101, or a member of his immediate family, shall accept compensation or anything of value to act as a lobbyist or be registered or employed as a lobbyist." [Emphasis Mine]
Though a watered-down prohibition on state party chairs, full-time paid state party employees, and their families formally working as lobbyists became law, there's nothing prohibiting DPVA caucus chairs, local committee chairs, CD chairs, or other elected leadership from getting paid to lobby on behalf of corporate interests.
Caesars Entertainment & The Danville Democratic Committee Chair
Look no farther than Danville. The voters of Danville have a casino project on their ballots this year; Caesars Entertainment and Danville City Council are making promises and pie-in-the-sky projections reminiscent of the Navy Hill debacle last year in Richmond.
Last week Danville City Council "agreed to move ahead with a $17 million dollar bid from Blair Construction to build a new police station and renovate a historic building on Memorial Drive." The funding is, of course, contingent on voters approving the casino next month.

Despite the air of inevitability Caesars and Danville's political elite have cultivated around the project, there's opposition within the community. There are also plenty of Danville Democrats supporting Joe Biden, Kamala Harris, Mark Warner, and Dr. Cameron Webb – even if they're noticing a dearth of Democratic yard signs amongst an abundance of pro-casino signage.
According to the DPVA website, Josh Norris is the Danville Democratic committee chair – he's been quoted as chair in recent news clips, too.

Norris also appears to be on the payroll of "Caesars for Danville," a pro-casino PAC whose money comes almost entirely from Caesars Entertainment. According to VPAP, Norris received $5,896 for "Wages" in August and was reimbursed an additional $554 for "sign supplies and mileage." September and October numbers aren't public yet.


Caden-Energix, VIAB, & The Rural Caucus Chair
Caden-Energix is a company that focuses on solar projects in Virginia. The Virginia Coalition for Human Rights has a campaign opposing Energix because "Caden Energix is an LLC incorporated under Energix Renewable Energies, Ltd., which is an Israeli-based company that has been cited by the United Nations for its violations of human rights in the West Bank and the Golan Heights." You can find more objections from the VCHR here.
Journalist Grant Smith published a book last year examining and exposing the activities of the Virginia Israel Advisory Board (VIAB); Smith has made the book free online. The text relies heavily on documents recently acquired via FOIA requests and is a must-read for anyone concerned with corruption and Virginia politics.
Just this week, Sarah Rankin and Alan Suderman at the Associated Press wrote a fantastic piece on corporate handouts without accountability at the Tobacco Region Revitalization Commission, and they mentioned this report from the Office of Inspector General. Although Rankin and Suderman mention the Virginia Israel Advisory Board's involvement, the Energix connection to the OIG report is fully explored in this piece by Grant Smith. Intrepid anti-corruption journalists in Virginia will find plenty of material if they look into the Tobacco Commission, VIAB, and GO Virginia (chaired by Tom Farrell).
Chapter 7 of Smith's book delves deep into Energix and a related company, Sun Tribe Solar, with ties to Williams Mullen, major Virginia Way power players. It also describes in painstaking detail the role Aviva (Vee) Frye has played in the Energix saga.
Vee Frye was appointed to the Virginia Israel Advisory Board by Governor McAuliffe in 2017. Frye is also listed as Director of Scheduling and Community Engagement for the Office of Lieutenant Governor Justin Fairfax.
Frye lists herself as "Director of Governmental Relations and Public Relations at Energix – Renewable Energies" on LinkedIn. In a 2018 financial disclosure statement, she listed herself as "Project Manager" for Caden-Energix, LLC and "Sr US Project Manager" for Energix Renewable Energies, Ltd.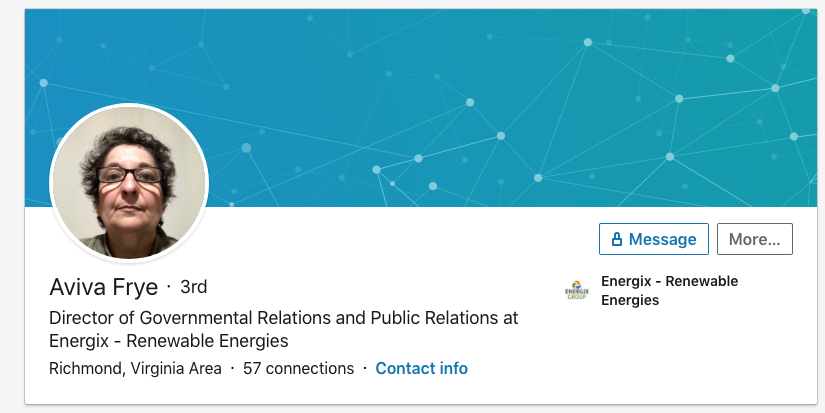 In a 2018 email from Frye to Angela Navarro, Deputy Secretary of Natural Resources for the Northam Administration, Frye listed herself as "Director of Regulation and Public Regulations" for CadenEnergix LLC. Navarro, Frye, Energix executives, and Secretary of Commerce and Trade Brian Ball were set to meet.

Navarro, as reporter Patrick Wilson exposed this week in a joint Richmond Times-Dispatch – ProPublica investigation – made a "critical alteration" to 2020 renewable energy legislation to the surprise of several stakeholders. This alteration, supported by Dominion, "immediately boosted the acceptable price tag of the offshore wind project. The increase was roughly $2.5 billion, an analysis by the SCC would later show." Navarro left her job on September 4.
But in a 2018 email requesting an appointment with First Lady Northam to discuss Energix, Frye lists herself as "SouthWest Coordinator" for the Virginia Israel Advisory Board.
Frye also serves as the chair of the DPVA Rural Caucus, and as a result, sits on the elite DPVA Steering Committee.
Queen of Virginia & The State Party Chair
We've established that it's illegal for a state party chair to "be employed as a lobbyist by any principal." But what exactly does it mean to lobby – or to be employed as a lobbyist? 
§2.2-419 of the Code of Virginia defines lobbying as "influencing or attempting to influence executive or legislative action through oral or written communication with an executive or legislative official" or "solicitation of others to influence an executive or legislative official."
"Lobbyist" is defined as "an individual who is employed and receives payments, or who contracts for economic consideration, including reimbursement for reasonable travel and living expenses, for the purpose of lobbying," "an individual who represents an organization, association, or other group for the purpose of lobbying," or "a local government employee who lobbies."
DPVA Chairwoman Susan Swecker assumed the Democratic Party of Virginia Chair position in 2015, and she runs her own "full-service government relations, public relations, issues management and grassroots consulting firm" Dividing Waters Public Affairs, LLC. Swecker is the only employee listed on the firm's website.
Governor McAuliffe appointed Swecker Chair of the Virginia Compensation Board in 2014. In this June 2016 filing as Compensation Board Chair, Swecker discloses over $250,000 gross income from Dividing Waters Public Affairs, LLC. In this January 2018 filing as Compensation Board Chair, she discloses over $250,000 gross income from the firm as well.
In a late 2018 filing as an appointed member of the Jamestown-Yorktown Foundation Board of Trustees, Swecker also reports receiving in excess of $5,000 for representing "PaceOMatic" before the Virginia Alcohol Beverage Control Authority.
Michael Martz at the Richmond Times-Dispatch explained that:
Swecker, who is not a registered lobbyist, said, "I very much separate those two worlds" — party leader and president of Dividing Waters Public Affairs. Her firm represents Queen of Virginia's parent company, Pace-O-Matic, in Virginia and other states.

Tom Lisk, one of four lobbyists registered for Queen of Virginia, said lobbying is not Swecker's role for the company, which he said recognizes the sensitivity of her position as Democratic chairwoman.

"We are very careful, given Susan's role as state party chair, not to include her in anything remotely considered lobbying activity," said Lisk, a veteran lobbyist at Cozen O'Connor."
Read the entire article – which omits mention of the state law prohibiting lobbying by a state party chair – to better understand Swecker's role. And keep in mind that although the General Assembly banned Queen of Virginia Skill & Entertainment's games this session, Governor Northam asked the GA to make an exception: let the games run for a year and tax the revenue.

The General Assembly – with limited Democratic dissent from members like Delegate Lee Carter, Delegate Marcia Price, and Delegate Ibraheem Samirah – agreed with the Governor's substitute.
As the Virginian-Pilot headline writers proclaimed: "Long live the queen."
Got tips about Dominion Energy or GO Virginia? 
Contact Patrick Wilson: PWilson@timesdispatch.com
Got tips about the Virginia Israel Advisory Board or the Tobacco Region Revitalization Commission? 
Contact Sarah Rankin & Alan Suderman: SRankin@ap.org, ASuderman@ap.org
Got tips about DPVA/RPV leadership and corporate lobbying? 
Contact Josh Stanfield: josh@activatevirginia.org