Yesterday morning, I posted three polls – who do you prefer for governor, Lt. Governor and AG in 2021 – in the 13.1k-member Joe Biden for Virginia Facebook group. As the name suggests, this is a very large group, created back in January 2020, to support Joe Biden for President. So keep that in mind as you look at these poll results. Still, I think these results are interesting, given how big a group of Virginia Democratic activists it is, and also given that – unlike polls on Twitter or using free polling software – it's very difficult (if not impossible) in a Facebook group like this – where you have to be a member – for a campaign to send dozens or hundreds of its supporters to vote, thus skewing the results. Anyway, with that, here are the results.
First, for governor, there were 717 votes cast, with former Gov. Terry McAuliffe in first place at 268 votes (37%), followed by Other/Undecided/Don't know at 214 votes (30%), then State Sen. Jennifer McClellan at 122 votes (17%), former Del. Jennifer Carroll Foy at 100 votes (14%), Lt. Gov. Justin Fairfax at 9 votes (1.3%) and Del. Lee Carter at 4 votes (0.6%). Clearly, there's a lot of interest in this race. There's also a big chunk that's "Other/Undecided/Don't Know," which is not surprising so early in the race. What *is* somewhat surprising to me is how well former Gov. McAuliffe did in this poll, as other online polls (like this one) have tended to show Jennifer Carroll Foy doing very well. In this poll, though, Carroll Foy finished fourth, behind McAuliffe, "Other/Undecided/Don't Know" and State Sen. Jennifer McClellan. As for Lt. Gov. Justin Fairfax and Del. Lee Carter, neither received much support in this poll.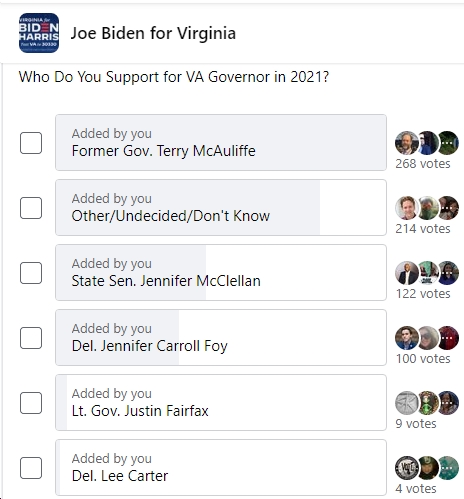 For Lt. Governor, what really jumps out is how few votes (106) were cast, particularly compared to the governor's poll, and also how 66% of those who *did* cast votes were "Other/Don't Know/Undecided" (followed by Del. Sam Rasoul at 22%, Del. Elizabeth Guzman at 6%, Del. Hala Ayala at 4%, Sean Perryman at 2% and Andria McClellan at 1%). So basically, what this tells me – and it's reinforced by the comments folks in the group made – is that most Virginia Democrats are not focused on the 2021 Lt. Governor's race yet, nor do they know much if anything about the candidates. So…it's kind of wide open at this point, with low name IDs among the candidates, and the obvious need for them to communicate with voters in 2021.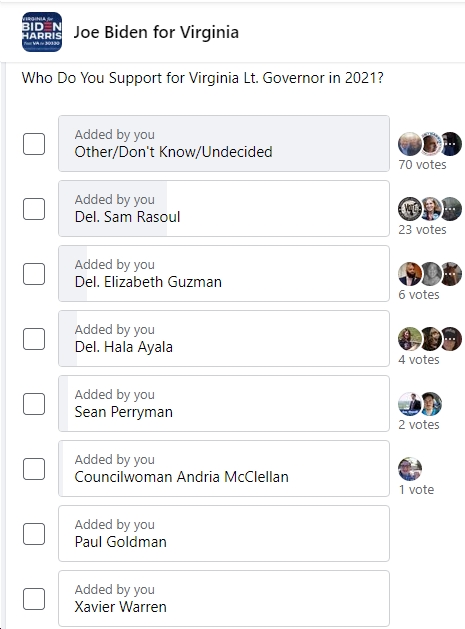 Finally, the AG poll results really surprised me – not so much that AG Mark Herring won, but by how big a margin (86%-4%) over Del. Jay Jones, with just 10% "Other/Undecided/Don't Know." Also note that this poll received 193 votes, which is almost twice as many as the Lt. Governor poll, but far lower than the governors poll. Which might not be surprising, given that Mark Herring has been AG for 7 years, and that his name ID presumably is very high among Virginia Democratic likely primary voters – which members of this group certainly are. In contrast, I'm guessing that Del. Jay Jones' name ID starts off low, at least outside of his House of Delegates district, and that he'll need to work at raising that in 2021.