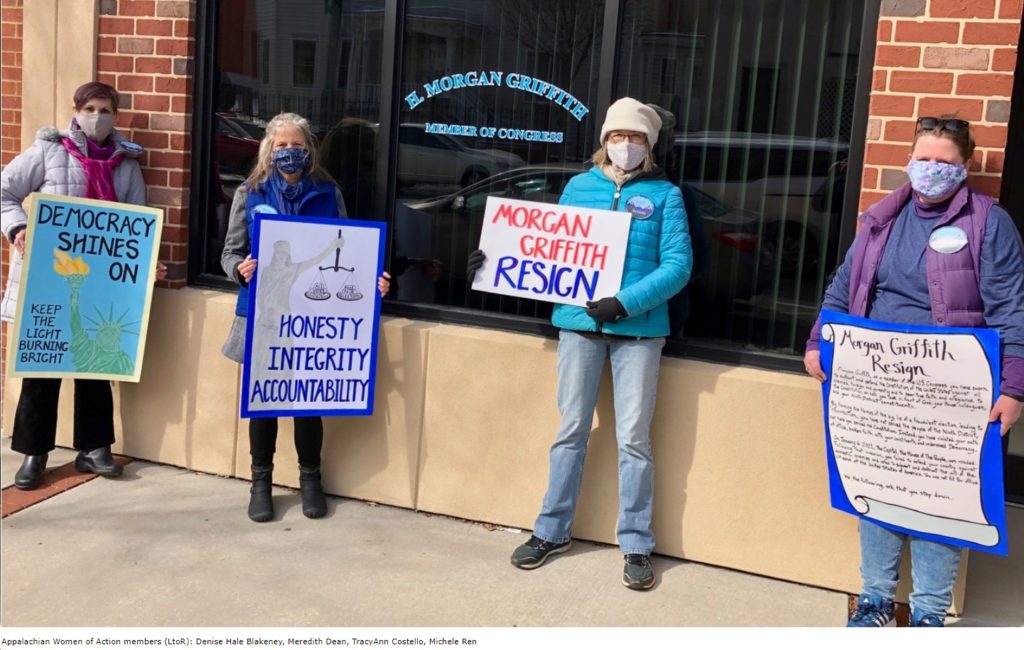 From Appalachian Women of Action
On Friday, February 5th, Appalachian Women of Action (AWA) delivered a petition from 1,200 constituents asking 9th District Congressman Morgan Griffith (R) to step down. The group created the online petition after Griffith voted to obstruct the ratification of the Electoral College results immediately following the January 6th riot at the Capitol. Members were disappointed and dismayed that rather than choosing to calm the waters, Griffith continued to fan the flames of the lie that the election results were fraudulent, a lie that over 60 courts, including the US Supreme Court, have dismissed for lack of evidence.
As AWA delivered the petition, close to 50 people lined the sidewalk in front of Griffith's Christiansburg office. Participants stood quietly, masked and six feet apart, peacefully carrying signs with the messages "Peaceful Transition Made America Great", "You Broke Your Promise", "We Believe in Democracy", "We Defend the Constitution", and, of course, "Morgan Griffith Resign". A few passersby shouted insults or peeled out at the stoplight, but most that commented did so by waving or honking their agreement.
"Over the years I've disagreed with many of Griffith's stances, and even ended up working for the opposing candidate in 2018," said AWA Director Meredith Dean. "One of the tenets of that campaign was that we never spoke negatively about Morgan Griffith or national Republican leadership. Instead, we focused positively on our own policies and proposals for how to make things better for all citizens of the 9th District. At the time, I still had some respect for Griffith," Dean continued, "because I believed him when he said he works to uphold the Constitution. I no longer believe that is true. And I no longer respect him. He does not represent the democratic ideals Americans hold dear, and so for the good of the country, I ask that he resign."
Appalachian Women of Action (AWA) first gathered in January 2020 with a mission to engage, educate, energize, and empower Appalachian women and other community members to participate in democratic processes affecting their lives. Leadership emerged from a core group representing Floyd, Riner, Christiansburg, Blacksburg, Giles, Radford and Pulaski, plus Patrick County and Salem. Since March the group has been sharing information locally about Covid-19 and VDH safety protocols, while working in virtual ways to ensure minority voices are heard, and that all community members have the resources needed to exercise their democratic right to vote.