UPDATE Friday evening 9:40 pm: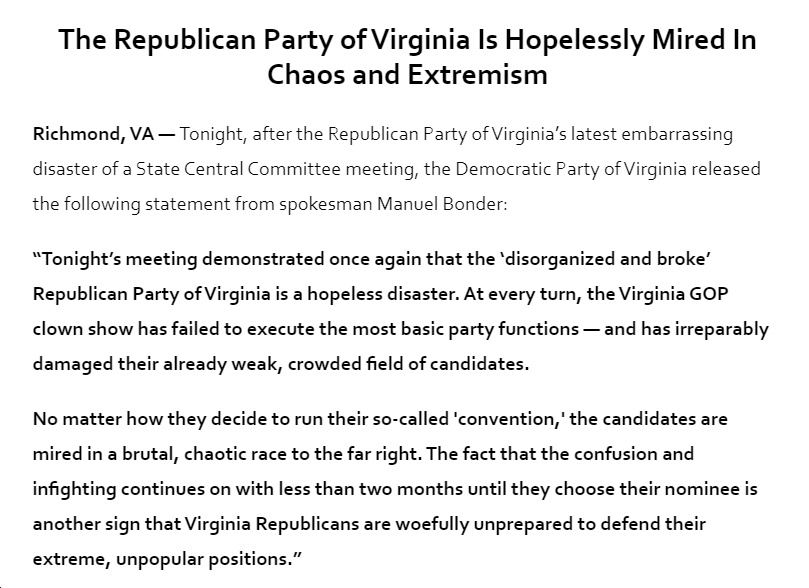 From the Democratic Party of Virginia:
Friday Night Showdown: The Virginia GOP's Clown Show Goes Primetime
Richmond, VA — Tonight, the Republican Party of Virginia will convene for yet another meeting in their continued saga of chaos and party infighting. Despite promising a plan to host a massive nominating convention at Liberty University, Virginia Republicans still have no clue how their convention is supposed to work. For the "disorganized and broke" Virginia GOP, this terribly desperate situation is careening towards what Chairman Rich Anderson called a "calamitous disaster."
Ths week, John Fredericks, Donald Trump's Virginia Campaign Chair made his opinion of the situation clear:
"The dumpster fire at the Republican Party of Virginia continues to go on… They're going to have another meeting on Friday night… nothing will get resolved and it will continue on. The Republican Party of Virginia… is now the laughing stock, dumpster fire in American politics. Everybody is making fun of it across the country, as they should. It's an ego-driven car wreck."
As longtime Virginia conservative commentator Norm Leahy put it: "the Virginia GOP is blowing it."
Meanwhile, the Republican candidates are mired in a disastrous contest plagued by brutal infighting, anonymous attacks across the airwaves, and allegations of a rigged process. Glenn Youngkin is "extraordinarily frustrated," Kirk Cox's campaign has said that the ongoing disaster "only helps Democrats on the path to November," and Amanda Chase has threatened to tank the GOP and run as an independent.
"The chaotic embarrassment that is the Republican Party of Virginia just keeps getting worse," said Manuel Bonder, DPVA spokesman. "While Virginia Republicans still haven't decided how they will pick their nominee this year, the candidates are tripping over each other to prove who is most loyal to Donald Trump. This primary is a disaster — but when Republicans themselves are calling it a 'dumpster fire,' you don't have to take our word for it."